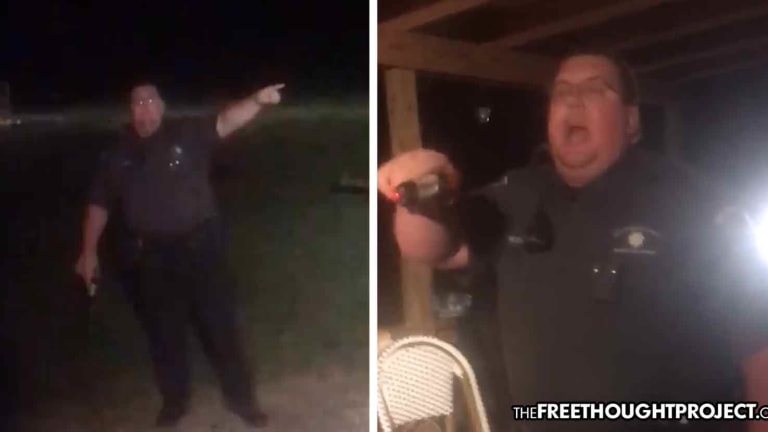 'He's Gonna Kill My Child': Crazed Cop Points Taser at Child, Terrorizes Family Who Called 911 for Help
A family called 911 for help but got a dangerously raging deputy who showed up and terrorized them, pointing a taser at their child.
Bethesda, AR — An Arkansas family just learned the hard way what calling 911 in a police state can look like. While there are certainly police officers who will heroically rush in to stop dangerous situations, there are others who appear to get off on asserting their authority and hurting people. The officer in the video below appears to be the latter.
Sunday night, Kandy Dowell and her husband Kevin got into a verbal argument and then made the absolutely terrible decision to call the police to get help solving it. Instead of help, however, they got a raging Independence County sheriff's deputy who terrorized them and their child.
"It was just on from there," Kandy Dowell said as the deputy arrived. "I mean as soon as that man broke through my threshold, he was aggressive. It was just awful. It was a nightmare."
According to KAIT, Dowell said she and her husband, who has PTSD and depression, were arguing. Often, she said they will call 911 to defuse the fights — a decision they will likely never make again.
"They come out here and they usually help us grab a bag and we leave," she said. "That's usually the end of it, but this time it was not."
Kandy says that they've called 911 so many times for help with their arguments before that many of the deputies know them and know how to diffuse the situation.
But, she said that's not what happened Sunday night.
"The man stepped out of his car with an aggressive demeanor," Dowell said. "He did not listen to me at all when I tried to tell him about my husband's mental illnesses."
"He just pulled out his pistol and was like 'get on the ground, get on the (explicit) ground, I'm going to (explicit) shoot you' and I am just screaming and pleaded for my family basically," said Kandy.
When her husband agreed to step outside and talk with the deputy, that's when the cop raged and pulled out his taser, aiming at their child.
"That's when I see that red dot hit my child's stomach and I lost it. I was like, 'He is so out of his mind, I think he's fixin' to kill my child.' Aiming for my husband, but shoot my child in the process," she said. "I was scared to death. I was scared for all of our lives."
As the video shows, her husband goes back inside the house — likely fearing for his life — while she can be heard asking the deputy, "What is wrong with you?"
When the out of breath deputy fails at tasering the child and the father, he then turns his attention to Kandy as a last stitch effort to assert his authority. Fearing for her life, Kandy runs away and is saved when an actual rational and calm cop arrived on the scene — the sheriff.
Instead of immediately backing up his raging deputy and tasering or tackling Kandy, Sheriff Shawn Stephens deescalates the scene and nobody was beaten, tasered, shot, or kidnapped. Imagine that.
"We have respect for the right officer of the law that's going to have respect back for you and your home," Dowell said.
Kandy is now advocating for officers to be trained better at deescalating these scenes instead of resorting to potentially deadly violence.
"I would like to also see them better trained in how to deal with people with mental disabilities," Dowell said. "I would also like them to understand that just because a person has a mental disability does not mean they committed a crime and does not mean you have to come to that person with excessive force. They are a person, too."
Sheriff Stephens told KAIT that the incident is now under investigation and noted that the deputy involved is on paid administrative leave.
As TFTP frequently reports, not only is it a crap shoot to call 911, but it's a terribly rigged craps game in which the house almost always wins - and you lose.
Researchers found that less than 5 percent of all calls throughout the country dispatched to police are made quickly enough for officers to stop a crime or arrest a suspect. The 911 bottom line:"cases in which 911 technology makes a substantial difference in the outcome of criminal events are extraordinarily rare."
What's more, as the above case illustrates, it's very risky.
Calling 911 for help and then being victimized or killed by police happens far too often. Earlier this year we reported on the story of Kevin Davis, who called 911 to report that his girlfriend had been stabbed. When cops got to his apartment, they killed him. 
Previously, we reported the story of a decorated Army veteran who called 911 for help with a cut foot. When police showed up at his house, they killed him.
TFTP also brought you the story of a man who called 911 to report a wanted gunman. When police showed up they shot the man who called them instead of the gunman.
Sadly, more often than not, this is what happens when you call the cops. When they aren't beating and killing people, police often show up to 911 calls and sexually assault the ones who called them.
Former state trooper, 36-year-old Samuel H. McHenry II managed to get off with minimal jail time after raping a car accident victim and leaving her stranded afterward.
Officer Micah Meurer responded to a call at a 22-year-old woman's northwest Amarillo home last year when she was in distress. The officer was later fired after it was exposed that Meurer forced himself on her and raped her.
Karl Fields, a police officer from Chattanooga, Tennessee was accused of sexually harassing and stalking a rape victim that he claimed to be helping with a criminal case.
Fields reportedly stalked the woman, parking out in front of her house on numerous occasions, and contacting her on a frequent basis.
According to a lawsuit recently filed by the victim, Fields attempted to call her 73 times in one night, and would frequently text her, requesting nude photographs and making obscene demands.