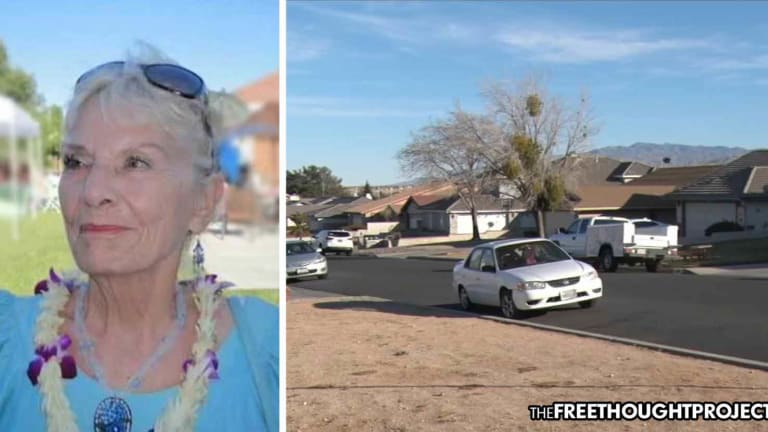 91yo Blind and Deaf Woman Calls 911 to Report Intruder, Cops Show Up, Shoot Her 9 Times, Killing Her
A 91-year-old legally deaf and blind woman called 911 to report an intruder and when police showed up they dumped at least 9 rounds into her.
San Bernardino, CA — As frequent readers of the Free Thought Project will attest, calling 911 can often be a deadly mistake. All too often, those in need of help, call 911 only to be beaten, arrested, or killed when police show up. A 91-year-old woman learned this the hard way over the weekend after she was shot and killed by police who showed up to her 911 call for help and shot her.
According to her family, Betty Francois was legally blind and deaf but managed to live by herself. She was self-sufficient and apparently well armed. When Francois suspected people were breaking into her home, she grabbed her shotgun and then called 911.
According to the San Bernardino County Sheriff's Department, when deputies arrived on the scene, they encountered Francois, who was armed with a shotgun. Police claimed in a statement when they told Francois to drop the gun, she didn't listen, so they had no choice but to shoot her.
On Saturday, January 9, 2021, at 9:34 a.m., deputies responded to a 911 call reporting unknown subjects attempting to break into the Sunburst Road residence. Deputies arrived and a woman, later identified as Betty Francois, came out the front door of the home armed with a shotgun. Deputies gave her commands to drop the gun, then she pointed the gun at the deputies, and a deputy-involved shooting occurred.
After she was shot, Francois was airlifted to a nearby hospital but would unfortunately not survive.
Police have refused to name the deputies involved, refused to say how many deputies showed up, and have refused to say how man rounds they fired. However, a neighbor's security camera captured audio of the shooting. According to the Daily Press, the neighbor, identified only as Stephen said he had no idea a shooting occurred until he read a news article and saw "police cars blocking the road."
When he reviewed his security footage, he said it captured the gunfire around 9:52 a.m. on Saturday morning. As the Daily Press reports:
In the video, which shows the man's driveway and does not show the incident, a single gunshot can be heard. That shot is then followed by at least eight to nine additional shots, some sounding as though they occurred simultaneously.
San Bernardino County Sheriff's Department spokesperson Jodi Miller declined to say whether or not police used de-escalation techniques — saying only that the use of less-lethal weapons, which are equipped in every sheriff's vehicle, would be approved as a "tactical option" when it would be unsafe to approach a person "who appears to be either suicidal, mentally unbalanced, or otherwise potentially combative," and the person does not present an imminent threat to an officer or the public, according to the Daily Press.
She then went on to say that cops don't have to use de-escalation or less lethal tactics if they feel an imminent threat.
"Alternatives to force are not required by a member when the member reasonably believes that immediate action must be taken to prevent injury to themselves, another member or the public," Miller said.
Susan DeLemus, a relative of Francois and a member of the New Hampshire House of Representatives, described Francois as a "precious and petite little lady."
"She was born in 1929, and the police felt so threatened by her that they had to shoot her," DeLemus said. "We've all been strong, faithful and trying to make the best of a bad situation. … The entire family is upset and concerned. Everyone one of us is very upset by the entire situation."
Given the fact that Francois was legally blind and deaf, she likely could have confused police for the intruders. Had they simply backed off and waited, perhaps Francois could've lived to see her 92nd birthday. Her family agrees.
"Couldn't they have backed off, have someone go behind her or call the house and wait? Considering this was a tiny lady who may have been confused, and thinking that there were actually intruders outside her home," she told FOX 11.
Apparently, however, they could not.