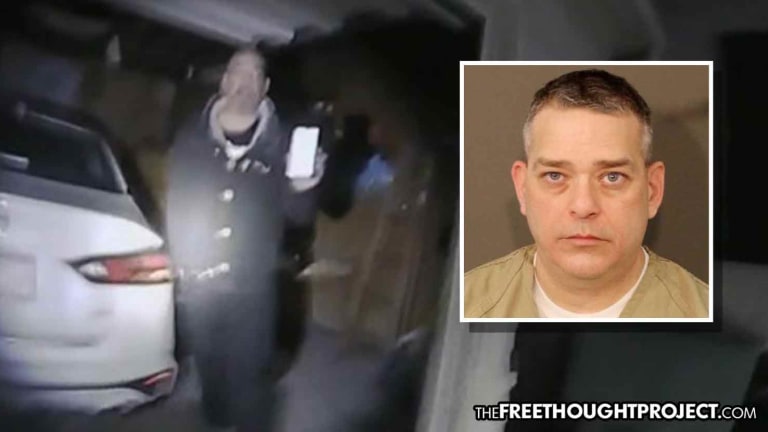 In Rare Move, Cop Charged With Murder for Executing Innocent Man for Holding a Cellphone
Since 2005, just 126 police officers have been charged with on-duty murder, of them, only 7 cops have been convicted for it.
Columbus, OH — Columbus police officer Adam Coy was relieved of duty back in December after shooting an innocent and unarmed man who was holding nothing but a phone. Though the shooting happened back in December, and was captured on body camera, the wheels of justice move insultingly slow when it comes to killer cops being held accountable.
Despite the glaring evidence against him, Coy hasn't faced a single criminal charge for over a month for killing 47-year-old Andre Hill, who was inside a garage and an expected guest at that home where he was killed. Finally, this week, that all changed and Ohio Attorney General Dave Yost announced Wednesday Coy has been charged with murder in the shooting death Hill.
Coy has since been arrested and charged with one count of murder, one count of felonious assault and two counts of dereliction duty.
"I believe the evidence supports the indictment," Yost said during a press conference Wednesday night.
"We are encouraged by the decision of the grand jury to hold [Officer] Coy accountable for his reckless action, resulting in the tragic death of Andrew Hill," Hill's family attorney Ben Crump said in a statement Wednesday. "Though nothing will bring back Andre's life and relieve his family's grief, this is an important step toward justice."
According to police, they received a call that fateful evening, which they referred to as a "non-emergency call," about a man sitting in a car. According to police, the caller said the man was turning the car on and off — which never warrants a call to the police and shouldn't even warrant a response — as he could've simply been working on his car.
Police responded anyway. According to police, the man in question, who turned out to be Hill, was visiting a relative at the home and when they arrived, he walked toward them holding his phone. None of the responding officers had activated their body cameras.
As they walked toward the man, he walked toward them with his cellphone in his hand. At this point, Coy fired his weapon, striking Hill in the chest. As the video shows, after shooting the innocent man, no one rendered aid. Instead Coy yelled at Hill to stretch out his arms.
Only after Coy shot Hill — who had not been accused of any crime — did any the officers turn on their body cameras. The body cameras used by the cops have a constant recording which buffers a 60-second clip with no sound, even when the cameras are not activated. Because the officer killed the man almost immediately after arriving, the shooting was captured on video.
Because the buffer doesn't record sound, we do not know what was said by any party before the officer opened fire. However, we do know that no one rendered aid immediately after they killed this man.
Body camera footage from immediately after the shooting indicated "a delay in rendering of first-aid to the man," the public safety department said in a news release. A "delay" is an understatement as Hill lied there dying on the ground for well over five minutes before anyone would render aid.
Coy's partner, an unnamed female officer, also refused to provide life saving aid to Hill. Instead, she responded by putting up police tape and getting Coy "support."
It was not until a medical unit arrived that Hill received any help. As the video shows, that emergency responder ran past the two inept and killer cops and provided aid to Hill. Unfortunately it was too little too late.
"This is a tragedy on many levels," Quinlan said in a statement. "Most importantly, a life has been lost."
Quinlan said in a press conference that he immediately suspended the officer, forcing him to turn in his badge and gun and suspended his police powers pending an internal review. He then went on to lambast the officers for failing to turn on their cameras.
However, it took them nearly a month to fire him and over a month to levy charges. Hopefully, Hill's family gets the justice they deserve and Coy is put in jail for a long time. If history is any indicator though, Coy will either walk for receive a slap on the wrist.
As TFTP has reported, despite horrifying police killings, many of which were captured on video and rocked the nation like Hill's death, the arrest rate for cops who kill people on-duty remains as low as ever. According to reports, since 2005, just 126 police officers have been arrested for murder or manslaughter in relation to an on-duty killing.
Of those 126, just 44 have been convicted, with 31 of their cases still pending, and just seven cops total have been convicted of murder. The other 37 cops were convicted on charges ranging from manslaughter to official misconduct, with many of them receiving no jail time.