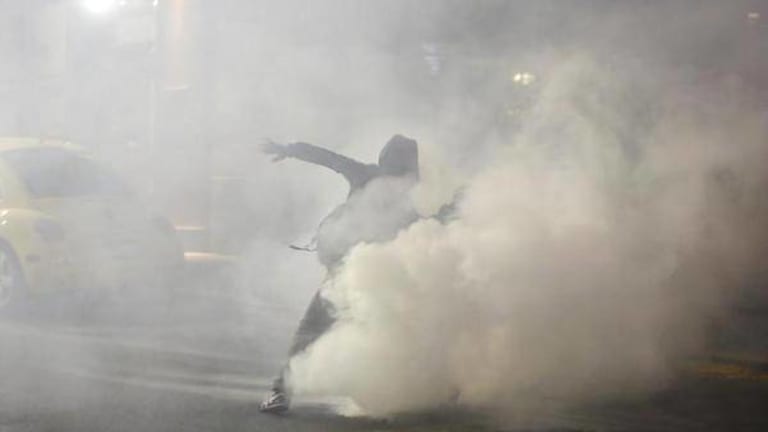 Anonymous Brings Down Oakland PD Website After Cops Gas Protesters
The fifth night of nationwide protests over the widespread failure of the system to prosecute white officers who kill unarmed black men and boys, culminated in hacktivist group Anonymous taking down the Police Department's website in Oakland, California.
The group was responding to the firing of tear gas at hundreds of protesters in the city.
While recent police killings of two black men happened in New York and Missouri, it was the West Coast that experienced heightened moods. In a second night of protests on Sunday, multiple injuries and arrests have been made in Oakland and Berkley. Acts of vandalism and rock-throwing by rioters started to take place as splinter groups broke off from the original peaceful march. Someone smashed a window of a local Radio Shack store, which escalated the situation. According to Police Officer Jennifer Coats, one protester tried to stop the act of vandalism and received a hammer to the head. This followed the latest incident that became a tipping point – the jury's unwillingness to prosecute another white police officer, this time for choking an unarmed black man to death.

Similar incidents were seen in Oakland, where people were seen walking on the roads and blocking traffic on roads and a nearby freeway. No conclusive arrest figures have yet been released for Sunday.
There is still no word if any protesters were injured in the tear-gas exercise. The only notable injury was an officer's dislocated shoulder. However, at one point, the San Francisco Chronicle reported on a line of about 100 police in riot gear, pushing back against a crowd of 300-400 people. It also reported other people being hit by tear gas – not just protesters.

Initial demonstrations in New York and Missouri started out peacefully, calling for police reforms as politicians appealed for calm. Others joined the protesters in calling for unity and a more representative political apparatus.