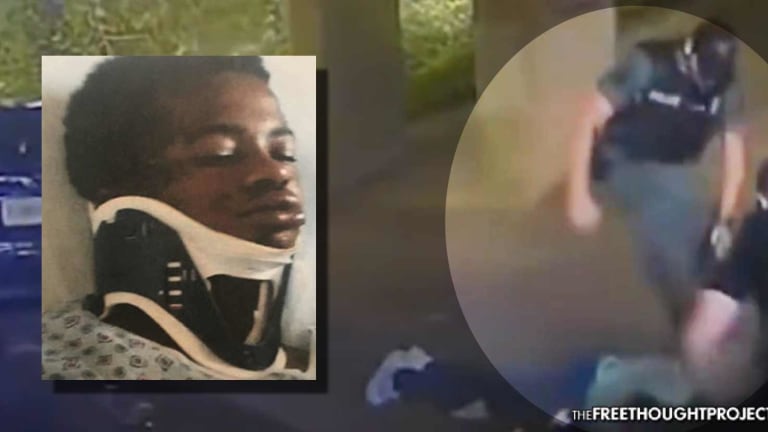 Dashcam Shows Cop Savagely Beat a Compliant Teen to the Point of Hospitalization
An Atlanta cop was fired after a horrific video showed him repeatedly stomp, punch, and kick a teen suspect who was not resisting.
Atlanta, GA — Police officers beat people on video a lot. And, more often than not, the officers will keep their jobs in spite of video evidence of the attack. However, an attack on a teenager by an Atlanta cop was so egregious that it did, in fact, cost him his job. But because he is a cop, he was not charged and can go on to be hired by another department.
Disturbing dashcam footage of the beating of an Atlanta teenager was released this week showing the brutal actions of former Atlanta police officer Matthew Johns. The video shows Johns repeatedly stomp, kick, and punch the teen who was not at all resisting arrest.
Johns was not supposed to be there that day because he was on a 'no drive list' for irresponsibly crashing his cruiser a few weeks prior. However, he was still allowed to check one out, use it to ram another car, and then savagely beat a teen and lie about the entire ordeal.
As WSB-TV reports:
It all unfolded on Sept. 15, 2016, in southwest Atlanta. Former officer Matthew Johns, who was a part of the department's elite Apex Unit, arrived at the scene after the pursuit led by Zone 3 officers and Georgia State Patrol.

Johns, who we've learned is also a Marine, is seen jumping out of a cruiser and immediately runs up to one of the three teenage suspects in the stolen car and kicks him in the head.

The video also shows he kicked the teen more than once, struck him on his side repeatedly and then was seen kneeling on his neck before punching him in the head while cuffing him.

Johns told investigators he thought the teen was reaching for a gun. But one of his supervisors didn't think his story added up, especially when the other officers on scene said the three suspects never resisted.
According to the report, after the incident, Johns was placed on administrative leave and no action was taken until a new police chief took office and reopened the case.
Johns was then fired. However, for beating a compliant suspect for no reason, he will face no criminal charges, he will keep his peace officer's license, and he is eligible to be hired by another department immediately.
The teen who Johns beat to a pulp was in a stolen a car. He deserved due process and to be to be held accountable for his actions. However, because of Johns' inability to resist violently lashing out, this teen's alleged car theft will now end up costing the taxpayers of Atlanta in the likely lawsuit that will follow.
WSB-TV reached out to the Atlanta Police Department for a statement and received the following:
"The behavior by former Officer Matthew Johns exhibited on this videotape does not reflect the standards of conduct expected of Atlanta Police officers. His actions were unacceptable and – as a result – he was terminated. An additional three officers were disciplined because of other violations resulting from this incident, including disregarding our pursuit policy."
Because the suspect was a minor his name was not released. However, the family contacted the local media and shared a photo of their son. He was beaten so badly by Johns that he was hospitalized with a concussion and suffered multiple lacerations to his face.
As the Free Thought Project previously reported, Georgia has a problem with cops like Johns.
Almost half of the people killed by police in Georgia since 2010 were unarmed or shot in the back according to a new investigation. More than one-third of those killed were shot at their own home after officers responded to a call for help or a domestic dispute.
A recent investigation from the Atlanta Journal-Constitution analyzed 184 fatal police shootings in the state of Georgia since 2010. According to the data, at least 70 people were shot in the back by police officers. Roughly one in six people were unarmed, while one in four exhibited signs of mental illness before their deaths. At least 11 people were both unarmed and shot in the back when police officers killed them.
The report also found at least 20 cops involved in fatal shootings had serious prior issues filed against them. Four had been previously fired or resigned, two were disciplined for lying, and two others had failed to complete state-mandated annual use-of-force training to keep their arresting powers when they killed suspects. Johns is now included in this list.