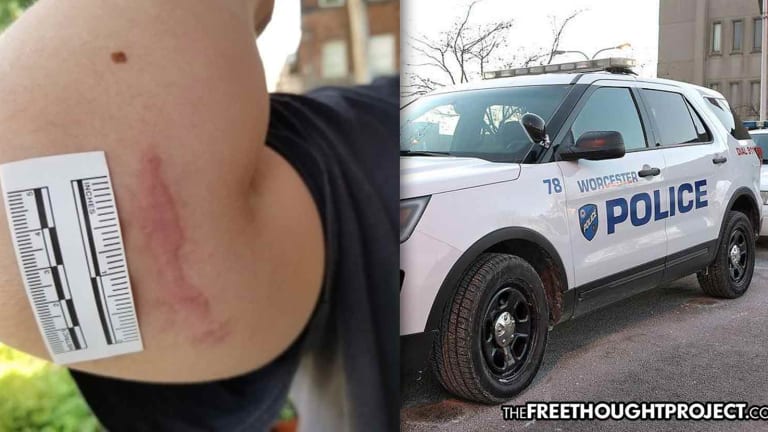 Police Pin 10yo Boy With Autism Down With Knee to the Neck and Break His Arm—Lawsuit
A mother called for an ambulance for help with her autistic 10-year-old but police showed up first and things got violent fast.
Worcester, MA — A lawsuit filed this week against the city of Worcester and two officers with the Worcester police department alleges entirely unacceptable abuse of a 10-year-old child with autism.
Lindsey Beshai Torres' son was pulled from a vehicle, thrown to the ground by two police officers who put their knees on his neck and legs, pinning him down and breaking his arm, according to the lawsuit filed this month.
Beshai Torres' nightmare began three years ago in September 2017 when she was driving her 10-year-old son to school and he began throwing a temper tantrum. Beshai Torres would then make what would turn out to be a huge mistake — she called 911 for help in calming her son, identified as JT in the lawsuit.
Beshai Torres requested an ambulance and was told that one was on its way, however, two Worcester police officers, identified in the lawsuit as, John Alers and Paul McCarthy, arrived before the ambulance.
Beshai Torres says she told the officers about her son's autism and asked them to proceed calmly with him.
"Officer McCarthy had interacted with JT before and knew he was an autistic and disabled child," the lawsuit states.
When the officers began to interact with JT, the boy simply grunted before throwing a bag of chips at the officers, which did not hit anyone.
"Common sense dictated that there was no need for precipitate action, that the officers should give JT room to calm down while waiting for the ambulance, that in any event they should do nothing to alarm or upset JT and there was no need to touch or detain him," the lawsuit says.
But, these officers couldn't help themselves, and, according to the lawsuit, they just had to escalate the situation and teach this little autistic boy a lesson. According to the lawsuit, Alers, with the help of McCarthy, grabbed JT's arm and pulled him out of the car before pinning him to the ground.
As MassLive reports:
While JT was on the ground, the lawsuit alleges, McCarthy placed his knee on the boy's neck and Alers put his knee on the 10-year-old's legs as they brought his arms behind his back.

As the boy screamed, officers allegedly told his mother to "back off," according to the lawsuit.

The officers remained on JT for several minutes, the lawsuit says, as they handcuffed the boy.
While applying so much force to such a small child, the officers caused injury. When EMTs arrived, they noticed a "slight deformity to [the] proximal humeral head" of the right arm, according to medical notes cited in the lawsuit.
JT was subsequently brought to the hospital where an X-ray revealed a fracture, accompanied by soft tissue swelling and joint effusion, which required surgery and amounted to over $23,000 in medical expenses.
After the incident, Beshai Torres complained to the Worcester PD who responded with apologies and told her it should not have been handled that way. But they took no other action. When asked what she wanted to happen, Beshai Torres said the department clearly needs training in how to handle children with autism.
According to the lawsuit, JT has developed severe depression and anxiety from the abuse he suffered at the hands of police that day and no longer enjoys school. He also fears riding in cars.
When asked about the lawsuit, the city acknowledged the mishandling of the incident but stopped short of admitting guilt.
"I am aware of a recently-filed lawsuit against the City of Worcester and two of its police officers regarding an alleged incident in 2017 involving a young, autistic boy," City Manager Edward Augustus Jr. said in a statement. "The incident resulted in an outcome that no one desired, and I feel for what the boy and his family experienced, but because this is an ongoing legal matter, I am unable to comment further at this time."
Luckily for Beshai Torres and JT, JT escaped with only a broken arm. As TFTP reported this week, Linden Cameron, a 13-year-old little boy with autism was having a bad day earlier this month when his mother called 911 for help. Instead of help, however, police showed up and filled Linden with bullet holes.