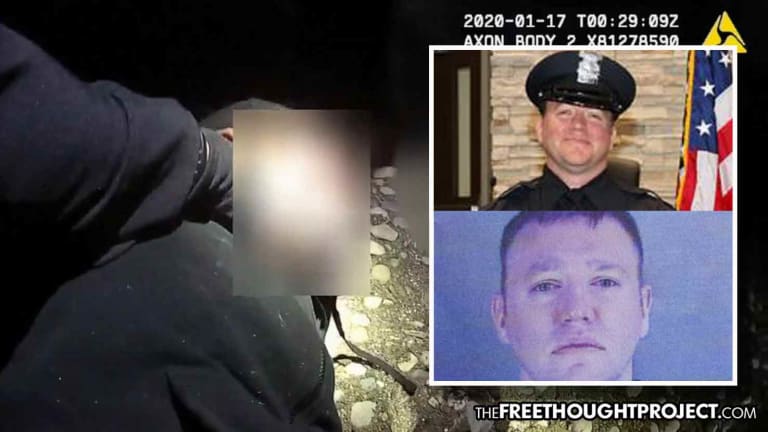 WATCH: Cop Hired In Spite of Criminal History, Bashes Autistic Man's Head In With Baton
A cop was hired in spite of having a criminal history and he is now facing potential charges again after beating an autistic man so badly that he was permanently disabled.
Westland, MI — A Westland cop has found himself on the other side of the law — again. Officer Kristopher Landis — who was hired in spite of his criminal history — viciously beat an autistic man with his police-issued baton, causing him serious and permanent injury. He was subsequently fired and is now facing the possibility of assault charges.
The victim has not been identified as he is reportedly autistic and news and police are protecting his identity. The incident happened in January, but is only just now coming to light as the department chose to keep the body camera video hidden from the public eye for nearly six months.
According to police, they were attempting to arrest an armed robbery suspect, who turned out to be the 23-year-old autistic man. Though he was accused of armed robbery, no gun was ever recovered and police admit he only said he had a gun.
According to an attorney for the man, a woman talked him into walking into an Arby's, telling the employees that he had a gun, and taking the money. Unfortunately, he listened and paid the price.
Westland police chief Jeff Jedrusik said Landis was terminated after a review of body camera footage and an internal investigation for violating department policies and procedures. He then released a statement and a portion of the video to the press.
On January 16th of 2020, Westland Police Officers responded to Arby's (8068 N. Wayne) on report of an armed robbery. The suspect entered the restaurant and implied to the clerk that he had a gun. The suspect stole money and fled the location. Responding Officers located the suspect across the street. The suspect fled on foot from the officers and actively resisted arrested. Officers attempted to deploy a Taser on the suspect which was ineffective. During the arrest, one individual police officer struck the suspect on the head area with his collapsible baton. It should be noted that there were multiple other officers involved in the arrest and each of them showed restraint in the apprehension of this suspect.
Indeed, other officers did show restraint and tried to make Landis stop hitting the autistic man in his head.
"Stop f**king hitting his head!" one of the officers can be heard yelling at Landis during the arrest. But Landis did not listen and opted to continue pounding the man's face in.
The autistic man was severely injured in the beating and has suffered permanent damage as a result. According to police, as they were taking the man to the hospital, he began crying and asking for a blanket and his teddy bear. Because of his condition, charges against him are still pending.
A spokeswoman from Wayne County Prosecutor's Office said the man's case was put on hold as a competency evaluation is being conducted.
"That is done to determine if the person understands the charges and is able to assist in his defense. He is evaluated by a doctor at the forensic center," a spokeswoman told ABC News.
As to why they never released the body camera footage until now, Jedrusik claimed his department could not release the officers' body cam footage, citing an ongoing investigation by the Wayne County Prosecutor's Office.
But these details don't add up and the prosecutor said the release of footage is entirely up to the department.
"We prefer that police agencies not release evidence while we are reviewing a case," said Maria Miller with Wayne County Prosecutor's Office. "It can affect an investigation, and in this case we are conducting an independent investigation. However, the decision is entirely up to the police department to release or not release video footage in a case."
Jedrusik claimed that he contacted the prosecutors office after the assault took place, but prosecutors say they just got the paper work earlier this month.
"WCPO received paperwork for this case on June 4, 2020 and it is currently with our Public Integrity Unit. We conduct an independent investigation once it is received, and that is currently in progress," Miller said.
Topping off the controversy surrounding this case is the fact that Landis has a criminal history.
According to WXYZ:
In March of 2013, Landis was arrested and charge for driving under the influence. At the time, Landis was an officer with Farmington Hills police.

According to the police report, Landis told investigators he was driving home when he hit an unoccupied car. The report says Landis' "speech was greatly slurred," and there was a "very strong odor of intoxicants on his breath."

Documents show officer Landis had a blood alcohol content of .17 more than twice the legal limit of .08.
In spite of the fact that he was found guilty of DUI and fired from the Farmington Hills police department, Landis was later hired on with the Westland police department. He was then given a position of authority to arrest people for the very same crimes he was convicted of committing. Seems totally legit.
No one here is arguing that people shouldn't be able to get a job after making mistakes like DUI. However, we are making the argument that cops who are convicted of crimes, should not remain cops. Below is all the evidence one needs to make this case.