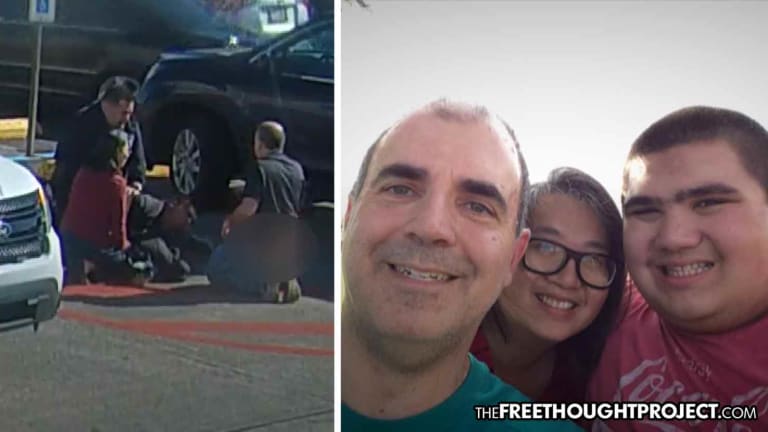 VIDEO: Police Put Autistic Child in Chokehold, Sit On Him for 9 Minutes Until He Died
"Never did we think that our 16-year-old son with special needs would die in front of our eyes at his age and in the hands of law enforcement."
Metairie, LA — Parents of children with severe autism often times have to deal with utterly violent encounters with their children. The children will act out and try to run away, throw things, and even strike themselves and their parents. The resilient parents of children with autism find ways to deal with these situations in order to achieve a peaceful resolution. However, when police officers got involved in a family's attempt to calm down their 16-year-old son with autism last year, the peaceful resolution did not happen and 9 minutes later their son would be dead.
Daren Parsa and his wife Donna Lou have since filed a lawsuit against the Jefferson Parish Sheriff' Office for negligence in the death of their severely autistic son Eric.
"Never did we think that our 16-year-old son with special needs would die in front of our eyes at his age and in the hands of law enforcement," Donna Lou said.
"Unfortunately, it is our reality of a nightmare," she said.
The incident unfolded in January of 2020 after the family had just finished playing laser tag in Metairie and were walking to the car when Eric had a fit — a violent one. The interaction was captured on security cameras as Eric started slapping himself in the face before slapping his father.
"Because of his limited language skills, Eric could be self-injurious and have aggressive behaviors when he was frustrated," Donna Lou, Eric's mother, told WWL-TV.
As the fit was unfolding, Jefferson Parish sheriff's deputies rolled up on the scene and the fit turned into a nightmare.
According to the lawsuit, and surveillance footage from the laser tag arena, deputies restrained Eric by placing him in handcuffs and then pushing him face down onto the pavement. Deputies then sat on Eric for over nine minutes, choking him in the process.
"As a result, Eric went limp, he stopped breathing and he died," the family's attorney William Most said.
"They violated the most basic tenants of good law enforcement and it resulted in the loss of a life," attorney Howard Manis said.
A statement from the sheriff's office justified the actions of the deputies and said deputies were only trying to "control the violent teenager's outbursts to prevent him from again attacking his parents and first responders."
The department then went on to insult the family for filing a lawsuit.
"While the Sheriff's Office remains deeply saddened over this unfortunate loss of life, it does not intend to allow Jefferson Parish Sheriff's Deputies to be maligned and slandered by those seeking to profit from this unfortunate situation," the JPSO statement read in part.
This is a new low in responses from police after an in custody death. Imagine telling the parents of a child killed in police custody that they are suing to "seek profit" from their son's death. This takes a special kind of callousness.
Nine minutes is a long time. Sitting on someone's chest after applying a chokehold is proven to restrict breathing. Compressing a child's chest for nine minutes, especially in the midst of an hysterical fit is most definitely contraindicated by medical professionals. How could they not simply stand the child up and put him in the parents' car after 3 minutes or 4 minutes? At the very least, they could have sat him up.
The fact is that Eric's parents aren't suing to seek profit in their son's death like the JPSO alleges. They are suing to make sure cops receive training necessary to make sure this never happens again.
"And no other families will have to go through the same horror, loss and shock that we are experiencing," Lou said.