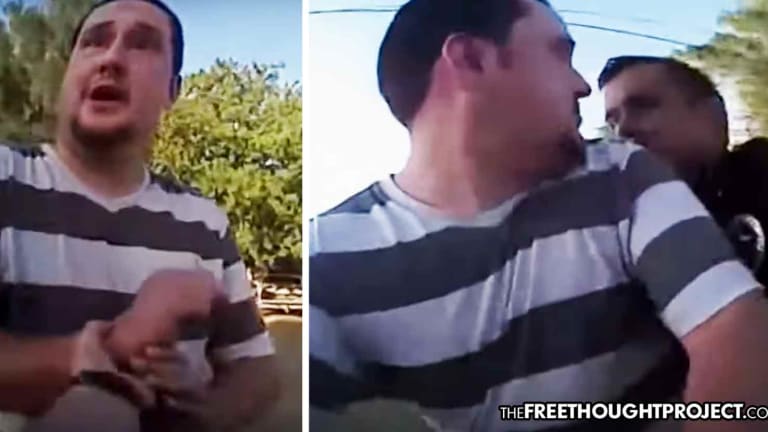 'Help Me Mama!' Body Cam Shows Cops Mistake Autism for Drug Use, Attack & Taser Autistic Teen
Disturbing body camera footage has been released showing two police officer choke and taser an autistic teen after mistaking his mental disability for drug use.
Graham, TX — Disturbing body camera footage of two officers confronting an autistic teenager has just been released showing the dangerous nature of untrained police officers dealing with individuals with mental disabilities.
According to police, the incident happened on June 26 when officers were responding to a call about a teenager throwing rocks at a fence. Michael Moore, 19, was the teenager and he admitted to throwing rocks -- which did not damage any property.
When officers arrived, they did not recognize his behavior as a person with autism. Instead they "investigated" whether he "might be under the influence of a controlled substance," Graham police Chief Tony Widner said.
As Michael first told WFAA last week, he approached the officer. "I ran out to them, and he asked me 'Do you live here?' And I said, 'Yes."'
Widner said that the teen resisted being placed in handcuffs—as most children with autism would do—so they brought out the taser and began shocking the teen. Only after they had attacked, tasered, and handcuffed the teen did the police realize Moore "might have a mental impairment," said Widner.
Tracie Moore, the teen's mom called the incident "outrageous" and was heartbroken to find her son being treated in such a horrific manner, especially considering the town has only 9,000 residents and everyone knows her son.
"I have been a resident my whole life. And Michael has too. This is where he born and raised," said Tracie.
"I was in tears," she said. "And now I'm angry. I watched the body cam footage. He told them, 'My mama is inside. Let me get my mama."'
After multiple requests by media, the department finally released the footage and it is as disturbing as his family said it would be last week. 
Although police claimed that Moore was running when they arrived, Tracie said her son actually approached officers in an area that is essentially the family's backyard.
"It really doesn't take long conversing with him to figure out he has a disability," said Tracie. "Now, he has a busted blood vessel in his eye. He had scratches and abrasions on both sides of his face."
Police, however, were apparently untrained in how to identify someone with autism and the only thing that came to their minds was this guy is high. According to police account, Michael was "sweating, breathing heavily, having difficulties focusing and acting paranoid."
Police even went so far as to force the teen to perform a field sobriety test—for his autism.
When another officer arrived, Michael was so frightened and stressed out that he could not perform the sobriety test "based on his erratic movements, behavior, and statements," Widner said. One of the officers then tried to put handcuffs on "for everyone's safety until they could determine what was occurring."
According to the police news release, after they put one of his hands in the cuffs, the teen then pulled away, "backing into the second officer, and all three went to the ground."
Police then feared for their lives that Michael may try to use the other end of the handcuffs as a weapon—which he did not—and then they began tasering him.
However, according to the body camera footage, the incident unfolded quite differently.
"They ask him to put his hands behind his back, once again he turns and points to the house and says, 'I live here, can I get my mama?'" Tracie said. "They grab his arm, put a choke hold on him and throw him to the ground. At that point, the body cameras fall off and all you can see is sky but you can still hear the audio. The first time I saw the video, it was at that point the officer told me, 'This is where they stunned him twice.' Up until that point, we had no knowledge of the use of a stun gun."
As the cops bring Moore to the ground, he cries out for help from his mom. "Help! Mama!" he cries as the officers dole out taser strikes.
As WFAA reports, Tracie says as this was all happening, she was in the front of the house unaware that anything had happened. Finally, after Michael was handcuffed and in a police unit, an officer went to the front door and knocked.
"It could've all been avoided," she said. "We're just all in complete and sheer utter disbelief this could happen to him."
Widner released a statement on Thursday and defended his officers' actions.
It is our opinion that our officer made a judgment call based on the limited information available, as the job forces them to do every day. Based on the situation and presentation of Mr. Moore, the responding officer believed him to be under the influence of controlled substances. A reasonable officer could have made this determination. He then appropriately initiated procedures to determine intoxication. After the struggle began, the techniques used were consistent with law and department policy for use of force.
Of course, we would have preferred that the encounter with this young man had occurred under different circumstances. Moving forward, the department will use this opportunity to expand our awareness and ability to serve diverse residents within our community. While we currently meet all state mandated requirements for mental health training, we are actively pursuing opportunities to expand our training, and for direct engagement with all of our residents.
According to the police, the person who called to report Moore actually told dispatch that he had a mental disability but this information was never passed on to the responding officers.
Moore was never charged with a crime and after he was beaten and tasered, he was released to his mom who then took him to the hospital to be treated for his injuries.
If you'd like to peacefully express your concern over the officers' treatment of an autistic teenager, you can do so on their Facebook Page, here.
Sadly, police officers mistaking autism for drug use is not an isolated incident. Just last month, TFTP reported on the national outcry surrounding the violent takedown of an autistic boy by Officer David Grossman, and just like the Graham police department is doing, the Buckeye Police Department began conducting damage control. As the world lashed out at the department for mistreating Connor Leibel, an innocent autistic boy, in such a violent and callous manner, the parents simply asked for an apology—one that would never come. And now, because the police refused to apologize, the taxpayers are going to be held liable.