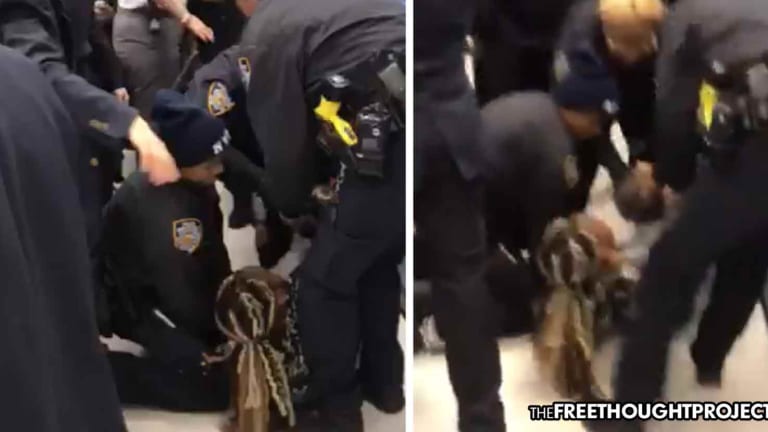 Utterly Horrifying Video Shows NYPD Cops Rip Baby from Mother's Arms as She Waited for Food Stamps
A deeply disturbing video was uploaded to Facebook this week, showing NYPD officers rip a tiny baby from his mother's arms over a dispute on where to sit.
New York, NY — Jazmine Headley and her one-year-old son waited in a Brooklyn public assistance office last Friday for two hours in an attempt to receive some aid. That aid would never come, however, as an appalling video shows, police would show up, rip Headley's baby from her arms and then arrest the mother.
According to the woman who took the video, Nyashia Ferguson, Headley hadn't done anything wrong and the entire incident was over nothing.
As Ferguson explained in the video she posted to her Facebook account, when Headley was at the Supplemental Nutrition Assistance Program office in Boerum Hill last Friday, the crowd was larger than usual and there were no chairs available.
Because she had such a long wait to see an aid worker, Headley simply sat on the floor to wait it out. But a security guard in the office apparently didn't like this mother sitting on the floor, according to Ferguson. So, she called police, Ferguson wrote on the post.
As the NY Times points out:
A female security guard eventually approached Ms. Headley, and several more guards followed as a verbal dispute escalated. Ms. Ferguson said they taunted Ms. Headley and laughed in her face before leaving.

Ten minutes later, they returned with the police, Ms. Ferguson said. A fearful expression crossed Ms. Headley's face as they approached, she said.
Ferguson said Headley tried to tell the officers her side of the story, but they weren't hearing it and this created a chaotic situation.
"The baby was screaming for his life," said Ferguson. "The lady was begging for them to get off of her. I was scared."
Three cops show up first, who then surround Headley and attempt to pull the baby from this mother's arms. Then, another officer, with their back to the camera, moves in with an apparent mission to separate the baby from his mother.
"They're hurting my son! They're hurting my son!" Headley is heard screaming in the video.
The NYPD officer then begins violently yanking at the baby as onlookers watch in sheer horror. Eventually, the officers over power the mother and get the baby away. At this point, Headley—like any parent who just had their baby torn from their arms would do—became angry, so she was threatened with a taser in her face. She was then handcuffed and arrested.
The NYPD called the incident "troubling" and then blamed Headley for causing it. They said that when officers arrived, after the 911 call, Headley refused to leave.
Because she had been there for 2 hours waiting for help, naturally, anyone would be apprehensive about simply walking out. After refusing to leave, the NYPD says that security guards then "brought the woman to the floor" and police arrested her.
Ferguson disputes the police account of the incident, however, and noted that it was a police officer who waved a stun gun and then forced Headley to the ground.
"They're always rude," Ferguson said about the guards in an interview with the NY Times. "They think that people that are poor don't have nothing, so you can treat them any kind of way."
The police "didn't help at all," she said. "They made it way worse."
As the NY Times reports:
Ms. Headley was charged with resisting arrest, acting in a manner injurious to a child, obstructing governmental administration and trespassing. The police said she refused medical treatment for herself and her son, who was placed in the care of a relative.

She could not be reached for comment on Sunday because she was being held without bail on Rikers Island, according to online corrections records and Brooklyn Defender Services, the public defender organization representing her.

Deputy Commissioner Phillip Walzak, a police spokesman, said the officers involved are all assigned to the 84th Precinct and remained on full-duty status. He declined to give their names or say whether they followed department protocols, citing its investigation.

The department is investigating the incident with the city Human Resources Administration, which administers public benefits. A spokeswoman for Allied Universal, the parent company of the security firm visible on security guards' patches, FJC Security, did not respond to requests for comment.
Below is this disturbing video. WARNING, it is extremely graphic.
So I'm At 275 Bergen Street Handling My Business Or Whatever & There Wasn't Any More Chairs For This Lady To Sit Down So She Sat In The Corner On The Floor. The Security Guard Came Over Said What Ever She Said To Her & She Made The Security Guard Feel Dumb So She Called The Cops On Her & This Was The Outcome SMH Mind You She Had Her Baby In Her Hands The Whole Time????????‍♀️????????‍♀️????????‍♀️ I'm So Fucking Disgusted with The NYPD???????? EVRYBODY PLEASE SHARE!!! I'm a mother myself & I would've lost my fucking mind if this was me they would've had to kill me????????????????

Posted by Monae Sinclair on Friday, December 7, 2018