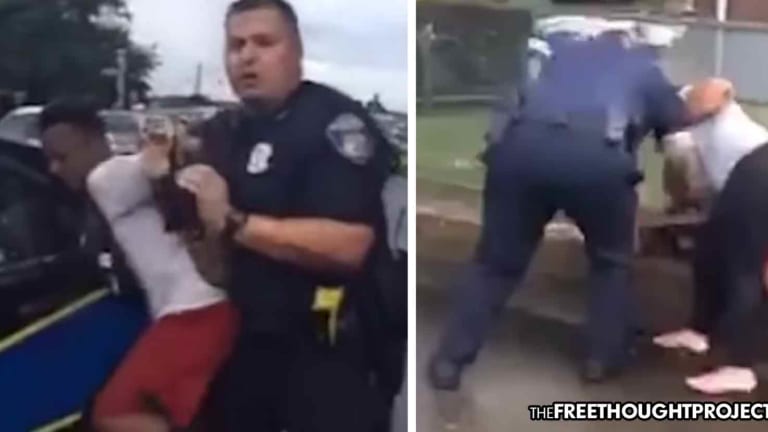 WATCH: 'I'mma Beat the S**t Out of Him!' Cop Punches, Threatens 13yo Mentally Disabled Boy
A Baltimore cop was seen on video manhandling and threatening to cause grave harm to a 13-year-old boy with a mental disability.
Baltimore, MD -- A disturbing video of a Baltimore cop has gone viral this week after it showed him manhandling and punching a 13-year-old child and threatening to cause him serious harm. Adding to the disturbing nature of the interaction is the fact that the boy is mentally disabled.
According to the Baltimore police, they have since launched a review of the incident after one of their officers was seen on video in a violent altercation with a 13-year-old boy whose mother says has a mental disability.
The Baltimore police claim that the boy was accused of trying to break into a neighbor's house. However, the boy's family says he was merely trying to find their lost cat. Either way, police showed up and the scene went from calm to all hell breaking loose in a matter of minutes.
The first video shows the officer ordering the 13-year-old boy, Deontay, and his 11-year-old sister to sit down. Although that video ends abruptly, it shows the two children complying with the orders.
When Deontay's mother, Kimberly Townes saw her children being ordered to get on the ground, she stepped in and spoke up.
"He told them get on the ground," Kimberly Townes, the child's mother, told WBAL-TV. "I said, 'No, they ain't getting on no ground.' She 11 and he's 13. They not getting on the ground. So I told them, 'come on.' When I said that, he grabbed my son, like close armed him, hit him down, tried to get the handcuffs on him, then he started closed fisting my son."
As the video shows, Deontay was certainly fighting back, but this could be considered self-defense as he had apparently done nothing wrong. However, his resistance was met with brute force by the officer who was twice his size.
As the officer placed Deontay in handcuffs, he started flailing, which seemingly enraged the officer even further.
"I'm about to send this kid to the f***ing hospital," the officer screamed at one point. "If I see him again I'm going to beat the sh*t out of him!"
Deontay is then thrown in the back of the police car as the officer slams the door in a fit of rage.
"I still can feel it -- a little knot -- and I got a black eye, my teeth and stuff," Deontay said.
The Baltimore police department released the following statement in regard to this violent cop:
"This was clearly a very hectic and chaotic scene that the officers were dispatched to. We take these matters very seriously and Commissioner Tuggle has demonstrated his commitment to transparency and accountability. This case is being reviewed by the Office of Professional Responsibility as we speak, and that would include the video clips taken by civilians and posted to social media, as well as the police officers body-worn cameras, that we hope provide a more conclusive version of events from start to finish."
The disturbing video can be seen below. If you'd like to voice your concern over the officer's actions in this video, you can peacefully do so at the Baltimore Police Department's Facebook page, here.