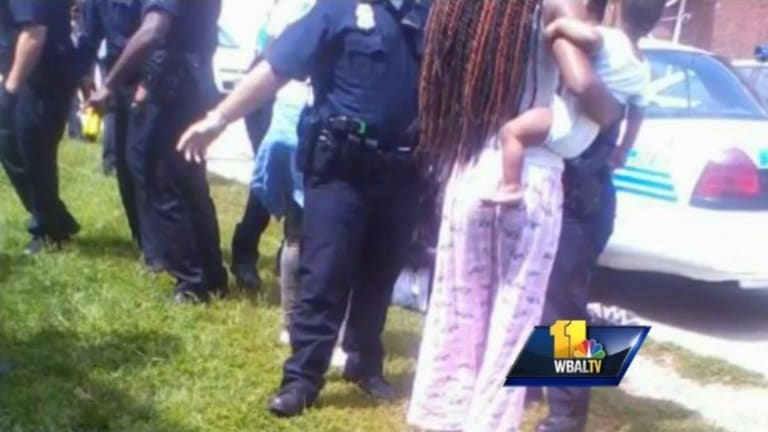 Cops Accused of Using Taser on Woman With Baby After Nearly Running Over Children on Sidewalk
Baltimore City police have been accused of using excessive force on multiple people during a drug arrest, and using a taser on a nearby woman who was holding a baby.
The police claim that the woman was not holding a baby at the time that the taser was used on her. They also claim to have video evidence to prove it, but they have refused to release this evidence to the public, and they will beinvestigating themselves.
Multiple witnesses have come forward saying that the police did in fact use a taser on the woman while she was holding the child. According to the witnesses, children in the neighborhood were playing a game of football in a courtyard near their homes when multiple police cars sped up onto the sidewalk, nearly hitting a number of children who were outside playing.
The officers were reportedly swarming the area to search for a drug suspect, who they did find and brutally apprehend.
"They came out, guns in their hands and (with) spray sticks," witness Teisha Parker told WBAL.
Multiple witnesses took pictures of the incident, which showed police choking one of the suspects.
"Once they lift him up finally, he starts slinging some more, saying, 'I can't breathe. I can't feel the side of my face. I can't feel my arms.' So now he's breathing real hard, and you see white stuff coming out of the side of his mouth," witness Kevin Brown said.
There was a crowd gathered in the area and a woman holding 10-month-old child ended up getting caught in the middle.
"The police take the Taser and 'flak, flak,' and hit her. Once they hit her, she moved back, and the baby was now tipping out of her hands," Brown said.
"Somebody picked the baby up. Everybody got to screaming, 'Oh my God, oh my God, oh my God, oh my God,'" Parker said.
4 people ended up getting arrested in the scuffle, and police later confirmed with WBAL that they were not planning on releasing the video footage to the public.
John Vibes is an author, researcher and investigative journalist who takes a special interest in the counter culture and the drug war. In addition to his writing and activist work he is also the owner of a successful music promotion company. In 2013, he became one of the organizers of the Free Your Mind Conference, which features top caliber speakers and whistle-blowers from all over the world. You can contact him and stay connected to his work at his Facebook page. You can find his 65 chapter Book entitled "Alchemy of the Timeless Renaissance" at bookpatch.com.