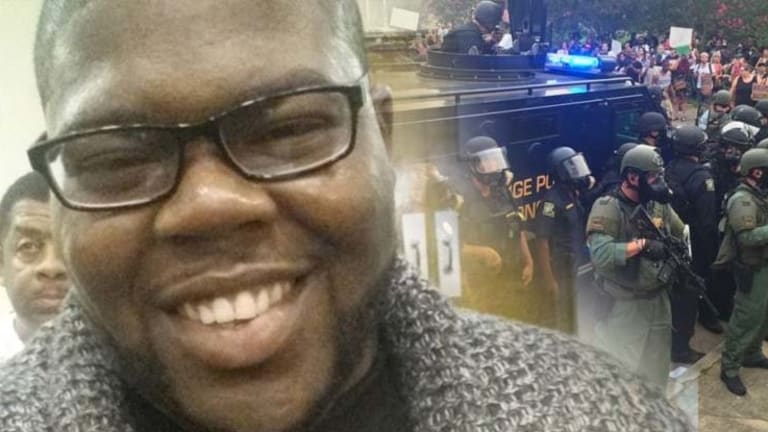 Tragic Irony -- Innocent Cousin of Slain Baton Rouge Cop Detained, Nearly Killed By Police
The cousin of a murdered Baton Rouge cop was jailed and denied his meds, nearly slipping into a coma because abusive police refused to offer assistance.
The cousin of one of the police officers gunned down in Baton Rouge, Louisiana, faced arrest after being falsely linked to the murders — and nearly slipped into a coma when callous police refused to obtain vital medicine to treat his diabetes.
Damarcus Alexander and a friend stopped to change in a Walmart on their way to church for the friend's special singing engagement — but were arrested shortly afterward in a startling case of mistaken identity that nearly cost Alexander his life.
On Sunday, July 17, the two friends left Dallas at about 4 a.m. for the small Louisiana town of Belle Rose, about an hour south of Baton Rouge. Just a few hours later, Baton Rouge police came under fire, and three officers — including Alexander's cousin, Montrell Jackson — were killed.
After Alexander and his friend, who purchased a white shirt for the singing engagement at the church, changed their clothes at Walmart, they got back on the road — not knowing someone suspicious of the two black men, following the shooting in Baton Rouge by Gavin Long moments before, had dialed 911 to report them.
As the Daily Beast reports, during their pit stop at the department store, Alexander and his companion didn't hear about the shooting just across the river — much less that one of the fatally wounded was the man's cousin.
Responding to the emergency call, police stopped their car not far down the road.
"Hey, you were just in the Walmart changing, right?" Alexander said an officer asked them. "You know what just happened in Baton Rouge? We already got the guy who did it, but we think that he probably didn't work alone so we're looking into you two."
Police claimed, falsely, their car matched the description of Long's vehicle at the scene.
According to the Daily Beast, soon after they were stopped, over a dozen police vehicles from various departments rushed to the scene — and all of the officers were white.
Despite having evidence Alexander and his friend couldn't possibly have been anywhere near the Baton Rouge shooting — a gas station receipt bearing the time 8:43 a.m., three minutes after Long began shooting — officers detained the pair anyway.
"When we were detained, we asked for phone calls," Alexander said, noting they weren't even read their rights. "We were not given phone calls."
Worse, the cops intimidated the men into handing over their cellphones, forcing them to "sign consent forms." When Alexander questioned this, police began cursing the pair, sneering, "If he wants to be a dick about it, just put his ass back in the car." He added, "He'll be here for another four hours," meaning the time it would take to obtain a court order to search the phone.
Now aware officers had been killed, Alexander feared for the seven family members who worked in Baton Rouge law enforcement — along with Jackson, his father, aunt, and uncle — and repeatedly explained he needed to contact his family to inquire about their safety.
"I don't know if one of them was shot and killed," he said, according to the Daily Beast. "I was ignored."
After being detained for hours, Alexander and his friend were taken to holding cells at the Louisiana State Police station in Baton Rouge — but Alexander, by that point, was in desperate need of medicine for his diabetes.
When his friend attempted to alert officers of Alexander's medical condition by pounding on the cell door, a cop yelled, "Get away from the door, little bitch."
Police summoned EMS to the station and confirmed his blood sugar was elevated, and that he needed medication; but as Alexander explained, instead, "for hours, they were bringing me cookies, and peanuts, and crackers, and juice." Which was "the exact opposite of what I need."
Officers claimed they were concerned he would take an entire bottle of pills in an attempt to commit suicide while in custody — so they refused the medicine he desperately needed.
"I felt helpless," the completely innocent man said of trying to get medical aid while being jailed without reason.
Eventually, after several hours, Alexander became semi-comatose and had to be rushed by ambulance to the hospital for treatment.
It wasn't until officers obtained footage from the convenience store where the two had stopped that they realized Alexander and his friend weren't involved in the Baton Rouge shooting. They released his friend to go to the hospital — and it wasn't until that time Alexander learned his cousin had been one of the officers fatally shot.
"He was my big cuz," Alexander lamented. "He saved me from drowning once."
As harrowing as the incident was, Alexander seemed thankful to have escaped with his life.
"I'm really thankful I wasn't another hashtag," he said.