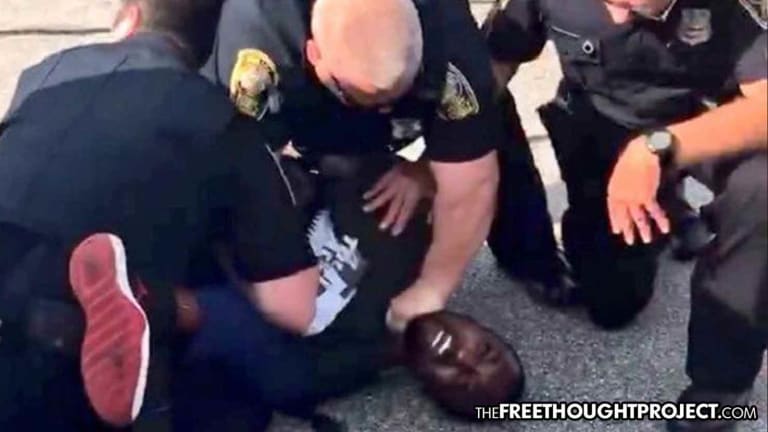 Because a Bystander Filmed It, Cop Forced to Plead Guilty to Strangling Former NFL Player
Because his crimes were caught on video, a police officer was forced to plead guilty this week to choking a former NFL player for no reason.
Henry County, GA — Harrowing video posted by a former NFL player to his Facebook page sparked outrage in the community and led to the victim, Desmond Marrow, calling for justice in 2018. Now, years later, his calls for justice have been answered.
Former Henry County police officer David Rose pleaded guilty this week to a count of simple battery connected to his arrest of Marrow. According to WSB-TV, as part of his agreement, Rose must serve 12 months probation, complete an anger management class, 40 hours of community service and have no contact with Marrow. Rose will not be allowed to work again as an officer or get his certification reinstated.
"Through his revealing words and actions, David Rose tarnished the badge that represents all the honorable and brave men and women who serve in law enforcement. As a result of this plea, Rose will never work as a police officer again," Henry County District Attorney Darius Pattillo said. "I am satisfied that he has been held accountable for his actions against Desmond Marrow."
Marrow is a former University of Toledo football player who also spent one season in the NFL as a member of the Tampa Bay Buccaneers. According to Marrow, he was unlawfully arrested after police mistook his cellphone for a gun.
"I Only Had My Cell Phone in my possession & they claimed to be scared for their lives. I had No type of weapon in my possession , I was arrested for having a Gun that turned out to be my Cell Phone . During the arrest the police knocked my teeth out, slammed me on my head and choked me out until I was unconscious," Marrow wrote. "In addition I suffered a shoulder strain and a concussion along with the heartache of my Wife leaving me during this Very Hard time for my short comings and careless actions."
As the video shows, police were walking Marrow to the cruiser as he tells them repeatedly, "I'm not even doing nothing. I'm not even fighting back."
All of a sudden, without clear provocation, police slam Marrow into the back of a pickup truck as one of the officers grabs his leg. The pair of cops then slams Marrow into the pavement causing him to scream out in agony.
Clearly upset that police are attacking him while he's handcuffed, Marrow continues to shout, "I didn't even do nothing to y'all!" as officers ask him to lie down. He then briefly flails in frustration from being attacked, prompting Rose to begin strangling him.
"I can't breathe," Marrow says as he struggles to inhale with the cop squeezing his throat.
"Settle down, just relax," another officer says, as if it is somehow easy to relax in handcuffs as multiple armed men pile on top of you while one of them chokes you.
After the officer took his hand from his throat, Marrow appears to be unconscious. "You okay?" asks one of the officers as he prods the handcuffed man in the shoulder.
"This is ridiculous," a witness is heard saying in the background.
While the video only shows a portion of the interaction, it apparently began over an instance of road rage and ended in a Target parking lot.
According to the redacted police report, Marrow told police that someone in a dark sedan tossed a coffee cup at his car as he was driving over Interstate 75, so Marrow followed them to "have a conversation."
"Marrow said that he was wrong for having chased the other car and that he should not have chased," Officer Rose wrote in the report, completely omitting the fact that he choked him.
However, after the arrest, Rose was captured on his own dash camera bragging about choking Marrow and explicitly noting that he was going to cover it up.
"I'm not going to write it down, but hell yeah, I choked that (expletive)," Rose said on the dashcam video.
Chief Mark Amerman placed Rose on administrative duty after the incident and two weeks later, the department fired Rose for use of unnecessary force. Last year, he was indicted on charges of excessive force, violation of oath, false official certificates and writings along with making false statements.
During trial last year, however, Rose denied choking him — in spite of the video and the admission — and claimed it was merely bravado.
After he was arrested, Marrow faced one count of Felony Obstruction, Misdemeanor Disorderly Conduct, Reckless Driving, and Aggressive Driving. Last year, however, all those charges were dropped and Marrow pleaded guilty to misdemeanor traffic violations and paid a fine.