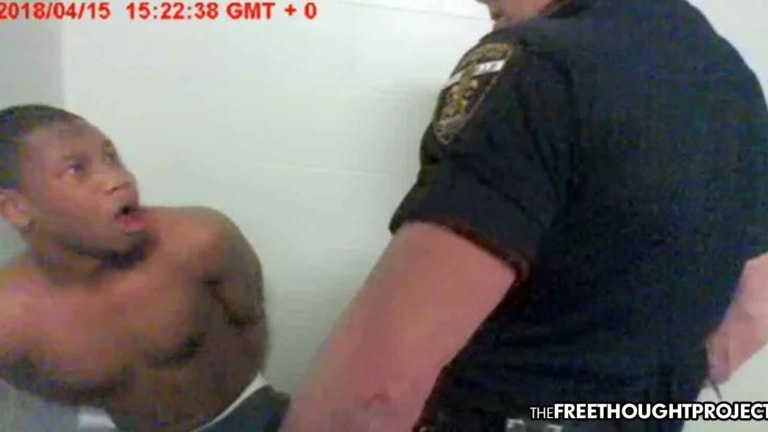 WATCH: Cop Flips Out in Apparent Roid Rage, Beats Handcuffed Teen and Starts Smashing Things
An officer—who was hired in spite of his criminal record—was seen on body camera video punching a handcuffed teen who was not resisting at all.
Louisville, KY — Body camera video from inside the Louisville Metro corrections center shows that officers can and will beat an entirely compliant, submissive person, even when that person is handcuffed. It also illustrates that they can do this and face no charges.
According to a recent lawsuit, filed by the victim, Terry Whitehead, then a 19-year-old inmate, the incident happened on April 15. Whitehead was attempting to explain to officers why he had put up toilet paper in his cell to block his window.
"Whitehead, what are you doing, man?" says an unidentified officer wearing the body camera. "I ain't never had a problem out of you. Why you gotta spit on us? Sergeants come around. You know how this is."
Whitehead responds to the officer by telling him that he was just using the toilet and wanted some privacy.
In response to Whitehead telling officer David Schwartz that he was using the toilet, the officer reared back his fist as if he were going to strike Whitehead.
"I do not give you problems like that, Schwartz bro," he tells the officer as he flinches in fear.
But the fact that the 19-year-old had given him no reason to get violent was of no consequence to officer Schwartz, and just like that, he punched the handcuffed teen in the face.
Schwartz then walks out of the jail, slamming the door into the wall twice before moving further down the hall.
As the Courier-Journal reports:
The incident led to the firing of Schwartz, 47, who at the time was a probationary officer. In his termination letter, corrections Director Mark Bolton wrote the former Marine didn't have the temperament for the job, and noted there was property damage from his "fit of rage."

A second probationary officer, Devan Edwards, 21, was also fired by Bolton. His firing letter noted he failed to report the incident and also cited earlier "unprofessional actions" on social media as reasons for his termination.

Both were hired as recruits in September 2017.

Whitehead has filed suit against the two fired officers in U.S. District Court in Louisville claiming excessive force, assault and battery.

He was pepper sprayed, handcuffed and badly beaten, according to the suit, which seeks monetary damages for medical bills and pain and suffering, punitive damages, and a jury trial.

The suit claims Edwards had allowed Whitehead to put the tissue paper over an opening in his cell door for privacy when using the bathroom.
Schwartz demanded that Whitehead take down the toilet paper from the window, but Whitehead said he couldn't at the time as he was still using the bathroom, according to the lawsuit.
Whitehead apparently got into a verbal dispute with the officers over the toilet paper incident which was escalated to the officers deploying pepper spray and placing Whitehead in handcuffs.
According to the lawsuit, the officers handcuffed Whitehead, hit him, then moved him to a different area and continued to beat the handcuffed man out of the view of the camera.
The lawsuit states that Whitehead blacked out during the beating and was left with multiple contusions and swelling as a result. It took officers more than a week to finally bring Whitehead to the hospital after he lost consciousness in custody.
After Bolton watched the video, he fired both officers for use of force violations, referring to the incident as "disturbing."
"What I saw on that video is disturbing and is not reflective of what we expect from our staff," Bolton said at the time.
Steve Durham, assistant director of Metro Corrections, said in an interview that Edwards was fired because he failed to report the use of force and didn't seek medical attention for the inmate, according to the Courier-Journal.
Now, because the department was unable to keep their officers in check, the taxpayers will be shelling out thousands to pay for their acts.
"If don't nobody believe he deserves justice, I do," Janelle Stark, Whitehead's mother said. "And I'm going to make sure he gets it."
"I'm hurt, my heart is broken," Stark said.
Below is the footage. Notice how Whitehead is in such fear of further pain that he tries to plead with the officers to stop. Disturbing indeed.