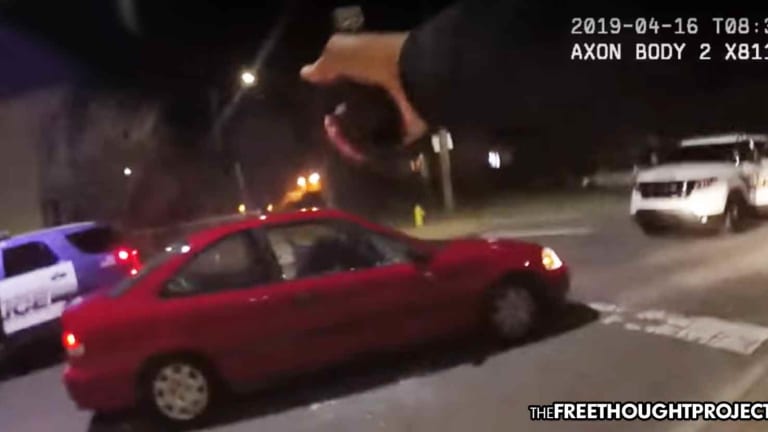 Body Cam Released Showing Cops Shooting Innocent Couple After Mistaking them for Robbers
Body camera footage was just released showing two Connecticut cops jump out of their vehicles and attempt to murder an innocent unarmed couple.
New Haven, CT -- As TFTP reported earlier this week, citizens of New Haven have been protesting every day since April 16 after police blocked in a couple in their vehicle and opened fire on them for no reason. The entire incident was captured on video and showed the utter cowardice and ridiculous violence carried out by New Haven's best. Now, in a moment of transparency, police released the body camera footage and the 911 calls that led to the stop.
Tuesday night, Connecticut State Police released Hamden Officer Devin Eaton's body camera video, a 911 call, police dispatch audio and two angles of surveillance footage.
As TFTP reported, Stephanie Washington, 22, was hospitalized last week after the two trigger-happy cops opened fire on her and her boyfriend Paul Witherspoon, 21. According to police, Officers Eaton and Pollock were responding to reports of a robbery at a nearby gas station when they stopped the vehicle in which Washington was a passenger.
Neither Washington nor Witherspoon committed a robbery as they have not been charged with any crime.
As the body camera footage shows, there was no reason for the officers to start shooting as it appeared the couple was trying to comply and exit the vehicle. But they simply weren't given any time before these trigger happy cops opened fire.
"There are indications that he was told to open the door, yes, or come out with his hands up," Connecticut State Police Commissioner James Rovella said. No weapons of any kind were found in the vehicle.
"Which is what he appears to have done," a reporter said.
"It looks like it, but I can't tell you what's in one of the hands," Rovella responded, attempting to justify the deadly force used by the officers.
The officers were so crazed in their shooting spree that one of them actually shot the other.
Rovella also said the Yale officer was hit with a "projectile" from the Hamden officer during the incident. The Hamden officer fired 13 shots and the Yale officer fired three times, Rovella said, according to CNN.
The Yale officer, Terrance Pollock was wearing a body camera as well but he failed to turn it on before he began shooting. Both officers are accused of improperly using their body cameras.
As the video shows, in only seconds, both officers jumped out of the vehicles and began shooting at this innocent couple. After they shot Washington, they realized the couple was unarmed.
Police claim that Witherspoon had a weapon so they had no other option but to begin dumping rounds into the car. However, a search of the vehicle, video footage from surveillance cameras as well as the officer's own body camera footage, shows that no such weapon existed.
What's more, police claim that they opened fire because Witherspoon "exited the vehicle in an abrupt manner" and turned toward them. However, as the video shows, that never happened.
As the video shows, the officers were the only ones who jumped out of a vehicle and they immediately opened fire for absolutely no reason.
Witherspoon's uncle told reporters that there was an argument at the gas station, but no attempted robbery. His comments were backed up by the fact that no charges were filed against either of the vehicle's occupants.
The 911 caller claimed Witherspoon had a gun and tried to rob a newspaper delivery driver. However, no such gun was found and after an investigation, no such attempted robbery took place as Witherspoon was not charged with any crime.
Hamden Mayor Curt Leng called the shooting "shocking, haunting." And he's right.
"I am so deeply sorry to the individuals who were involved that this ever occurred, and also very thankful that the healing has begun," he said Saturday in a statement. "We will do better. We must do better."
Rightfully so, the town is outraged and has been expressing this outrage in the form of peaceful protests since this disturbing scene unfolded last week.
"There is no city in this country that will allow officers to do that. I'm sure eventually they will be fired," Witherspoon's uncle, Rodney Williams said. "No administrative leave, you're out of here, and you can sue me for wrongful termination, but you should be fired."
We agree.
Officer Hamden's body camera:
Argyle street surveillance camera:
Dixwell street surveillance camera: