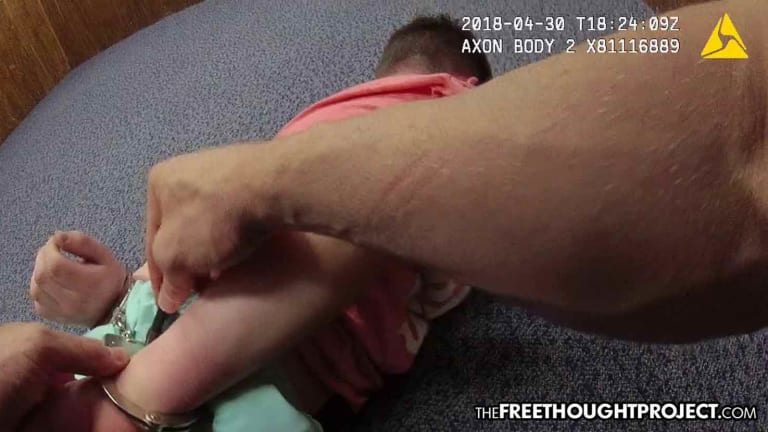 Mom Horrified After Watching Body Cam of Cop Attacking 10yo Autistic Son in School
Disturbing body camera footage captures the horrific effects of the US school system continuing to rely on police to handle young children with autism.
Denton, TX – (RT) Body cam footage has emerged showing the moment a school resource officer forced a 10-year-old boy with autism to the ground and handcuffed him. The child's mother says the entire incident amounts to "abuse."
The video begins by showing the young boy, Thomas, sitting in a cubby by himself in a classroom at Lee Elementary School in Denton, Texas in April. His teacher tries to encourage him to "hop out of the cubby" and eventually takes him by the wrist to help pull him down.
A Denton Police Department school resource officer, who had been called to the room, can then be heard saying "do you want help?" to which the teacher replies that she does.
At that point, the officer picks up Thomas and carries him down the hallway to a room. That room, called the SOAR room, is a space where children can quiet down, according to local news outlet WFAA.
Once they have arrived in the room, the officer places the child on the ground and says "do you want the handcuffs?" Thomas is then cuffed while he screams and the teacher watches from a corner. According to the footage, Thomas was handcuffed three separate times before his mother, Emily Brown, arrived.
It wasn't until his mother got home with Thomas that she and her husband Robert discovered bruises on their son's body. At that point, Emily told WFAA that they "started realizing there's really something wrong here."
Although police say Thomas was poking other students, the video only shows the child backed into the cubby.
"I see a little boy hiding," Emily told WFAA. "Not doing anything that's an imminent serious harm to someone else." She equated the situation to "abuse," calling it an unnecessary use of force by the officer.
The Browns told WFAA that the very fact their son was handcuffed was breaking a rule, as they have a detailed intervention plan in place with the school which does not permit the use of restraints. "There are a variety of de-escalation techniques they're supposed to be using," the child's father said.
However, the city of Denton said that, following a departmental review of the incident, "no violations" to laws or policies were found, and that proper protocol was followed. The officer has been allowed to keep his job at the school.
The family is considering taking legal action against the school district and plans to place Thomas in a charter school this year.