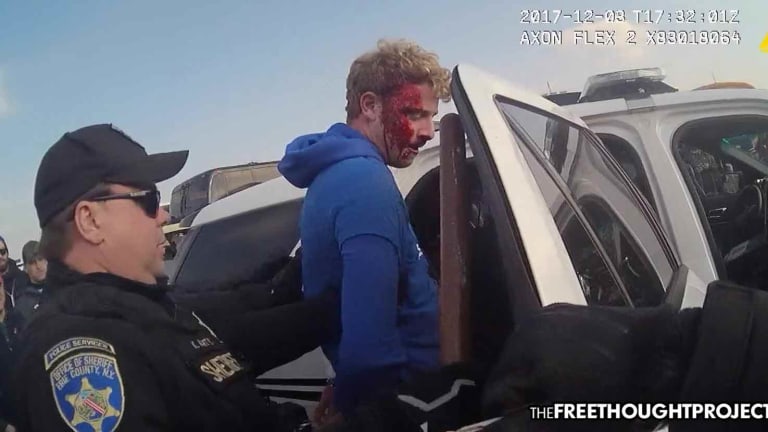 WATCH: Innocent Man Politely Asks Cops for Directions—Who Then Smash His Face In and Kidnap Him
Body camera video has exonerated an innocent man who became the target of aggressive deputies after he asked them for directions at a football game.
Buffalo, NY — Practicing your First Amendment right to free speech, in the land of the free, can and will get you beaten, kidnapped, or worse. As the body camera video below illustrates, you can be polite and courteous but when a raging cop snaps—and then lies about what happens—there is very little you can do to protect yourself.
Nicholas H. Belsito had committed no crime, had harmed no one, and was merely tailgating at a Bills game last year when he was savagely attacked by police, his nose broken, and blood gushing from his face. And it all began over asking for directions.
That day, Belsito's friend had been arrested for allegedly hitting a cop's elbow with an empty beer can. As his friend sat in the back of the police cruiser, Belsito wanted to ask for directions so he could pick him up at jail.
"I'm sorry," he says politely as Deputy Kenneth Achtyl lowers his window, "I'm just wondering where you guys are going, so I'm going to meet my friend there ..."
"Who's your friend?" Achtyl says.
"The kid in the back.''
"OK, well, you want to go to jail with him?" Achtyl asks threatening to kidnap and cage a man for asking for directions.
"No, I ..."
"Then beat it."
"No," Belsito says, as he tries again to learn where the deputies will take his friend.
"He's going to jail," Achtyl says. "Beat it."
"Can you tell me the location?" Belsito asks.
"Ten Delaware," the deputy tells him. "Now beat it."
Belsito, who is not from the area, didn't understand that 'Ten Delaware' was the address of the Erie County Holding Center. So, he asked once more.
"No, what do you mean? Can you tell me the location?" he asks once more.
"Ten Delaware. Beat it."
Finally, it clicks and Belsito realizes that he's been given the address.
"OK. Thank you," he says.
As Belsito walks away, frustrated with the attitude of the officer, he then mutters a phrase that cops across the country likely hear every day. While the exact words aren't clear, Aaron F. Glazer, a lawyer now preparing a wrongful arrest lawsuit on Belsito's behalf, explained that his client said, "Do your (expletive) job. This is bull---."
Immediately after legally practicing his First Amendment right to express himself, deputy Achtyl snaps and jumps from the vehicle.
"Come here!" yells Achtyl.
Deputy James W. Flowers, who is the one wearing the experimental body camera remains in the car. Knowing that his partner had snapped and was about to make a mistake, Flowers says, "Nah, ah, ah," to Achtyl.
We don't see exactly what happened next, because Flowers was the only officer with a camera. However, 14 seconds later, once Flowers emerges from the vehicle, we see Achtyl on video gripping Belsito from behind with blood dripping from his face.
"Put your (expletive) hands behind your back," Flowers shouts as Belsito attempts to comply with the order.
Achtyl then throws Belsito to the ground and puts him in handcuffs.
Belsito had done nothing wrong, yet he found himself being beaten and kidnapped by police. What's more, once it was all said and done, police would paint Belsito as a dangerous and violent criminal.
Lying through their teeth, the deputies' sworn complaint against Belsito says that when he was told he was under arrest for swearing "the defendant did fight with the arresting deputies by swinging his arms and attempting to pull away." The complaint goes on to say he "engaged in fighting" and in "violent, tumultuous and threatening behavior."
As the body camera footage below shows, this was all lies.
According to the Buffalo News, Belsito's attorney says he has photos and witness testimony that covers the 14 seconds before Flowers' video picks up, which prove that Belsito never fought with the deputies. Glazer also provided another video from a bystander that shows Achtyl repeated smashing in Belsito's face with his baton while doing very little to protect himself.
After Belsito was beaten and kidnapped, the officers charges him with multiple counts of disorderly conduct, obstructing governmental administration and criminal mischief. However, as soon as the DA reviewed the video, all those charges were dropped.
"The assistant DA took one look at this video and dismissed everything," said Glazer. "I'm a former prosecutor and I don't like to take on cases against law enforcement. But this was just too egregious."
The body camera Flowers was wearing that day was an experimental one which the department was testing out to lower instances of false claims of brutality against officers. However, this had the exact opposite effect. The department now remains tight lipped on whether or not they will continue with the program.
As the video below shows, being innocent, polite, and compliant is no defense against a cop on a rampage. Had there been no video, rest assured that it would have been the deputies' false words against Belsito and this innocent man would likely be rotting in jail.