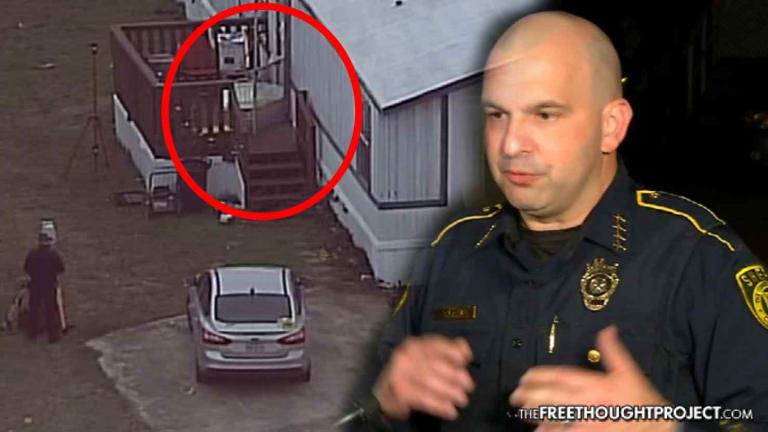 Cops Kill 6-Year-Old Boy While Executing Unarmed Woman in a Neighborhood Full of Kids
Multiple deputies opened fire on an unarmed woman in a neighborhood full of children on Christmas break and they killed a 6-year-old boy.
Schertz, TX — An unnamed 6-year-old boy, who had just begun his Christmas break this week, was killed by fearful police who opened fire on an unarmed woman.
According to police, they were searching for a suspect wanted for an alleged car theft. Their target was a woman in her 30's who had fled into a nearby mobile home park.
The family is now in shock after their 6-year-old boy was shot in the abdomen by police as they opened fire on the female suspect. Sadly, the little boy would not survive his wounds.
As New 4 San Antonio reports, Bexar County Sheriff Javier Salazar said one of the deputies found the suspect in a closet who allegedly told him,"I have a weapon, I'm gonna shoot you." She fled on foot, while the officer pursued her into a wooded area. Salazar said the deputy lost sight of her, so the deputy called backup. The suspect was found crossing a river and officers pursued her in "water that was up to their chin."
Salazar claimed the woman had threatened to harm several witnesses which also made them think she had a weapon of some sort.
When police pursued the woman into another neighborhood, they said they found her on someone's porch trying to break into the home.
Salazar claimed the woman caused the multiple armed deputies to be "in direct fear of their lives," so multiple deputies opened fire to execute her. The woman was unarmed.
The deputies' irrational fear and subsequent deadly and violent response ended as their rounds pierced the home in which the 6-year-old boy was playing, killing him. The woman was also killed on the scene.
Police conducted an extensive search of the scene to attempt to find a weapon that would've justified opening fire on the woman. However, no weapon was found. Salazar explained that officials are now conducting another search throughout the entire area to find this alleged weapon mentioned in the officer's statements.
"It's a tragedy, obviously," Salazar said.
Salazar said they are not sure who fired the shot that killed the little boy.
"We don't want to leave any stone unturned," Salazar. "We want everybody to have answers here. Right now, it's just too soon to tell."
The neighborhood, according to the reports was "packed with children" who'd just all started their Christmas vacation. For one family, their Christmas will now be a nightmare thanks to multiple police officers who feared for their lives and opened fire on an unarmed woman.
When reporting this story, one cannot help to recall the tragic instances of Jeremy Mardis and Aiyana Jones.
Officer Joseph Weekley was part of a SWAT team in 2010 when he shot a sleeping child in the head during a botched raid executed on the wrong home.
The raid was being filmed for an episode of The First 48, and many believe the excessive tactics used were employed simply to create drama and excitement for the camera. Unfortunately, a beautiful little girl, Aiyana Stanley-Jones, 7, lost her life because of his reckless and violent actions.
After a 5 year suspension, Weekley returned to his job as a police officer.
Earlier this year, two officers were found guilty of the murder of an innocent little 6-year-old boy, Jeremy Mardis. Similar to how the officers in the instance above claimed they feared for their lives and were forced to open fire, Mardis was gunned down in a hail of bullets fired into an unarmed suspect.
All of these families have lived and will now have to live knowing that those who swore an oath to protect and serve have taken the only thing that matters in this world. A tragedy, indeed.