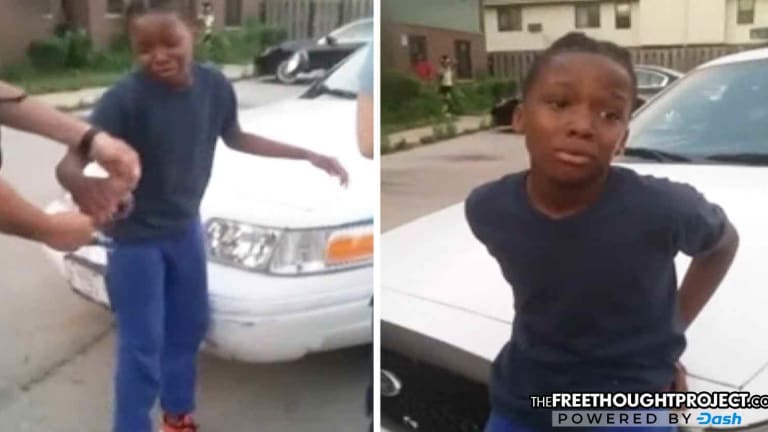 WATCH: 10yo Boy Scared to Tears as Cops Mistake Him for Escaped Criminal and Handcuff Him
A horrified 10-year-old boy was left traumatized after police mistook him for an escaped inmate and they handcuffed and detained him.
Chicago, IL — The parents of a 10-year-old boy are demanding answers after he was detained and placed in handcuffs for no reason. The interaction was captured on video and has since sparked outrage in the community.
Police, however, are saying they "followed all of the rules and protocols" when they handcuffed the innocent little boy after mistaking him for a criminal.
According to police, they received a call that a boy in the area was carrying a gun and was also wearing blue. When the officers arrived on scene, they stopped the first boy they saw wearing blue.
The boy they were looking for had just escaped from jail, according to 10-year-old Michael Thomas Jr. However, until that moment, the very frightened Michael had never so much as talked to the police before.
Cellphone footage captured the terrified child as cops treated him like a criminal. Thomas was so scared during the incident that this poor child wet his pants.
"They're telling them that someone called them saying that there is a 12-year-old black kid on a bike with all blue on had a gun," the uncle is heard saying in the video. "There was about five little black boys with all blue on."
As the little boy sits there in horror, his grandmother expresses her outrage.
"You can see that he doesn't have any weapons on him," Michael's grandmother said in the footage. "I raised up my grandbaby's shirt. He don't have anything on him. Take those handcuffs off of him."
"I want answers," said Michael's mother Starr Ramsey. "You can look at him and tell he no teenager. Ten year's old you get handcuffed? You scarred him for life."
"They need to apologize. He's gonna be scarred for the rest of his life now," the mother told NBC-5.
But police are standing by their decision to detain and handcuff the child. Police Supt. Eddie Johnson said in a press conference on Wednesday that his officers acted appropriately.
"The call came out as a young man 10-to 12 years old that was passing out a gun and the description fully matched the individual that they stopped," Johnson said.
"Keep in mind, this is difficult for an officer to tell right off the bat if you're 10-years-old, 12-years-old [or] 14…So, they handcuffed the kid for safety reasons because he did match that description. They followed all the rules and protocols that we have in place. So, I'm not concerned about that at all."
After he justified the stop, Johnson did say that he has ordered an internal investigation into the incident to make certain that the officers followed all protocols.
"I can only imagine the mother's and grandmother's anguish that that child had to go through that situation. So, we're investigating it, just to ensure that everything was done properly," the superintendent said.
Police also claimed that Thomas ran from them when they pulled up, which they said justified this treatment. According to his family, however, the reason Thomas ran is due to the fact that he's terrified of police because they killed his father.
"Anything can happen. We might need him to call the police. And he's gonna be too afraid to even call," said Ramsey of how this incident has left her son traumatized.
"They put me in handcuffs. I was scared. I was crying," Thomas told NBC-5.
"They told me I escaped from juvenile and I had a gun. I said I didn't escape from juvenile and I don't have a gun…They handcuffed the wrong person."
Sadly this is not an isolated incident, as TFTP reported this week, this is the second such case in a very short time frame in which officers are accused of treating innocent children like criminals.
Officer Nick Andes was placed on administrative leave this week, and Carter County Sheriff's Office Public Information Officer Thomas Gray confirmed that an investigation is being launched into accusations of misconduct after a 911 caller accused "a man with a badge of pulling a gun and throwing a 10-year-old to the ground," and named Andes as the suspect.