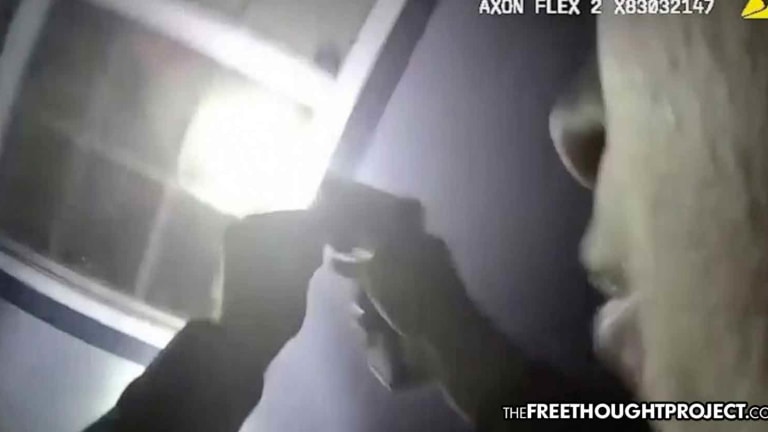 Cops Murder Innocent Woman as 8yo Watches, Then Interrogate Boy Without Parental Consent — Lawsuit
"At the age of 8, Z.C. was forced to watch the murder of his aunt, Atatiana Jefferson, at the hands of Fort Worth police," the lawsuit says.
Fort Worth, TX — On the night of October 12, 2019, Atatiana Jefferson, 28, had committed no crime, had harmed no one, and was playing video games with her 8-year-old nephew when she heard a noise in the backyard and went to investigate. As Jefferson walked to the window to see who the prowler was, the prowler opened fire and murdered her inside her home. Because this prowler wears a badge, however, instead of investigating a murder, the police department conducted damage control by assassinating Jefferson's character before arresting Fort Worth police officer Aaron Dean with her murder.
According to a lawsuit filed this week by the 8-year-old's mother, that little boy, Zion Carr, "suffered extreme and severe mental and emotional distress, anxiety, terror and agony" from watching his aunt die while officers performed CPR.
After he watched his aunt bleed out in the living room, police then detained the small child and interrogated him without parental consent, according to the complaint.
"At the age of 8, Z.C. was forced to watch the murder of his aunt, Atatiana Jefferson, at the hands of Fort Worth police," the lawsuit says.
It has been over a year since Dean murdered Jefferson in her own home and their hasn't even been a trail date set. Now, because the wheels of criminal justice are barely turning, according to CNN, Jefferson's sister has filed a wrongful death lawsuit against the City of Fort Worth, Mayor Betsy Price, former police chief Ed Kraus, and former police officer Aaron Dean.to seek civil justice.
Last year, TFTP reported on two other family members who filed a lawsuit, including her father. That case has yet to be resolved and Price's office said they are going to have to determine the actual executor of Jefferson's estate before moving forward.
As TFTP reported, Jefferson's murder took place early on a Saturday morning when an officer was dispatched to Jefferson's home because her door was slightly ajar. To be clear, however, Jefferson had storm doors, which were closed. Only the door inside was open, which is common for people who have the glass outer door.
Instead of simply walking up to Jefferson's door and ringing the doorbell or knocking, the officer crept around the home like a cowboy. When he spotted Jefferson in the window, he opened fire and killed her. According to the lawsuit, Jefferson's 8-year-old nephew Zion was in the room when he watched his aunt "Tay" fall to the ground and die.
The suit says the city of Fort Worth "knew or should have known that Defendant Aaron Dean exhibited a pattern of escalating encounters with the public," and failed to adequately train or supervise police officers.
"By their deliberate indifference, Defendants the City of Fort Worth Police Department implemented and encouraged policies, practices, and customs with deliberate indifference to the rights of citizens," the lawsuit says.
Creeping around a home with your gun drawn, despite no threats and no reports of violence certainly illustrates the fact that Dean had no intention of peacefully ending this soon-to-be encounter.
"I mean it's senseless. My daughter… had her whole life in front of her," father Marquis Jefferson said. He then went on to note how he will not be offering hugs to his daughter's killer like Botham Jean's brother did in the courtroom after Amber Guyger was found guilty of his murder.
"I don't want no hug. That's my one and only daughter. I'll never forget that," Jefferson said.
In a rare move, the body camera footage was almost immediately released, showing the killing take place. As the video shows, her killer never once announced himself as a police officer.
In the video, Dean sneaked around the side of Jefferson's home without announcing himself. Any rational person would perceive this action as a threat. However, Jefferson never attacked the officer and instead walked up to a window to get a closer look. When the extremely trigger happy and fearful officer saw her in the window, he made one short announcement before immediately killing her.
"Put your hands up. Show me your hands!" Dean said before immediately opening fire less than a second later.
After releasing the body camera footage, police held a press conference during which they took to smearing Jefferson. During the conference, police claimed the officer was "perceiving a threat" when he opened fire on Jefferson. The Fort Worth Police Department then reportedly released an image of a firearm with zero explanation of why they did so.
No clarification on why a photo of a gun was released was ever given.
Nevertheless, the image of the gun was shown and Jefferson was painted as some armed criminal worthy of execution.
Jefferson was a Xavier University of Louisiana graduate who had no criminal record. She had committed no crime and harmed no one. She was murdered in her own home by people who claim to protect society. And because her killer was one of these people, he's been given special privilege throughout the entire ordeal.
Below is the body camera footage and the 911 call.