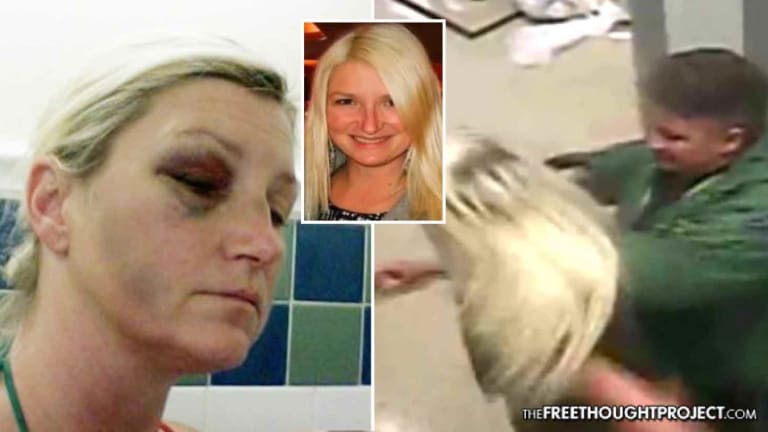 WATCH: Woman Sues After Cops Brutally Beat Her for Asking for a Tampon
The taxpayers of Broward County, Florida are going to be held accountable for the brutal actions of multiple officers who savagely beat a woman after she asked for a tampon.
Broward County, FL — A sizeable chunk of the Free Thought Project archives is devoted solely to a single department in Florida. The Broward Sheriff's Office is notorious for its rapists, child molesting stalkers, sadistic dog siccing torturers,woman battering deputies, cops who hide while children are killed, and the list goes on. Many of these cops are never fired, and, even if they are, they are likely all given paid vacations first -- some of them for months, or longer.
While the cops are rarely fired or disciplined, the taxpayers are often held to the fire to pay for the brutal and corrupt actions of their police force. The case of Audra West illustrates this perfectly.
As we previously reported, Audra West is a hairdresser from Texas who was on vacation in Fort Lauderdale, when she was arrested and assaulted by police. West had a few too many drinks and was arrested for disorderly conduct. During her stay in the Broward Sheriff's Jail in Pompano Beach, she was brutally beaten by Deputy Kristen Connelly.
When West asked one of the deputies on staff if she could have a tampon, Deputy Connelly laughed at her and told her no. Frustrated, West cursed under her breath at Connelly, so Connelly stood up, grabbed a pair of rubber gloves and began walking toward her future victim.
As she walked over to assault West, Connelly's coworker attempts to calm her down, but Connelly was apparently out for blood and went around him.
She grabbed West by her hair, entirely unprovoked and began hitting her, and throwing her to the ground. West was then pulled into another room, off camera, and assaulted by multiple guards who joined in on the attack.
"I was on the floor on my stomach and (Connelly) punched me on this side of the face. And I was being kicked and stepped on from behind, and she was punching me in the face. She punched me in the eye several times," West said.
"I went into jail with no bruises and I came out covered in bruises, I've got bruises all over my body. My face was swollen. My eye was basically swollen shut. I had bruises and cuts all over me," West said.
This entire attack was captured on video.
The case garnered wide spread attention after the release of the video a year later. After a months-long paid vacation, last year, Connelly was quietly found guilty but received no jail time. Now, West is suing Broward Sheriff Scott Israel and five other deputies for excessive force and intentional infliction of emotional distress.
"Audra is looking to be compensated for the brutality that was perpetrated by the sheriff's office deputies," says her attorney, Gary Kollin, who filed the case earlier this month in federal court, according to the Miami New-Times. "Any time she thinks about this, which she can't avoid because of what happened to her, she gets sad. She gets depressed."
According to the complaint, which lays out the details of West's abuse in the jail, she was arrested wearing only a bathing suit and a skirt. She was then forced to strip naked and given an inmate uniform but no undergarments.
West was then brutally beaten after asking for a tampon and was then taken to a nurse before being thrown in a segregation cell. West was placed in an immobilizing "restriction suit" and given only two sanitary pads before she was able to bail out two days later.
Four days after she was released, West filed an official complaint with the BSO's internal affairs division. However, according to the lawsuit, deputies didn't complete a use-of-force report until after the agency lodged an investigation. Despite the agency's failure to follow its own policy, BSO exonerated the officers, according to the Times.