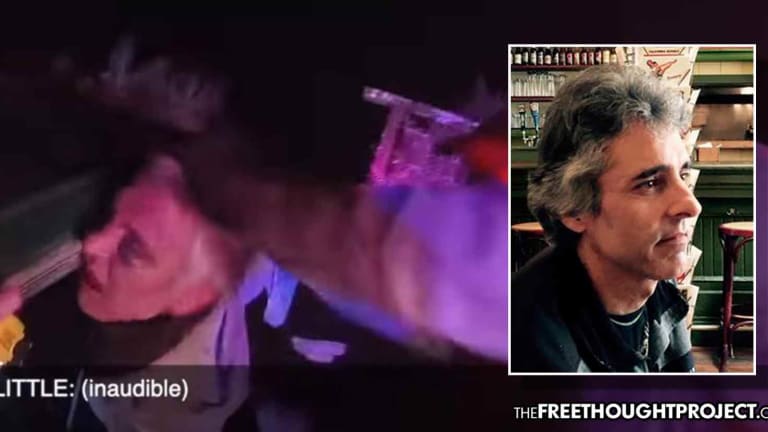 WATCH: Cops Accuse 52yo Man of Carjacking His Own Vehicle and Kill Him
A carjacking victim is dead after a violent altercation with police who mistook him for the thief and beat, tasered, and choked him.
Sonoma County, CA — Last month, David Glen Ward was the victim of a carjacking. Like he was told to do, he reported this attack and theft to police. Sadly, however, after he would get his green Honda Civic back, police would mistake him for the thief, pull him over and kill him. Video of the incident was recently released.
According to officials, on Nov. 24, Ward reported he'd been the victim of a carjacking. During the theft, Ward was pistol whipped by his attacker, leaving him with injuries to the face. Three days after his car was stolen, Ward would recover it. Sadly, however, he would make a fatal mistake and forget to officially tell police he got his car back.
On Nov. 27, police spotted Ward's car and initiated a traffic stop. For an unknown reason — perhaps because he was just carjacked three days earlier — Ward chose not to stop and led police on a brief chase.
Approximately five minutes later, police would ram their cars into Ward's causing him to spin out, bringing the chase to an end. As the body camera footage shows, officers approached the car with their guns drawn.
"Show me your f— hands! Show me your hands!" Deputy Jason Little shouted, pointing a gun at Ward. "Turn off the f— car!"
Ward appeared unable to open the door and instead rolled down his window to tell the cops that he was the victim, not the thief.
"I can't believe this, I'm the injured party in this," Ward said. He later asked, "Why you f— harassing me all the time?"
Instead of opening Ward's door and pulling him out, Deputy Charles Blount proceeded to drag the man through the window.
"Give me your hands," Blount yelled as he began to drag the carjacking victim through the car window.
"All right, I'm getting out, I'm getting out," Ward said, a moment before yelling, "My legs, my legs."
Blount then claimed Ward bit him and began punching him in the back of the head. The SF Chronicle reports what happened next:
Blount shouted that Ward bit him, and about 15 seconds later punched the back of his head. He pressed Ward's head against the frame of the car door, and then smashed Ward's face against it twice. Ward moaned before Blount knocked his face against the frame one more time as another deputy deployed a Taser.

About six seconds after Ward was shocked, Blount placed him in a choke hold for more than 30 seconds. At that point, other officers opened the passenger door and dragged Ward out, putting him on the ground face-down and handcuffing him. Little and Blount both said Ward had bitten them during the encounter.
After they beat, tasered, and choked the carjacking victim for nearly a minute, Ward's body had succumbed to the abuse and he became unresponsive. As he lay on the ground, completely unconscious, only then did the cops realize Ward was the owner of the vehicle and the victim, not the perpetrator of the carjacking.
"This is, this is the owner of the car," the officer said. "This is David Ward. He's the, he's the victim."
"Oh well," Blount said.
Moments later, Ward would stop breathing altogether and would be pronounced dead later at the hospital. The Marin County coroner's office has not yet determined a cause of death. According to Ward's family, before this attack, he had difficulty walking, talking and breathing after being injured in a car crash two decades ago and was dependent on a caretaker. The abuse seen in the video is more than enough to kill a man in Ward's physical condition.
Two weeks after killing the carjacking victim, police would arrest the actual perpetrator on Dec. 7, 32-year-old Driden Estrada.
This week, after the video had been released, Sonoma County sheriff Mark Essick said Blount had been on administrative leave since the incident and that he was just issued a letter of termination.
"We release these videos so the community can get as full a picture as possible about critical incidents in our county, regardless of whether it puts us in a good light or bad," Essick said of the video released over the weekend.
"I think it is fair to say for anybody who watches the video that it shocks the conscience," Essick said. "When this kind of conduct emerges, it is my job as a leader to call it out."
Naturally, the police union-appointed lawyer, whose job consists of keeping killer cops on the force, disagrees and blames the carjacking victim for his own death.
Blount's attorney, Harry Stern, said he was "extremely disappointed" in the sheriff's decision, which he said was driven by "panic, political expediency and hindsight."
"Charlie Blount has served the people of Sonoma County for over 20 years and honorably served in the military for 20 years before that," he said. "His actions during this arrest were entirely reasonable."
Stern said Ward "caused his own death by inexplicably taking a number of bizarre actions that confirmed in the deputies' minds that he was an armed carjacker, rather than the victim of that crime."
Sadly, cops mistaking the victims of carjackings and thefts, is unfortunately not that uncommon. As TFTP reported earlier this year, even women have been beaten by cops after being wrongly accused of stealing their own car.
In February, Khalil Harvin had harmed no one, and had committed no crime when she was arrested and put into handcuffs by two Philadelphia cops. The officers stopped the vehicle Harvin was in because they claimed it was stolen. However, it was not.
Just like Ward, the vehicle was previously stolen but police forgot to take it off the list when it was found. But instead of an escort, Harvin was attacked, smashed to the pavement and kidnapped. Luckily, all charges were eventually dropped, but not before this innocent woman suffered a violent fate at the hands of Philly cops.
While Harvin was only beaten and arrested, TFTP has reported on an incident in which a man wrongfully accused of stealing his own car was shot.
Lyndo Jones is lucky to be alive after his encounter with police in November 2017 left him with severe injuries that forced him to spend several days in the intensive care unit. Footage from the night Jones was shot was released last year, and it shows that the officer who confronted him was agitated from the start.
Officer Derick Wiley, a 10-year veteran of the Mesquite Police Department, started by approaching the vehicle with his gun raised, pointed at Jones, who was sitting the driver's seat.
"Put your hands up! Or I will f—king shoot you," Wiley yelled as soon as Jones started to slowly open the door.
As Jones complied with all the officers commands, the officer decided to shoot him anyway—twice—in the back as he was laying on the ground with his hands behind his back.