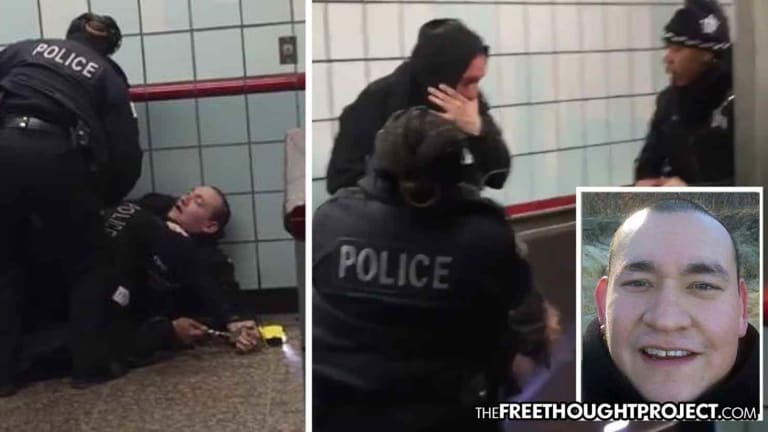 FBI Called In After Video Showed Cops Shoot Unarmed Man for Moving Between Train Cars
Two cops have been suspended and the FBI has been called in, after video showed them shoot a man after he walked between two train cars.
Chicago, IL — Last Friday, Ariel Roman, 33, while traveling on Chicago's public transit train, walked from one train car to another. That is all. For this action, two officers, assigned to Chicago's mass transit unit, chased him and tackled him on the train platform before one of them opened fire. The unarmed man was shot twice. The video was so outrageous even the mayor weighed in, calling it "extremely disturbing," and now we are learning that the FBI has been called in to investigate.
Chicago cops are notoriously corrupt. The Free Thought Project has countless articles in our archives involving Chicago's finest and their violent tendencies to attack, maim, and kill often entirely innocent people. They are almost never held accountable despite many of these egregious acts being captured on video. When the FBI is called in, however, there is likely a higher chance of accountability happening—though only slightly higher.
When the video was released on Friday, it prompted outrage, as it should have. When the true reason for Roman's detainment came to light, there was even more backlash after it was discovered he had merely violated a minor city ordinance that says citizens cannot move to a different train car.
As the video shows, when the two officers tackled Roman, he never once attempted to harm them. Never once did Roman swing or punch at the officers or attempt to grab their guns. Instead, the man simply tried to get away from two armed people attempting to kidnap and cage him over a minor ordinance violation.
Video shows that after appearing to deploy tasers and pepper spray to subdue Roman, the man repeatedly says, "I didn't do nothing to you guys."
After the two officers were unable to subdue Roman, he stands up and tries to walk away. At this point, the female officer opens fire on the unarmed and non-threatening man. When he tries to walk away again, boom, another shot rings out as onlookers watch in utter disbelief.
Roman was shot once in the abdomen and once in the buttocks. He is currently fighting for his life in a Chicago hospital.
"He does still remain in critical condition," said activist Eric Russell. "Mr. Roman is certainly, by no stretch of the imagination, out of the woods."
After he was shot, police charged Roman with resisting arrest and narcotics possession. However, once the video went viral, Interim Police Superintendent Charlie Beck asked prosecutors to drop the case and on Sunday, prosecutors obliged.
"We are cooperating fully with the independent use of force investigation by the Civilian Office of Police Accountability and the underlying criminal review being conducted at our request by the Cook County State's Attorney and the FBI," police spokesman Anthony Guglielmi said on Monday.
Naturally, the police union is furious that the officers are being investigated and that the charges were dropped. Instead of worrying about why their officers tried to kill an unarmed man over a silly ordinance violation, the union went on the defensive and blamed the public for not stepping up to help the cops.
Union president Kevin Graham asked on Facebook: "Why has the superintendent and the mayor not commented on the fact that not one individual assisted these officers during the struggle to place the offender clearly engaged in felony resisting into custody, an offender who once again failed to comply with police orders?"
Well, Graham, perhaps it's because they didn't want to get shot too.
Since the shooting, Roman's family has started a GoFundMe page to help pay for his hospital bills. On the page, Roman's family described him as someone who stands against injustice.
"My brother is not perfect, but then again, none of us are," the family of Ariel Roman wrote on the page. "He has had some ups and downs in his life, but he has the kindest selfless heart you'll ever find in this world. Family is everything to him. He loves to make people laugh. He dislikes injustice, and he is the kind of person who will step in and break up a fight or defend someone else, even if they are a stranger."
"This GoFundMe page is difficult for me and my family to create, but we are at the mercy of our circumstances and have no other means to help my brother with his daily needs and expenses. We are very concerned that he will not be able to continue receiving medical care once he is discharged from emergency treatment," his family wrote.
If you'd like to help Roman, you can do so on their page, here.
Below is that disturbing video.