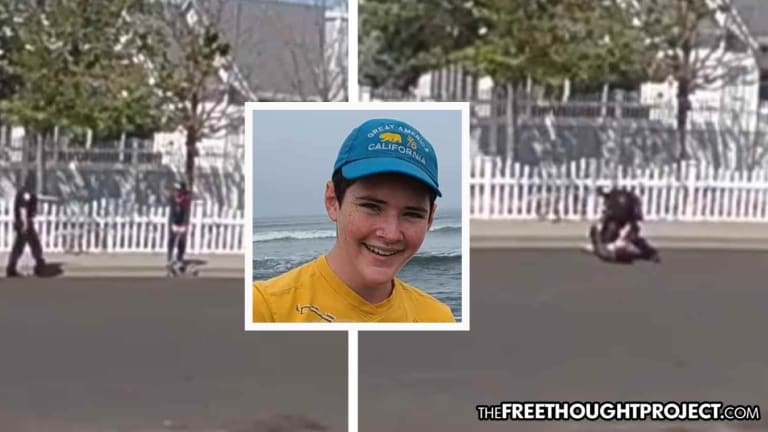 'Don't Make Me Hurt You More!'—Bully Cop Mistakes Autistic Boy for Criminal, Beats The Hell Out Of Him
His father explained that because his son has autism, this sometimes puts a target on his back for bullies. This was the first time, however, that the bully was a cop.
Vacaville, CA — An infuriating video was shared with the Free Thought Project this week showing a Vacaville police officer verbally accosting an autistic child before savagely attacking him for no reason. The parents of the victim, 17-year-old Preston Wolf, are now asking for the officer to be held accountable.
Adam Wolf, Preston's dad posted the video to Facebook on Thursday pointing out that his son Preston has Autism and ADHD.
"My 17 year year old son, Preston, has Autism and ADHD," Adam wrote. "He looks and acts younger than he is. Everyone he meets, thinks he is younger than he is.'"
Preston does look very young and he is also very skinny which makes the officer's violent and aggressive actions toward him that much more uncalled for.
According to his father, Preston is the most popular kid in his neighborhood. He likes to catch lizards in a nearby creek, hanging out with friends and loves to ride his scooter – which is what he was doing when he was attacked by a police officer.
According to reports, the officer confused Preston with a suspect he had been searching for and attacked the autistic child immediately.
"On April 21st at approximately 2:30 pm Preston was Aggressively approached by a Vacaville, California police officer. The officer screamed at him to sit down which he did. The officer then moved Aggressively toward my son, threw his scooter and got in his face. My son became fearful, as would any child with Autism. The officer went to touch Preston, at which point Preston moves away. At this point, Preston was confused and afraid and moves away from the officer even more," Adam explained.
Apparently, the frightened autistic child moving away from his aggressor was grounds for the officer to escalate his verbal aggression to physical violence and the cop attacked the child half his size.
"Once on the ground, the officer climbed on top of Preston and PUNCHED him in the face. All of this was witnessed by multiple neighbors and caught on video. In the video you can hear Preston telling the officer to "call his parents," Adam wrote on his Facebook post.
As the video below shows, as the cop was punching the helpless child, Preston begged for him to stop and the officer's only response was, "Don't make me hurt you more!"
Adam explained that because his son has autism, this sometimes puts a target on his back for bullies. This was the first time, however, that the bully was a cop.
"I don't believe that Preston will ever trust a police officer again. I am pro police, but I am not pro ABUSE! This individual and department must be held accountable for their actions. NO child, disability or not, deserves to be treated like this," Adam explained.
After the video began to go viral, the Vacaville department was forced to respond but it was too little too late.
"We're very sorry to hear that Preston expressed that," said Vacaville Police Sgt. Katie Cardona. "The officer was not aware the individual was a special needs individual."
The department failed to mention whether or not the officer who attacked an innocent autistic child will be disciplined at all. Instead, they offered "resources to the family."
Cardora said there is body camera footage of the incident, but did not say if they would release it or not.
As you watch the video below, remember that Preston is an autistic child who had harmed no one and was merely riding his scooter when the officer approached him. Because police are severely incompetent when it comes to dealing with those on the autism spectrum, Preston's life was put in danger by the very people who claim to protect him.