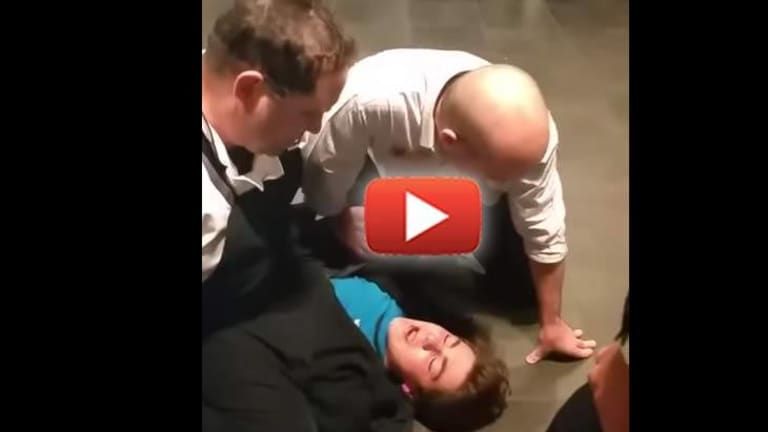 Citizens Inadvertently Make Police Instructional Video on Handling Drunk Idiots - Without Blood
Here's the side of the "mac n cheese bro" video that you will not see in the mainstream media.
Luke Gatti was hungry, and wanted to buy an order of macaroni and cheese with bacon and jalapeno peppers at a food court in the University of Connecticut's student union building. However, the 19-year-old freshman was drunk and carrying an open container of alcohol, which was against campus rules. As a video of the October 4th confrontation documents, when the manager refused to serve him, Gatti didn't take the rejection well.
After he escalated to violence, the food court manager and an employee, acting efficiently and without excessive force, subdued the belligerent young man until a police officer arrived to remove him from the premises. Owing perhaps to the fact that it was carried out by citizens, rather than government employees endowed with "qualified immunity" and the supposed right to initiate force, the arrest was conducted with restraint and without the use of punitive "pain compliance."
The video, which was captured by a customer, begins at a point after the manager had explained to Gatti that he couldn't be served because he was in violation of the rules governing student conduct.
"You're a f****g idiot!" the inebriated student bellowed at the manager, stabbing a finger in his face. "Just give me some f****g bacon-japaleno mac and cheese!"
Composed but disgusted, the manager quietly asked Gatti, "Do you want to be expelled?" and invited him to take his business elsewhere.
"I just denied you service," the manager explained, his patience fraying. "You can't come in here with an open bottle of booze, dude! Think about it! Think! Ask any one in here – did you see them walk in here with an open bottle of beer?"
Warning Gatti that the police were probably on the way – "You've got, like, ten minutes before they come here; you'll probably get arrested" – the manager continued his efforts to "eighty-six" the drunken student. By warning him off, the manager was actually trying to do the foul-mounted, ill-tempered Gatti a favor by helping him avoid an encounter with the police. But the soused student refused to cooperate.
"You're not welcome here," the manager repeated. "You have booze on your breath, you told me you're under age." At one point he suggested that if Gatti was really hungry he should try the local Subway.
For nearly ten minutes an increasingly abusive Gatti upbraided the manager, who was resolute both in enforcing his refusal of service and in refusing to be baited into a physical confrontation. Well-lubricated by liquid courage, Gatti started to shove the manager in an unmistakable attempt to start a fight. The manager engaged in several tactical retreats, trying to de-escalate the situation.
After one particularly aggressive shove, a cook who had quietly approached Gatti from behind seized him in a modified full-Nelson and took him to the floor with remarkable gentleness.
"You are down! Stay down!" the cook bellowed at the assailant. "You don't touch my boss!"
The manager assisted his employee in detaining Gatti – but neither of them struck, choked, or otherwise injured him, beyond using purely defensive force to restrain him from committing any further violence. Because he wasn't being choked or subjected to a pain compliance hold, the aggressor was able to speak.
"I just wanted some f****g food," Gatti said plaintively.
"You don't do it by insulting people!" the cook explained. Unfortunately, as he told Gatti, "you're going to jail" – which quite possibly would not have happened if he had simply found another place to eat, as the manager had suggested. Gatti was eventually handcuffed and taken away by a police officer. In an ideal system, Gatti would simply have been removed from the premises and required to make restitution for any damage he had done. In the system as it exists, Gatti – who has been arrested twice before – has been charged with breach of peace and criminal trespass.
Although he faces an October 13 court date, and possible expulsion from school, it isn't difficult to imagine how much worse things would have been for Gatti if he had been arrested by police officers, rather than two private citizens who were enforcing campus rules to which the student had agreed as a condition of attending the college.