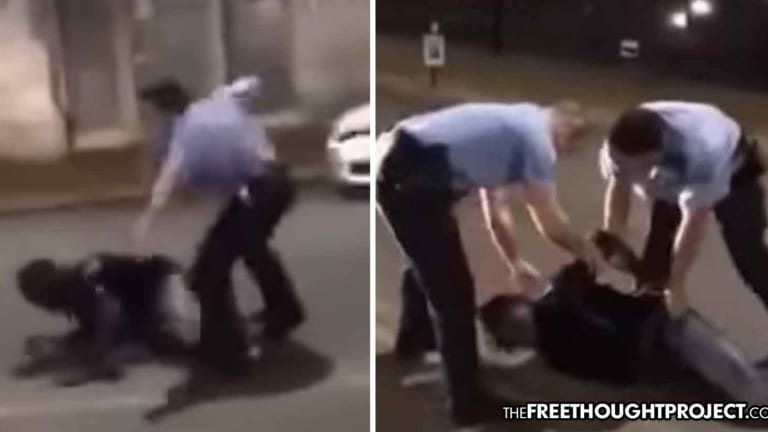 Cop Acquitted Despite Video of Him Breaking Man's Jaw with a Flashlight Over Loud Music
Despite graphic video showing a cop pummel a man's face in with a flashlight, a judge just acquitted the officer with no jury.
St. Louis, MO — A Saint Louis Metropolitan Police Department (SLMPD) officer, Adam Feaman, struck a man in the face with his flashlight and broke his jaw. Feaman, who was the Officer of the Year for 2016, attempted to arrest Jamal White for "violating a city noise ordinance with his car and disturbing the peace" in August of 2017 and ended up severely injuring the otherwise entirely innocent man.
Feaman's actions were so over the top that he was actually fired and charged after the incident. However, thanks to a system that protects itself while laying waste to the rights of others, this week, Circuit Judge Elizabeth Hogan found Feaman not guilty of second-degree assault and armed criminal action.
Hogan ruled that Feaman "was making a lawful arrest of Mr. Jamal White, that the amount of physical force used was objectively reasonable in light of the totality of the particular facts and circumstances confronting Adam Feaman on the scene, and that Adam Feaman was justified in using the physical force he reasonably believed necessary to effect the arrest of Jamal White."
Resisting the unlawful arrest, supposedly, White ran when Feaman told him to "turn around" and place his hands behind his back. But not getting very far and possibly attempting to contest the arrest, White turned around and faced the officer. Feaman continued giving orders to White but the young man reportedly did not comply.
Feaman then used his service issued flashlight to strike White in the face, knocking him nearly unconscious. Flashlights issued to police officers are not the garden variety found at the local Walmart. They're made of metal using ballistic materials and fashioned in such a way as to be used for self defense, and breaking out car glass, etc.
Feaman's strike to the jaw was caught on a bystander's camera and went viral at the time of the attack. What likely led to the original charges for Feaman was the fact he struck White a second time while he was face down on the ground. The officer's flashlight was used to strike White in the back of the head, an attack which could have killed the young man.
Naturally, however, during the jury-less trial last week, Feaman's lawyer Brian Millikan argued Feaman's "pain-compliance" strikes were reasonable to subdue White and that his actions were justified.
"He did not stop, until he turned and bladed his stance," Hogan agreed. "Officer Feaman hit him once as Mr. White was moving, and the strike broke his jaw. The court has received no evidence that Officer Feaman aimed for his head, or intended to hit him in the head, or use deadly force."
Such an excuse may seem suitable for the first strike but does not explain how hitting the young man in the back of the head while he's on the ground could be permitted. Using any tactical flashlight to attack a person is reportedly against SLMPD policy as well which says tactical flashlights "may not be used as impact weapons."
Making this situation all the more repulsive is the fact that Officer Feaman was involved in several controversial arrests prior to White's. The Riverfront Times writes:
In 2010, a 22-year-old black man filed a complaint alleging that Officer Feaman had pulled him over and directed racial slurs at him, the records show. The next year, 2011, a 22-year-old black man complained that Officer Feaman planted drugs on him, and that while Feaman arrested him, another officer hit him in the face multiple times.

In 2012, a 21-year-old black man filed a complaint alleging that Officer Feaman had punched him in the face, using unnecessary violence. Two years later, in 2014, a 31-year-old black man alleged that Officer Feaman and another officer stole $400 from his car during a traffic stop.
While the aforementioned accusations may be entirely fabricated, what is true is a SLMPD officer was caught on camera cracking a man's jaw with his flashlight for playing loud music.
What's more, Feaman did not stop with a simple badge-protected assault on the young man's civil rights. He allegedly attempted to intimidate White when the two were in the same bar in September of 2017. Feaman reportedly promised to "crack his jaw again," a threat the bar seemed to take seriously, actually escorting the officer off the premises.