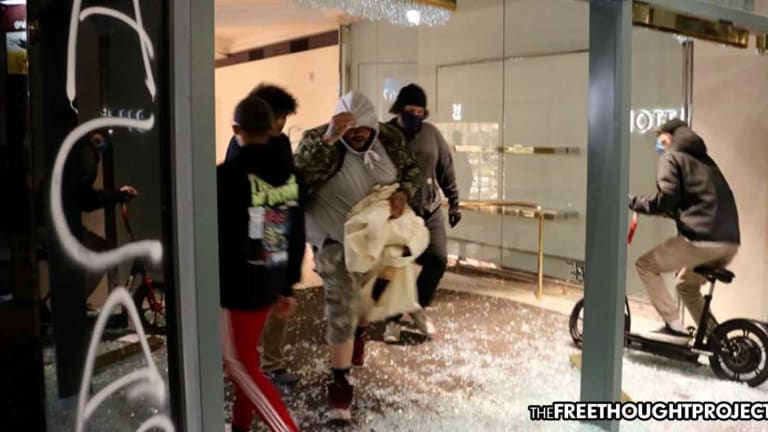 Cop Arrested After He Was Caught Looting and Assaulting Protester During Brutality Protest
A cop was turned in by his fellow officers after he was found to have assaulted protesters and participated in the looting that took place during George Floyd protests.
San Bernardino, CA — A 11-year veteran of the San Bernardino County Sheriff's Department was fired, and charged with assault, filing a false police report and looting in connection with an incident at a Big 5 Sporting Goods store amid George Floyd protests on June 1.
During the Floyd protests, which spanned from coast to coast, countless stores and businesses were looted and many of them burned to the ground. While the majority of the protesters remain entirely peaceful, these criminal factions discredit most everything the protests stand for. When cops being participating in the criminal activity as well, the line gets blurred even further.
Erdem Gorgulu, 46, responded with other sheriff's deputies to a call of looting at the store. Upon entry Gorgulu encountered Juan Martinez, 28, who was allegedly mistreated by Gorgulu in an excessive use of force incident. Another deputy reportedly witnessed the incident and crossed over the thin blue line to report the matter to the police watch commander who promptly opened an investigation.
Gorgulu's car was searched after a warrant was obtained and items, belonging to the Big 5 from 2150 East Highland Avenue, were located in his vehicle. Deputy Gorgulu was later fired and charges of assault and looting soon followed. Amazingly enough, Gorgulu was turned in by a fellow cop.
Charges against Martinez were later dropped for lack of evidence. Gorgulu's charges, however, remain in place. San Bernardino County Sheriff John Macmahon weighed in on the incident in support of the officer who turned in his fellow boy in blue. The sheriff stated:
I will not allow criminal acts to go unchecked and assure the public our deputies will be held to the highest standard...I applaud deputies for standing up for what is right along with the overwhelming majority of law enforcement officers across this great nation who do the right things for the right reasons every day.
Addressing Gorgulu's actions directly, Macmahon in a statement:
The criminal acts committed by Gorgulu while serving in his capacity as a deputy sheriff are inexcusable and undermine all the good, valuable work deputies do every day...Although Gorgulu's acts were unacceptable and disheartening, this incident serves as an example of how deputies are willing to come forward and report unethical behavior.
The San Bernardino County District Attorney's office appears willing and able to prosecute Gorgulu. In a statement the DA's office stated:
When it can be proven beyond a reasonable doubt in a court of law, we will prosecute those responsible for committing criminal acts, regardless of who they are.
Curiously silent in the matter of a sheriff's deputy charged with serious crimes is the police officers' union which goes by the title The Sheriff's Employees' Benefit Association. A search of Gorgulu's name on their website came up empty, indicating the union will likely side with Gorgulu if he is one of their members.
It's unclear at this point if Gorgulu's firing, arrest, and charges are simply a show of force against alleged corruption or if the sheriff and the DA will go ahead with prosecution. As we have reported in the past, many times when deputies are charged with crimes, not only are the charges later dropped, when all the attention to the case diminishes, but they often times get their jobs back and go right back to abusing the supposed authority given to them by way of their badge.