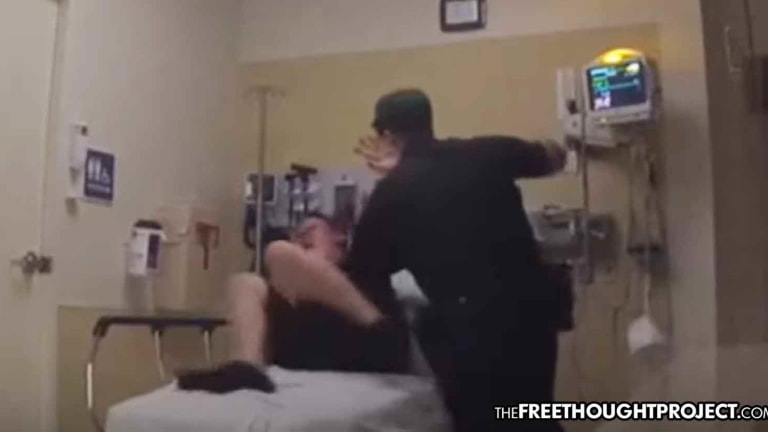 Cop Arrested After Video Showed Him Beat Man Chained to a Hospital Bed, Then Lie About It
A Broward county deputy has been arrested after he filmed himself beating a man chained to a hospital bed and lying about it in the report.
Broward County, FL -- The deputies of Broward Sheriff's Office in Florida have created a terrible image of themselves over the past several years. From cowering behind a wall while children were murdered in a school to sexually assaulting children to torturing people with their K9s, the department has tarnished the image of public servants everywhere. Now, as yet another disturbing video shows, we can add 'beating people chained to a hospital bed' to the list. But the city has had enough and now they are charging these bad cops.
On Friday, the Broward State Attorney's Office announced that they have charged Deputy Jorge Sobrino on one count of battery for his sadistic act caught on video.
According to the Broward Public Defender's Office, Sobrino needlessly used excessive force against 27-year-old David Rafferty O'Connell earlier this year as O'Connell was being checked out in a hospital.
On January 1, O'Connell and a woman were arrested at a Walmart in Pompano Beach for allegedly trying to return ink cartridges fraudulently. O'Connell was brought to the hospital to be medically cleared before being transported to jail.
Sobrino was the officer in the hospital room with O'Connell. The officer had taken his body camera off and placed it on a nearby table but it still recorded his actions.
As the video shows, O'Connell is chained to the bed and is asking repeatedly to leave the hospital, but Sobrino tells him he needs to be cleared first.
At one point, O'Connell had to use the bathroom but was told he would have to stay chained to the bed to do so. O'Connell had to urinate in the bed, so he got to his knees and tried to go in the urinal made for the bed. According to the public defender's office, some of the urine inadvertently spilled out onto the bed so O'Connell had to reposition himself as not to get urine on him.
While chained to a bed and forced to sit in his own urine, O'Connell continues telling Sobrino that he does not want to be there, swearing at the officer in the process.
The swearing caused Sobrino to snap and he walks over to O'Connell and begins punching him for no reason. He then handcuffed the man's other hand to the hospital bed.
He could be heard in the video saying, "Yeah, I just hit you again."
Sobrino would then arrest O'Connell on charges of disorderly conduct, battery on a law enforcement officer and resisting an officer without violence, falsely claiming that O'Connell attacked him.
"While awaiting medical clearance, the defendant began yelling inside the hospital and attempting to stand from his hospital bed. When attempting to seat the defendant down on the hospital bed and further restrain him, the defendant intentionally placed his hand on my upper chest against my will and pushed me, there for [sic] committing a battery against my person," Sobrino wrote in the arrest report.
But this never happened. Sobrino was lying.
"Deputy Sobrino's version of the incident vastly differs from the facts as displayed in the video. The video shows clear police abuse," Broward public defender Howard Finkelstein and executive chief assistant public defender Gordon Weekes said in a letter to Broward Sheriff Gregory Tony this week. "Deputy Sobrino punched Mr. O'Connell in the face without physical provocation because he was frustrated with Mr. O'Connell. Punching a restrained individual who is not physically aggressive is unacceptable."
All the charges against O'Connell have been dropped except for the one stemming from the incident at Walmart.
"It's clear that he exceeded the level of force that was necessary by punching him in the face. But when he then went and arrested him for battery on a law enforcement officer, when there were no facts to suggest that the battery had occurred, he was then trying to protect himself from his own wrongdoing," Weekes told NBC 6 at the time.
Despite the letter, the video, and the news coverage of one of their own beating a handcuffed man in a hospital room, the BSO refused to take action. Only after the video was publicly released did any "investigation" take place.
"Our Division of Internal Affairs immediately opened a preliminary investigation after receiving a letter today from the Office of the Public Defender lodging a complaint about use of force during an arrest incident that occurred back on Jan. 1, 2019," BSO spokesperson Veda Coleman-Wright said in a statement in April.
Below is a video showing what a culture of violence and corruption inside a department looks like. Had video not existed of this incident, rest assured, no one would have believed O'Connell and he would be facing a slew of false charges.
Below is the video in its entirety.