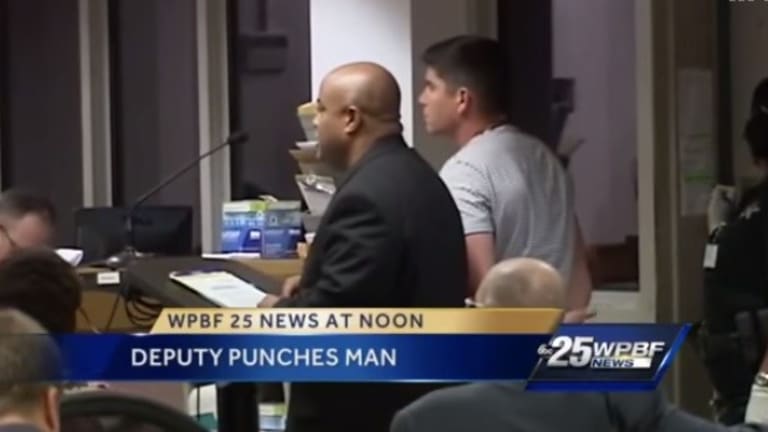 Police Department Hires Man After he Tried to Kill a Cop, Now He's Beating Up Innocent People
A Florida cop with a dark history is now on paid leave after assaulting two people.. But the bigger question is how on earth was he hired in the first place?
Palm Beach County, Florida - 41-year-old police officer Jason Tucciarone was recently arrested for breaking a man's nose in a fight over a bar stool. It was also reported that the officer choked the victim's son as well.
On Monday night, Tucciarone's temper got the best of him when he punched a main in the face and broke his nose because he wanted the bar stool that the man was sitting in.
The men who were attacked even apologized and offered up the seat. But that wasn't good enough for him; he allegedly started a fight with them even though they made every attempt to defuse the situation.
This wasn't the first time that Tucciarone was arrested for acting violent.
In 2004 before Tucciarone was a peace officer, he rear-ended a car at a traffic light and then fled the scene.
When the person, which he rear-ended caught up to him, Tucciarone saw that it was a cop.
When the off-duty, but uniformed, patrolman cornered Tucciarone in a strip mall parking lot, Tucciarone allegedly floored the gas and slammed into the cop's personal car.
The officer had to jump on the hood of his vehicle to avoid getting crushed, and Tucciarone took off again.
PBSO eventually arrested Tucciarone at his house after running his license plate number.
In that case, the charges were dropped because Tucciarone entered an "intervention program" and promised to improve his behavior.
Amazingly enough, after he tried to kill a police officer, four years later Tucciarone was hired on as a police officer!
Just how strict are the rules for hiring over at the Palm Beach County Sheriff's Office?
According to an anonymous interview conducted by the DCPost, a source explained how no one wanted to hire Tucciarone, but they were pressured to do so.
"All of us, well we all knew Tucciarone was trouble. We knew he has serious problems with his past. Still, a lot of pressure was placed on us to get him hired. For us, it wasn't a matter of Tucciarone potentially doing something that caused our agency a black eye, it was just a matter of when and how bad. It was clear from the beginning of his background investigation Tucciarone had poor decision-making skills and was a seriously troubled person who was a terrible candidate to own a badge and a gun and possess so much authority."
The source continued:
"[Chief Deputy] Michael Gauger has done this type of thing on many occasions, getting bad people hired here and preventing the natural course of termination for bad deputies at the Palm Beach County Sheriff's Office. He once forced the hiring of Deputy Oscar Maturana, an individual with a past of narcotics and selling stolen goods, who later fired shots in a West Palm Beach night club. He overrode a performance evaluation for a sergeant who later shot and killed an unarmed man in very unquestionable circumstances. There are so many other examples but now, he pushed through Tucciarone, who severely beat and injured a prominent member of the community."
Now Tucciarone faces felony assault and battery charges and has been suspended with pay.
The judge has ordered him to turn in his weapon, and he will now be unable to carry a firearm.
Will this infraction be swept under the rug as well?
John Vibes is an author, researcher and investigative journalist who takes a special interest in the counter culture and the drug war. In addition to his writing and activist work he is also the owner of a successful music promotion company. In 2013, he became one of the organizers of the Free Your Mind Conference, which features top caliber speakers and whistle-blowers from all over the world. You can contact him and stay connected to his work at his Facebook page. You can find his 65 chapter Book entitled "Alchemy of the Timeless Renaissance" at bookpatch.com.