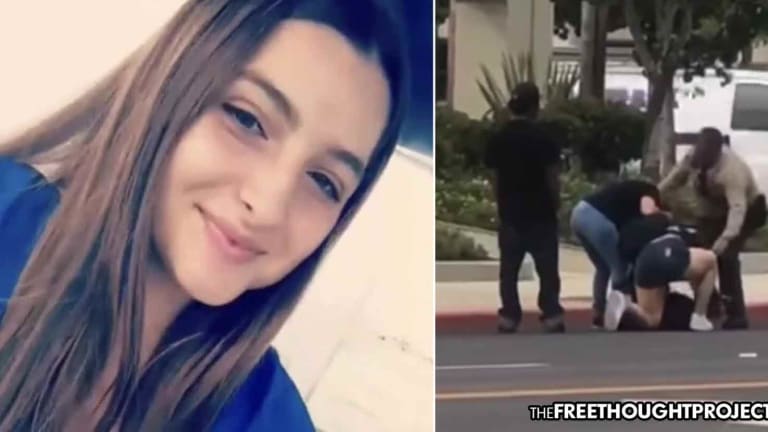 Cop Arrested for Murder After Shooting Unarmed Teen in Head Over School Fight on Video
A Long Beach school police officer has been charged with first-degree murder after video showed him shoot an unarmed girl in the head.
Long Beach, CA — The family of Mona Rodriguez was shocked and heartbroken last month after their 18-year-old daughter was shot in the head by a Long Beach Unified School District police officer. Rodriguez, who was unarmed and presenting no threat to the cop who shot her, was kept on life support for several days after the shooting until she passed away days later on October 5.
The shooting was captured on video and was apparently so over the top that the cop who shot her, Long Beach school safety officer Eddie F. Gonzalez, 51, has been charged with first-degree murder.
"I just want justice for my girl, my baby mama, my love of my life that I can't get back ever again," her boyfriend and father of their child, Rafeul Chowdhury said tearfully after she was shot. "I don't know what to do with my 5-month-old son."
Now, he may actually see that justice.
The LA Times reports that Los Angeles County Dist. Atty. George Gascón, who has promised to more aggressively pursue law enforcement officers who use excessive force, announced the charges during a news conference in downtown Los Angeles on Wednesday afternoon.
"This case really illustrates the importance of holding public officials accountable," he said. "Especially public officials that are entrusted with the safety of our family and our kids."
The incident unfolded out front of Millikan High School in Long Beach. Though Rodriguez was not a student at the school, she was allegedly involved in a fight with another teen outside the campus.
When officer Gonzalez showed up, Rodriguez got in her boyfriend's car to flee at which point the officer resorted to deadly force. A student captured the officer on video needlessly firing off two rounds as the car — which was not being driven by Rodriguez — tried to drive away.
At no time was the officer or anyone else near Rodriguez' car in danger, yet he opened fire anyway. Aidan Altobello, the student who filmed the shooting, told CBS Los Angeles at the time that he had no idea why the officer shot.
"I just saw two girls fighting, and one got in the car, and that's when they scurried off and the dude shot at them," he said.
Shahriear Chowdhury, Rafeul's younger brother, was in the back seat on the passenger's side behind Rodriguez when the cop opened fire.
"One of the bullets went through the door, I could have been shot in the rib," Shahriear Chowdhury said. "The other went through the window where it got Mona."
Rafeul told KTLA that the officer never told them to stop and they were simply trying to drive off when he opened fire.
"All we did is just got in the car and left," Chowdhury told the outlet. "He never told us to stop anytime soon, and the way he shot us, it wasn't right."
"It's an unfortunate and unnecessary death that left a 6-month-old without a mother, a family without a daughter and clearly a tremendous loss to our entire community," Gascón said.
Highlighting the unnecessary nature of the shooting is the fact that no one involved in the alleged fight or driving away has been charged.
The family has since retained an attorney.
"There's no excuse, no justification for this officer shooting in the rear passenger-side window of a car with a woman who's unarmed. Everyone in the car was unarmed," their attorney said. "And the fact is, he shot at someone in the passenger seat with no regard for anyone's life in the car."
"The only way we stop these safety officers from shooting unarmed people and killing them is by having them prosecuted and held accountable for what they've done wrong to members of the community," he said.