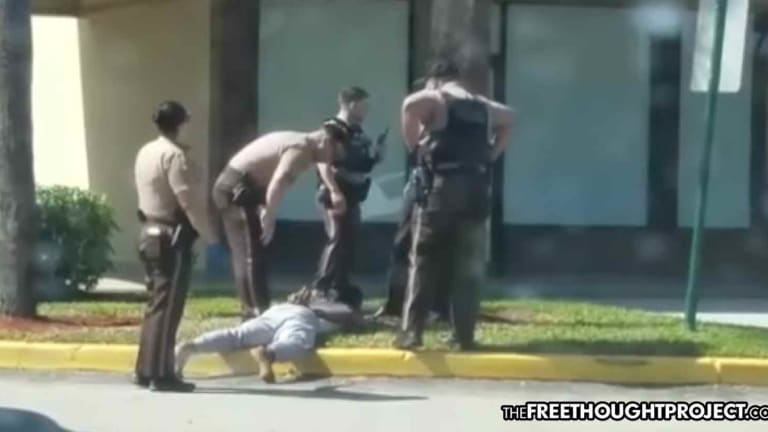 Cop Arrested Because He Didn't Know He Was on Film When He Kicked a Handcuff Kid in the Face
A Florida cop had no idea he was on video when he made the decision to kick a handcuffed teen in the face as he lay helpless and incapacitated on the ground.
Miami, FL — A Miami-Dade police officer has been arrested on charges of battery only because of a vigilant citizen who decided to film the police that day. Because Sgt. Gustavo Del Los Rios, 38, was recorded on video kicking a handcuffed boy in the face, he is now being held accountable for his crimes.
The incident happened in February and investigators were in possession of the video since then. However, they only just released it this week.
According to police, before the video began, officers pulled over the teen boy for suspicion of burglary. The teen reportedly resisted arrest before he was handcuffed and subdued by multiple officers.
After he was handcuffed, that's when Rios decided to take out his aggression on the incapacitated and defenseless teen.
"Right after he put the handcuffs on. He's down on the ground. He's not moving. He's under control. The officer just comes and gives him a kick, with what I believe is his right foot, to the left side of his face," State attorney Katherine Fernandez-Rundle said.
Luckily, the kick did not seriously injure the boy, but that is beside the point according to Fernandez-Rundle who says, "that is unacceptable and intolerable and that's why we charged him."
Miami Dade's police director released the following statement in regard to the incident, which read in part:
"The Miami-Dade Police Department became aware of a concerning video involving the actions of one of our own. An investigation was immediately initiated in collaboration with the Miami-Dade State Attorney's Office. As a result, Sergeant Gustavo De Los Rios has been charged with misdemeanor battery. His actions are disappointing and do not reflect our agency's core values. I assure our community that all allegations of misconduct, involving our personnel, will be vigorously investigated. No one is above the law."
This is not the first time Rios has been in trouble with his own department. Before he was captured on video kicking a handcuffed child in the face, he was arrested for abusing his wife.
As CBS Miami reports, personally, De Los Rios has had a rocky few years. He was arrested for domestic abuse in an incident with his ex-wife last year. Court filings show restraining orders as well. Professionally, the Miami Herald reports nothing significant, outside of a 2015 incident where De Los Rios abused his power to find out about his ex-wife's travel plans.
"It's so disappointing when a few of these officers just abuse the trust that we have in them, in this way. It affects all of us," Fernandez-Rundle said. And she's right.
Video shows Miami-Dade cop kicking handcuffed teen

A Miami-Dade police sergeant is seen kicking a teenager who was lying on the ground handcuffed with his hands behind his back in this newly-released bystander video.

Posted by Miami Herald on Thursday, January 3, 2019
If this kid actually committed the crimes of which he stands accused, he deserves to be held accountable. Now, however, because a cop couldn't control his temper and decided to kick the handcuffed teen in the face, the taxpayers will likely be the ones to pay in the form of a lawsuit.
Unfortunately, as TFTP consistently points out, police officers are seen kicking handcuffed suspects in the face on a near regular basis.
As TFTP reported in May, a vigilant citizen with a cellphone captured video of the ridiculously excessive force by police on 18-year-old kid who ran from them. In spite of teen being handcuffed, face-down on the ground, with another officer on top of him, a Franklin Township police officer is seen punting his face like a football. In December, in a rare move, the officer was actually found guilty for his crimes.