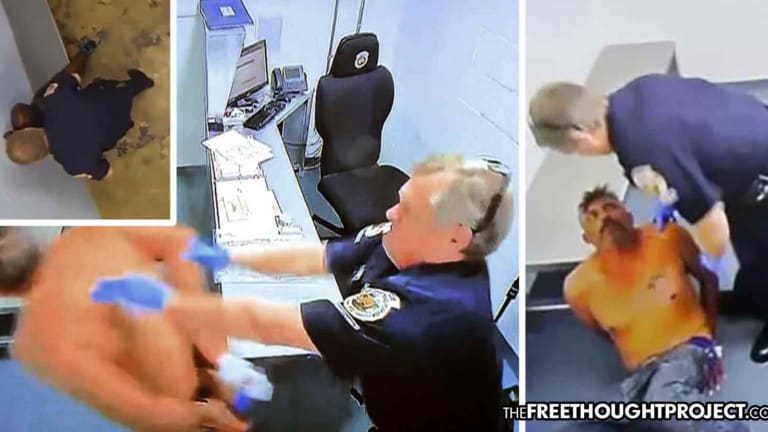 WATCH: Cop Finally Arrested After Beating Handcuffed Woman, Smashing Handcuffed Man's Head In
A police officer has been arrested after video showed that he beat a handcuffed woman and smashed a handcuffed man's face into a concrete wall and then lied to cover it up.
Homestead, FL — Homestead police officer Lester Brown, 51, appears to have somewhat of an anger management problem which has finally landed him behind bars. On Wednesday, Brown was forced to surrender himself to police after video showed him smash a handcuffed man's face into a wall — for no reason — causing him to bleed profusely.
The incident happened back in December. However, the charges of felony battery and official misconduct were just brought against Brown on the completion of the investigation.
On that December day, Jose Trinidad Garcia Alvarado, 50, a migrant worker, had been arrested for public intoxication and resisting arrest without violence. As he was getting booked into the jail, he was shirtless and handcuffed and posed no threat to anyone. Despite these facts, Brown decided to violently and purposefully shove Garcia's head into the concrete wall, causing him injuries.
"He shoved Garcia head first into a concrete wall," Miami-Dade State Attorney Katherine Fernandez Rundle said at a press conference
Naturally, Brown's police union appointed defense attorney, C. Michael Cornely, claims the charges are nothing more than a "political vendetta" against his client.
"I think the case is totally overcharged, which seems to be the mantra of the State Attorney's Office these days," Cornely said.
Cornely claims his client was justified in slamming the totally compliant man's head into the wall because Garcia was being "unruly" and appeared as if he was about to attack Brown. Brown would even write this in his report, claiming that Garcia was poised "in an attempt to attack" and "fell forward" in hitting the wall.
However, when watching the video below, you can see just how laughable and false those claims actually were. This is why prosecutors chose to tack on the second charge of official misconduct after seeing how blatant of a lie Brown's report actually was.
"We believe the video does not support the allegation that Garcia struggled with the officer," Fernandez Rundle said.
As the Miami Herald reports, Brown is one of many recent officers to be charged after being caught on film beating people — many of whom were also in handcuffs.
In May, prosecutors charged Miami-Dade Police Officer Alejandro Giraldo with tackling a woman who had been the victim of an assault. He is awaiting trial.

Also awaiting trial in unrelated cases: Miami-Dade Sgt. Manuel Regueiro, accused of slapping a handcuffed suspect, and Miami-Dade Officer Gustavo de los Rios, accused of kicking a handcuffed teen suspect. Another cop, Miami Officer Mario Figueroa, was accused of kicking at a handcuffed suspect — but a judge acquitted him at trial.

Miami-Dade prosecutors earlier this year secured a conviction against Miami Officer Lester Bohnenblust, who roughed up a nurse at Jackson Memorial Hospital. He was sentenced to 45 daysin jail.
As the above cases illustrate, this problem has been an ongoing one, especially with Brown. However, until recently, these officers were getting away with it, including Brown.
According to police, Brown is a repeat offender. In September 2016, Brown got in trouble for hitting a handcuffed woman who was doing nothing but sitting down in the jail. Brown would falsely claim that the woman was about to headbutt him. However, video surveillance "did not capture any threatening moves" by the woman, according to a document filed by a city in the lawsuit.
At the time, the department attempted to fire Brown, but an arbitrator got him his job back. This is the problem with policing in America. Even when a bad cop's own department tries to fire them, the system is setup to make that nearly impossible. Hopefully, this new set of charges is enough to get this man out of a job where he is allowed to carry out such sinister acts.