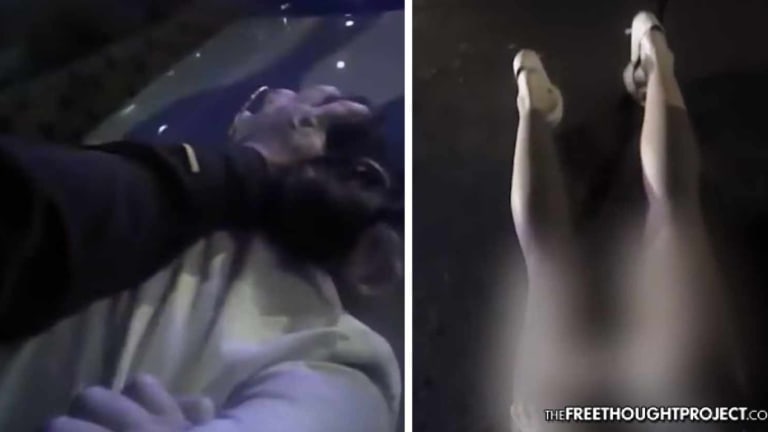 Horrifying Body Cam Shows Woman-Beating Cop Sexually Assault, Brutalize Handcuffed Woman
After this tyrant cop pleaded guilty to assaulting an innocent woman this week, the body camera footage was released detailing the level of abuse.
Las Vegas, NV — Former Las Vegas Metropolitan Police Department (LVMPD) officer Richard Scavone pleaded guilty this week in federal court to assaulting a handcuffed woman in his custody. After the plea, authorities released the body camera footage of the assault. It is nothing short of infuriating and shows the level of violence a woman-abusing cop was willing to take to assert his authority.
Scavone now faces up to a year behind bars and a $100,000 fine on one count of deprivation of rights under color of law in connection with the encounter.
The encounter happened in January of 2015 after this abusive cop thought he had nabbed himself a prostitute.
The woman had done nothing wrong and was walking down the sidewalk drinking a coffee when Scavone attacked her for no reason. She was entirely compliant during the stop even though this sadistic predator kept abusing her.
"The hell you think you're talking to?" he asks her in the video as he threatens her life.
After a brief radio call, this monster then asks his victim, "What else do you want me to do, tough guy?"
"Go ahead and take me to jail. That's all I want you to do," she replies, knowing that at any moment this maniac could kill her and jail is her only refuge.
"You got it," he says, as he then puts his hand inside her bra and pulls out her personal belongings and sexually assaulting her in the process.
The woman was then arrested on false charges of littering. Once the truth came out, however, those charges were dropped.
Scavone is scheduled to be sentenced in January. Under a deal with prosecutors, he no longer can work as a police officer.
Below is the report from the Department of Justice.
According to admissions made in the plea agreement, on January 6, 2015, Scavone, 50, was working as an LVMPD patrol officer, and was accompanied in his patrol car by an LVMPD jail corrections officer on a ride-along. At approximately 5:00 a.m., Scavone and the ride-along encountered A.O., who was talking on the phone and holding a cup of coffee. When Scavone told A.O. to "move along," A.O responded that she was waiting on someone and threw her cup of coffee to the ground. Scavone, who was wearing a body-worn camera that recorded video and audio, exited his patrol car and approached A.O. with a Taser in hand.

Scavone admitted that during the interaction with A.O., and while A.O. was handcuffed, he: shoved A.O. to the ground; grabbed her around the neck with his hand and threw her to the ground; struck her in the forehead with an open palm; grabbed her by the head and slammed her face onto the hood of his patrol vehicle; grabbed her by the hair and slammed her face onto the hood of his patrol vehicle a second time; and slammed A.O. into the door of his patrol vehicle.

Scavone admitted that he took those actions without legal justification and that he knew his actions were against the law.

Scavone faces a maximum sentence of up to one year in prison and a fine of up to $100,000. Sentencing will be held on January 11, 2018.

"The U.S. Attorney's Office is committed to protecting the civil rights of all Nevada citizens, regardless of their backgrounds," said Acting U.S. Attorney Myhre. "The defendant took an oath to serve and protect with honor and integrity. Misconduct such as this will not be tolerated and those who break the law will be held accountable for their actions."

"As Mr. Scavone realized today, no one is above the law," said Special Agent in Charge Rouse. "Law enforcement takes an oath to protect and serve our communities. We are, and rightfully should be, held to a higher standard. Every day, the vast majority of police officers in our community uphold that standard under difficult, dangerous conditions. However, when law enforcement breaks that vow, they will be held accountable."

After conducting its own investigation into Scavone's conduct, LVMPD terminated Scavone's employment.
Below is the body camera footage showing the damage one abusive cop on a power trip can inflict.