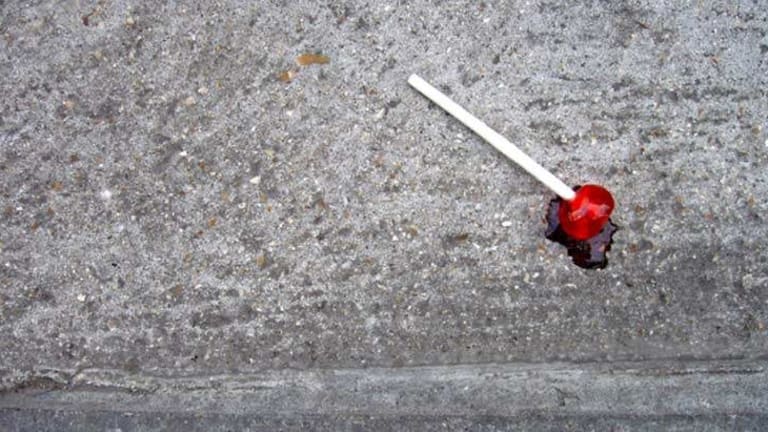 NYPD Cop Tackles Woman For Holding A Lollipop
An NYPD cop, with a history of mistaking regular items for drugs, has struck again.
New York, New York - NYPD Detective Sekou Bourne is being accused of tackling and assaulting a woman because he thought that she had drugs. However, what the detective believed to be drugs was just a lollipop.
Jarnale Henry claims that the officer assaulted her in her Brooklyn apartment after he mistook her for a drug dealer.
Last April, Bourne was reportedly snooping around Jarnale's apartment complex in search of drug dealers. At one point, Bourne was hanging around Jarnale's apartment, so she asked him, "What do you want?" according to court documents.
According to Jarnale, the officer then became violent with her.
"He pushed me down … They knocked my lollipop to the ground. I fell on my leg, onto my whole right side," Jarnale said.
In Court, Bourne said that the lollipop looked like it could be marijuana, and he also claimed that the way she said "what do you want" indicated that she was selling drugs.
"I thought it was a drug-related question. I thought she was asking me if I needed any drugs. That's when I identified myself as a police officer," Bourne said in court.
Bourne denies tackling her, but he says that she tripped on her own.
"She tripped and fell on her own. Then I got on top of her and began frisking her for my safety," he said.
Bourne has a history of wrongly suspecting people of having drugs and assaulting them without any probable cause.
In addition to the accusations from Jarnale, Bourne is also being investigated for the assault of 17-year-old Marcel Hamer. In the case of Hamer, Bourne attacked him because he believed that the teenager was smoking marijuana, but it was just a cigarette.
John Vibes is an author, researcher and investigative journalist who takes a special interest in the counter culture and the drug war. In addition to his writing and activist work he is also the owner of a successful music promotion company. In 2013, he became one of the organizers of the Free Your Mind Conference, which features top caliber speakers and whistle-blowers from all over the world. You can contact him and stay connected to his work at his Facebook page. You can find his 65 chapter Book entitled "Alchemy of the Timeless Renaissance" at bookpatch.com.