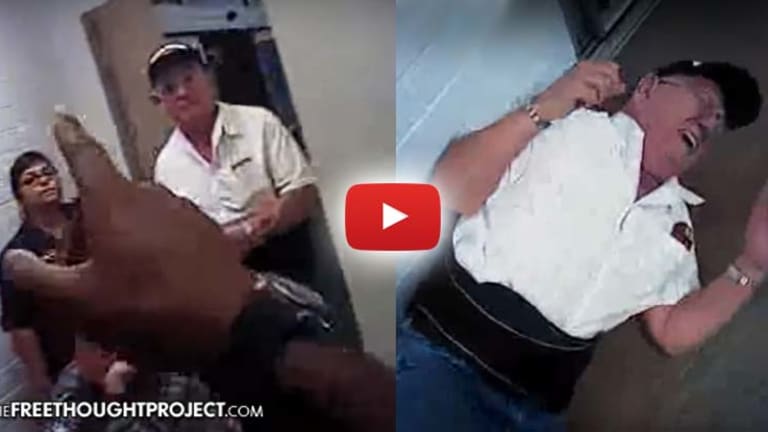 Infuriating Video Shows Cop Attack Elderly Disabled Veteran, Breaking His Ribs
Newly released body cam video shows a Texas cop assault an innocent elderly veteran and shove him to the floor, breaking his ribs, for no reason.
Buda, TX -- Body cam video has been released showing a Texas cop — with a history of using excessive force — shove an elderly, disabled Vietnam veteran onto the concrete floor, breaking several of his ribs.
Now the man has filed a federal lawsuit alleging excessive force and unnecessary escalation of the incident.
Guadalupe and Juan Martinez, both in their 70s, lost track of each other on their scooters in a Buda, Texas Walmart on October 3, 2014.
Guadalupe, searching for her husband, briefly exited the store with the items she intended to later purchase still in the basket of her scooter.
But a Walmart employee saw her leave the store, assumed Guadalupe was shoplifting, detained her, and summoned Buda police to the scene.
While they waited for an officer to arrive, Walmart employees brought the elderly woman to a back room to explain she would be permanently banned from the store.
When Buda Police Officer Demerriel Young arrived, Mr. Martinez followed him into the cramped room to stay with his wife. Young insisted the elderly man wait outside while he interviewed Guadalupe.
"Just step outside," Young tells Martinez.
"This is my wife," he responds.
"Just step outside for a second," Young insists.
"No sir, I'm not going to do that," Martinez respectfully replies. "I've done nothing wrong. I've done nothing wrong."
Young again demands Martinez step outside, interrupting the veteran as he tries to ask why he would need to leave his wife alone. But the unnecessarily obstinate officer retorts,
"I'm asking you to step outside. I just got here. Okay either you're gonna step outside or I'm going to place you outside or I'm going to place you under arrest for interfering."
As video now shows, Young grabbed Martinez with both hands and began pushing him out the door. Right outside the small office, Young shoves Martinez onto the hard floor and he screams out in obvious pain.
Guadalupe gets up to check on her injured husband — but Young blocks her.
"Have a seat ma'am," he says, adding, "I did not do anything" — as if he were already attempting to shirk responsibility for the old man's injuries.
"You pushed him," Guadalupe says.
For five minutes, Martinez writhes on the floor waiting for paramedics to arrive, as video and court documents show.
"Officer Young approached Juan Martinez and asked him to leave the office. Mr. Martinez wanted to see his wife. Officer Young unnecessarily escalated the situation, and used force excessive to the need. Specifically, Officer Young tackled the elderly and disabled Mr. Martinez, failing to control the descent of Mr. Martinez and slammed him hard onto the floor. As a result, Mr. Martinez broke several ribs, and sustained various other injuries and damages and continues to incur medical treatment and physical difficulty related to the injuries caused by" Officer Young, the lawsuit states.
But the lawsuit against the City of Buda, Young, and Walmart, also makes clear the incident could have been prevented in a number of ways. Buda Police hired Young despite his record of using excessive force — then also failed to "retrain" the officer "or provide adequate supervision to prevent the incident in question."
Even though the incident occurred just over two years ago, charges against the elderly Mrs. Martinez for shoplifting and against Mr. Martinez for interference are still pending.
"We all have the right not to be abused. Not to have police officers excessively use force against us. When there is an excessive use of force, that's an infringement of our fourth amendment rights," Robert Ranco, the attorney representing the couple, told KVUE. "When we look at Mr. Martinez in this circumstance, I think everything he did was completely reasonable, he was frustrated, he was not completely compliant, but he also was not aggressive and he didn't pose any threat to anybody."
The lawsuit accuses the city and Officer Young of violating the Martinez' Fourth and Fourteenth Amendment rights, and Walmart of false imprisonment and negligence.
In a statement provided to KVUE, Walmart said:
"We take this matter seriously. We haven't been served with the complaint yet. Once we have the opportunity to review the allegations, we'll respond appropriately with the court."
">