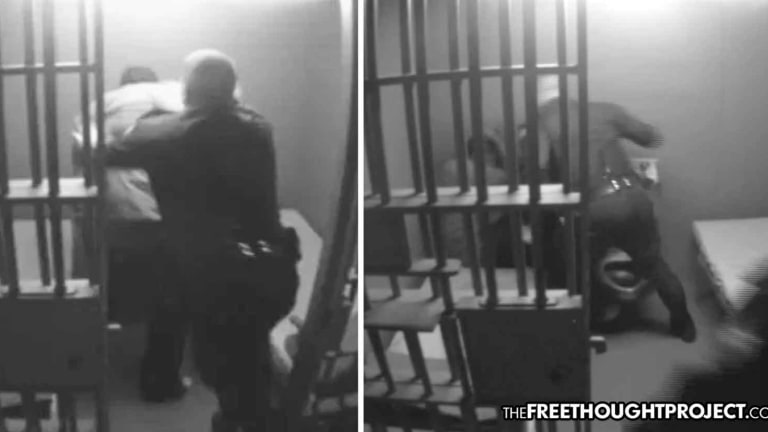 Video of Cop Beating Innocent Man So Disturbing, Cop Forced to Pay Him Personally—But He Wasn't Fired
A police officer was indicted and found guilty for beating a compliant man for no reason and was never fired by the department.
Lincoln, RI — Those of us who advocate holding police officers accountable for their criminal behavior do so — not because we "hate cops" — but because no one else seems to do it. All too often police officers will kill innocent unarmed fathers, home owners, and even children and they will not get so much as a slap on the wrist for it. We call them out because no one else will. The following video which was just released this week shows why this is necessary.
The video shows a Rhode Island state trooper repeatedly punch a compliant man who retreats to the corner of his cell in the fetal position to protect himself. For savagely attacking an unarmed compliant man — who was in jail for a traffic violation — Trooper Jamie Donnelly-Taylorwas never fired. This is a major problem.
As the video shows, Donnelly-Taylor is escorting Lionel Monsanto into a holding cell after being booked into jail for a traffic stop. Monsanto was complaining that he was only in jail because the police officers were "racist." Monsanto may have been right as well considering the traffic charge he was brought to jail for was dropped.
As Donnelly-Taylor shoves Monsanto into the cell, Monsanto looks back to complain. At this point, Donnelly-Taylor unleashes havoc on the man's face and head.
Donnelly-Taylor punches Monsanto multiple times in the face and head as Monsanto rolls into the fetal position on the bed. Not a single officer steps in to stop the abuse and they simply allowed him to let out his anger on this man. After the incident, Donnelly-Taylor kept his job, despite an indictment by a grand jury.
According to NBC 10:
The tape has been part of an ongoing legal battle between the trooper, state police, and the attorney general's office. Donnelly-Taylor was first indicted by a grand jury and pleaded no contest to simple assault, but said he did so because then-Col. Steven O'Donnell assured him the plea would prevent the video from becoming public and the state would represent him in any lawsuit, according to a statement from his attorney.
However, O'Donnell disputes these claims.
Former Colonel Steven O'Donnell was reached by phone Monday and called the trooper's claims about ordering him to take a plea "ludicrous." O'Donnell said paperwork submitted by Donnelly-Taylor was inconsistent with what was captured on video.

"The tape is a poor reflection on Donnelly-Taylor, not the State Police," said O'Donnell, who also added that the trooper took the plea himself and had a competent attorney representing him.
At the time, however, O'Donnell stood by Donnelly-Taylor after his indictment, crediting him as "a good trooper" and "a fine young man."
The trooper's actions were so egregious that then-Attorney General Peter Kilmartin decided not to represent him. Instead of realizing that he screwed up, Donnelly-Taylor went on the offensive and sued the attorney general and O'Donnell. Luckily, that case was dismissed, but Donnelly-Taylor still kept his job.
Monsanto would go on to sue the state police and Donnelly-Taylor in a civil suit. The video of the beating was so convincing that not only did the state shell out $125,000, but the court ordered Donnelly-Taylor to pay Monsanto $15,000 of his own money.
Naturally, Donnelly-Taylor's attorney argued that when Monsanto turned toward the trooper in the jail cell that he "struck" the trooper.
"This case was truly a miscarriage of justice. A video showing an officer's use of force is never pretty. However, viewing the video in slow motion in this case clearly shows that the officer was assaulted by the suspect prior to using force," said attorney John Martin.
This is not at all apparent in the video which is why the civil suit played out like it did.
What's more, the new Colonel of State Police, James Manni, called the video "disturbing," noting that "this behavior is not condoned by the men and women of the Rhode Island State Police and doesn't reflect on the standards of training we have."
Yet Donnelly-Taylor, the 17-year veteran of the force remains a cop.
Only after this video was released publicly — thanks to a few people who try to hold police accountable — did the department claim they are considering Donnelly-Taylor's future employment. This is why sharing and reporting on this information is crucial. How many other videos like this exist of police officers torturing people and we know nothing about it?
Below is this disturbing footage.
State Police Release Footage of Jail Cell Assault

State Police Release Footage of Jail Cell Assault

Posted by StreamLit on Tuesday, July 2, 2019