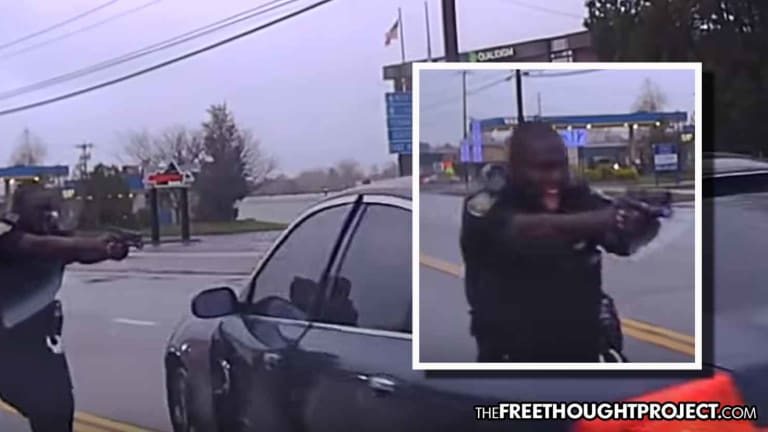 Raging Cop Cleared and Given $100k Bonus After Killing Unarmed Teen on Video
Claiming he feared for his family's safety after killing an unarmed teen, a cop was given a $100,000 bonus for resigning.
Wethersfield, CT — Dash cam footage captured the moment a Wethersfield police officer jumped out of his car and in front of the car belonging to 18-year-old Anthony Jose "Chulo" Vega Cruz. Seconds later, the officer would kill him. The teen was unarmed and not a threat to anyone when he was gunned down by the officer.
Despite the fact that the entire ordeal was captured on video, it was announced last year that the officer responsible, Wethersfield Officer Layau Eulizier, was justified.
Not only was the cop not fired for clearly murdering a teenager on video, but this week, he received a $100,000 payout from the town's municipal insurer when he resigned from the department, according to documents the Hartford Courant obtained through a Freedom of Information Act request. The Courant reports:
In the agreement to give Eulizier $100,000, it was noted that he was concerned for his family's safety if he stayed on the job and that he agreed to resign on or before April 15.

"As a result, the town has agreed to pay Eulizier $100,000 by May 15," the agreement read.

The town also agreed to pay his health insurance premium until April 2021 or until he obtained health insurance through a new employer prior to that date.
This cop's blue privilege runs deep and started after the murder or Vega-Cruz.
"Officer Eulizier discharged his firearm in fear that the operator was about to run him over and that he would lose his own life," Hartford prosecutor Gail Hardy wrote in a report. "His belief that deadly force was needed to defend himself and others from the use or imminent use of deadly physical force was objectively reasonable and therefore justified."
The family and many others disagree with this decision and they filed a lawsuit earlier this year.
The lawsuit says Vega-Cruz "never attempted to strike " and "never intentionally struck" the involved officers. It argues that Vega-Cruz lost control because of Eulizier's aggressive actions in the pursuit. It also says that Eulizier was "not in the direct path of" Vega-Cruz's car when Eulizier fired.
Rather, Eulizier "was easily able to step out of the way or path of the vehicle," the lawsuit claims. "EULIZIER was able to and did in fact move out of the way of the DECEDENT's vehicle. EULIZIER used poor tactics during this incident and poor positioning."
The lawsuit further argues that the police "did not have reasonable suspicion to detain" Vega-Cruz and did not have "probable cause to arrest him."
The family's attorney, Ben Crump did not mince words when he called the shooting an "execution."
"This execution-style killing was senseless — a traffic violation should not carry a death sentence," Crump said in a statement. "Officer Eulizier was sworn to protect the rights of every citizen, and he failed that duty in the most shocking of ways."
Michael A. Jefferson, an attorney for Vega-Cruz's father, also demanded that the state reopen its investigation.
"Despite finding that Officer Eulizier violated numerous departmental policies and [that] the 'reasonableness' of his actions required an examination by 'the trier of facts,' Attorney Hardy ruled that Officer Eulizier's use of deadly physical force was objectively reasonable and therefore justified under Connecticut" law, a letter states. "The family and its attorneys vehemently disagree with Attorney Hardy's legal logic and its application in this case. Her conclusion is flat out wrong and not supported in any way by the facts as presented. Additionally, Attorney Hardy's decision not to see reappointment to her former position in the face of intense public pressure against her reappointment raises numerous questions regarding her ability to adequately investigate this tragic incident."
As ABC reported, Crump pointed out Eulizier's history and called him a "ticking time bomb" for problems he's had at another department.
Crump — a Florida attorney known for representing the families of young black men killed by police — and Michael Jefferson, another lawyer for the family, said there was no reason for Eulizier to run in front of the car and create a dangerous situation. They also cited personnel records that said Eulizier had problems handling stressful situations and made tactical mistakes when he was a Manchester officer from 2015 until 2018.
The incident unfolded on April 20, 2019, around 6 p.m. when a Wethersfield police officer initiated a traffic stop on Vega Cruz.
Wethersfield police Chief James Cetran explained the stop was initiated because "the plates did not match the car … The officer thought it was a stolen car."
The department never released any information proving that the car was actually stolen.
Nevertheless, during the stop, Vega Cruz made the poor decision to flee. After being stopped for just 30 seconds, he took off, leading police on a brief chase.
When police catch up to Vega Cruz further down the road, the teenager spins out before trying to take off once more. According to police, it was at this moment that Officer Eulizier exited his vehicle and "the suspect's vehicle drove towards that officer," forcing him to shoot.
However, when we watch the video below, it is entirely clear that Vega Cruz was not attempting to drive toward the officer and that Eulizier jumped in front of the vehicle before shooting Vega Cruz in the head twice.
Eulizier's attorney said his client had no other choice but to jump in front of the fleeing car and kill Vega Cruz because he couldn't see his hands through the tinted windows.
Illustrating the futile nature of trying to kill a fleeing driver to "protect an officer," after being shot in the head, Vega Cruz' car remained in motion—as if shooting a driver in the head would make them apply the brake.
Sadly, Vega Cruz would not recover from the two bullets Eulizier put into his head and he died two days later.
After the shooting, Eulizier was placed on paid leave and eventually reassigned to administrative tasks during the investigation. He went back to regular duty last March and resigned this year, collecting his $100,000 payout.
The only danger faced by this officer was a result of his own actions. He didn't need to jump in front of a fleeing vehicle. His actions only led to violence and death. Had he decided not to get in the way, police could've caught up with Vega Cruz later, without creating a dangerous incident in the middle of a busy highway.
Had Eulizier been a cop in another state and jumped in front of a moving car and killed the driver, he would likely be indicted for manslaughter.
In fact, TFTP reported on a case out of Texas in which a police officer was indicted for doing this very thing.
O'Shae Terry and his friend were stopped last September by Arlington police officer Julie Herlihy because the temporary tag on Terry's vehicle had expired. Officer Bau Tran would also respond to the stop, and ten minutes later, he would shoot and kill Terry for trying to flee.
Unlike Eulizier, Tran is currently awaiting trial for the murder of Terry.