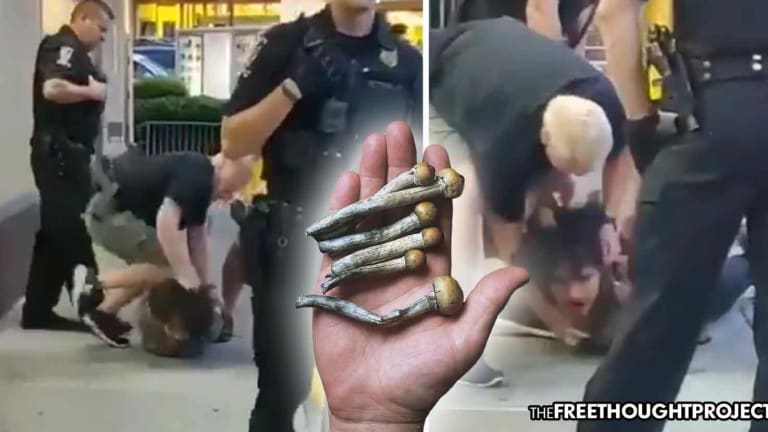 Cop Charged After Video Showed Him Smash Teen's Face In Over Magic Mushrooms
Because a citizen decided to film a cop beating a 19-year-old for selling magic mushrooms, the officer has been charged.
Silver Spring, MD — A video shared with the Free Thought Project last week shows officers with the Montgomery County Police department holding down a handcuffed man as one of them snaps and drops a knee to the back of his head, smashing his face into the concrete, injuring him in the process. After the video began to go viral on Twitter, it forced the department to respond and now that cop has been charged.
Last week, Montgomery County Police said that the officer seen dropping a knee to the head of the incapacitated and restrained individual could face charges for excessive force. Now, they have held true to their promise.
According to WaPo, the officer, Kevin Moris, faces one count each of second-degree assault and misconduct in office, according to a criminal information complaint filed by county prosecutors. Montgomery's acting police chief, Marcus Jones, said the videos showed "troubling evidence" that excessive force was used during the encounter, which began inside a McDonald's restaurant.
"The excessiveness of the officer, Officer Moris, actually slamming the individual's head to the pavement — this gave me grave concern," Jones said at a news conference Tuesday.
As TFTP previously reported, this is the same department whose officer was filmed last month using the N-word while harassing citizens.
As Patch reports:
Just last month, Montgomery County Executive Marc Elrich and Council member Will Jawando hosted a community forum on policing. That came on the heels of a police transparency bill signing, and amid a police investigation into a video that purportedly shows a white officer using a racial slur while talking to a group of black men.

The latest controversial encounter took place at a McDonald's at the Aspen Hill Shopping Center in Silver Spring. While it's not clear when the arrest took place, videos of the profanity-laced exchange surfaced on social media on July 4.
After the video began to go viral, the department released a statement claiming that the incident was under investigation and they asked for anyone with information about the incident to contact them.
"The Montgomery County Department of Police takes any complaints or evidence of excessive force seriously," officials tweeted. "An investigation into this matter has been opened and will be investigated thoroughly."
Below is the original video from Twitter, warning it contains graphic content.
"It's hard to imagine what circumstances would prompt the officer to use that level of force with a suspect who is already on the ground and restrained," said Councilman Jawando on Twitter. When asked about the racist incident, the MCPD responded, noting that there could indeed be charges in both cases. "There may be criminal charges out of this," Capt. Thomas Jordan, a police spokesman, told Montgomery Community Media on Friday. "Our preliminary review does not seem to support [the officer] using the N-word," Jordan said. As if a white police officer using the N-word when harassing a group of black people would ever be supported. After the brief video went viral, another video surfaced the following day showing the moments before the man was handcuffed. As the video shows, the man is certainly struggling, but he has a half dozen cops on top of him. Once he is subdued and cuffed outside there was no need for anymore force, but that didn't stop officer Moris from dropping his knee. The victim, Arnaldo Andres Pesoa, 19, was accused of selling magic mushrooms. And for this "crime," he was savagely beaten, kidnapped and thrown in a cage. "Mr. Pesoa did require medical attention on the scene as a result of injuries he sustained during the course of his apprehension," said Montgomery County State's Attorney John McCarthy.

According to Patch, Montgomery County Council President Nancy Navarro and Vice President Sidney Katz issued a statement after viewing cell phone videos from community members showing the use of force during the arrest at McDonald's.
"We are outraged and deeply saddened to watch the videos that show a young man being apprehended by Montgomery County Police officers using what appears to be excessive force. We appreciate that Acting Police Chief Marcus Jones has promptly initiated a thorough investigation into this arrest," the statement said. "The council is committed to making sure that all our residents feel safe when interacting with police officers. We have asked that Chief Jones appear before the Montgomery County Council as soon as possible in July to brief us on this incident and share with us his strategies for community-police relations, including de-escalation training strategies, to make our county a safe place for all our residents."