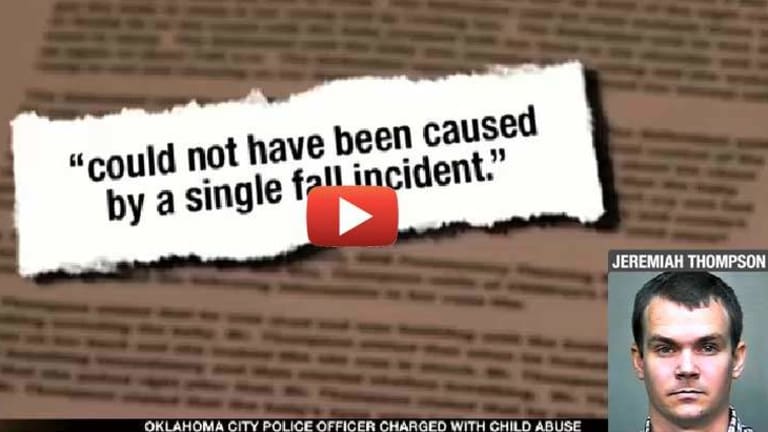 Cop Charged in Beating that Left a 7-Month-Old Baby with Brain Damage
Oklahoma City, Oklahoma - Oklahoma City Police Officer Jeremiah Thompson has been charged with child abuse, after a 7-month-old baby that he had been fostering for a month sustained major injuries while in his care.
In November of last year, Thompson called 911 to report that one of his foster children was having trouble breathing. At the time, Thompson was responsible for two young sisters, one 7-months-old and the other 2-years old.
Nearly five minutes into the 911 call, Thompson finally informed the operator that he had dropped the baby. According to court documents, Thompson told the operator, "I did drop her as well...from a height of 3 to 4 feet...onto padded carpet."
When the baby was finally received at the emergency room, doctors found that the child was suffering from injuries that could not have been caused by just one fall, but was likely the result of repeated shaking. Doctors reported that the baby suffered from subdural hematoma and extensive bilateral retinal bleeding that is caused by repeated shaking.
"This is very sad for everyone involved - the foster family, our agency, the biological family. This is a tragedy," OKDHS Spokesperson Sheree Powell told reporters.
"There were no red flags, no indications that anything like this could have happened. This particular foster parent did that, passed all of his background checks, home study was glowing on the family and also completed all the training," Powell added.
After the incident was reported, both children were removed from the Thompson's home, and while they are safe, the younger child is experiencing seizures and increased pressure in her skull. It is possible that the child could be brain damaged for life.
Thompson is currently on a paid suspension from the police department, and he has pleaded not guilty to the charge.
John Vibes is an author, researcher and investigative journalist who takes a special interest in the counter culture and the drug war. In addition to his writing and activist work he is also the owner of a successful music promotion company. In 2013, he became one of the organizers of the Free Your Mind Conference, which features top caliber speakers and whistle-blowers from all over the world. You can contact him and stay connected to his work at his Facebook page. You can find his 65 chapter Book entitled "Alchemy of the Timeless Renaissance" at bookpatch.com.