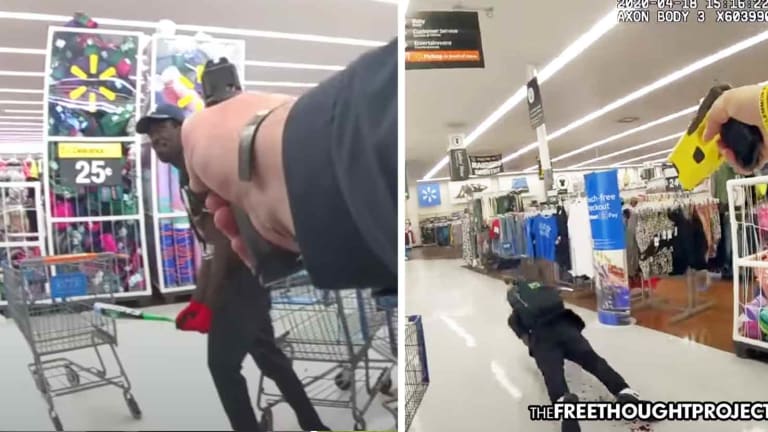 Cop Charged After Video Showed Him Kill a Man in Walmart for Holding Sporting Equipment
After fighting for justice for months, the family of a man gunned down in a Walmart is finally seeing the first steps of their son's killer being held accountable.
San Leandro, CA — As TFTP reported earlier this year, a tragic case out of San Leandro, California illustrates the propensity of police officers to escalate to deadly force in cases where mentally ill people are in a crisis and need help — not bullets. A man was killed inside a Walmart for holding a bat. After the community expressed their outrage, police were forced to release the body camera footage days later and it did not bode well for their case.
Now, four months after officer Jason Fletcher shot and killed Steven Taylor, 33, less than 40 seconds after entering the store, Fletcher has been charged. On Wednesday, Fletcher was arrested and charged with voluntary manslaughter in the fatal shooting of Taylor in April.
"A thorough review of the statements of witnesses and involved police officers, physical evidence and the review of multiple videos of the shooting shows that at the time of the shooting it was not reasonable to conclude Mr. Taylor posed an imminent threat of death or great bodily injury to Officer Fletcher or to anyone else in the store," said Alameda County District Attorney Nancy E. O'Malley in a prepared statement.
"I believe Officer Fletcher's actions, coupled with his failure to attempt other de-escalation options rendered his use of deadly force unreasonable and a violation of Penal Code Section 192(a), Voluntary Manslaughter."
San Leandro Police Chief Jeff Tudor issued a statement Wednesday saying, "As the Police Chief of San Leandro, I know the loss of Steven Taylor has deeply affected this community. Today, the District Attorney has charged Officer Jason Fletcher with voluntary manslaughter. It is important that we allow the judicial process to take its course. I will refer all questions to the District Attorney's Office."
While the charges are certainly welcome, legal experts say they do not go far enough and want Flether to face murder charges.
"You look at the facts, in my view, those facts do not amount to voluntary manslaughter. It's at least second degree murder," says LaDoris Cordell, a retired Superior Court Judge. "It is difficult for me to believe that one could not have the intent to kill another person when the officer took his gun, put it in front of the victim and shot him in the chest."
As TFTP reported, police were called out to the Walmart in April over an alleged robbery. Police said when they arrived at the store, there was no robbery, but they found Taylor inside brandishing a bat "menacingly" as they tried to detain him.
The officers are seen getting very close to Taylor and he never once takes a swing.
The video shows the officers then taser the mentally ill man before shooting him in the chest for wielding the bat. While the original video was grainy and from far away, the body camera video shows that there was no need to open fire on the mentally ill man and prosecutors agree.
The video shows officers confront Taylor who appears agitated but never once attempts to swing the bat at the officers or charge them like they originally claimed. When the first officer deployed his taser, Taylor started leaning forward — not like he was charging the officers — but as if he was about to fall over. That's when officer Fletcher fired his weapon.
"Get back!" "Get back!" they yell several times, as a person in the background can be heard shouting "Put it down! Put it down!"
The gunshot was entirely unnecessary, which is why so many onlookers inside the Walmart gasped when they watched it and spoke out, saying "don't shoot him anymore!"
Despite Taylor dropping the bat, the other officer deployed his taser causing Taylor to collapse.
Another video uploaded to social media shows the interaction between the two San Leandro cops and Taylor. The video, which is less than a minute long, shows officers engaging Taylor, who is refusing their commands to "drop the bat." Seconds later, Taylor is face down on the ground, dying.
This man was killed — not for attacking people — but refusing to drop sporting equipment when cops demanded he do so.
Although Taylor was accused of threatening people, at no time did he actually attack anyone.
Attorney S. Lee Merritt, a prominent police brutality attorney in the country has taken the family's case. In a statement, Merritt called the officers'a actions "criminal."
"At some point in this exchange the officers' behavior became criminal, namely when the suspect (Taylor) was disarmed," Merritt wrote. "These officers are not only poorly trained to deal with individuals suffering from a mental health crisis, their intentional and repeated application of force, despite the absence of a threat, captured in these recordings (videos of the incident) is sufficient evidence for authorities to issue an arrest warrant for the shooting officers."
Merritt also pointed out how the officers opening fire inside a crowded Walmart put everyone in the store in danger, not just Taylor, and that not immediately arresting Fletcher put the community in danger.
"Failure to identify and arrest the shooter unnecessarily exposes the public to a deadly threat," he said at the time.
Luckily, that has since changed.
NBC Bay Area interviewed a friend of Taylor's who described the man as a loving father of a little boy and who had not seemed like himself lately.
"I am sorry for his family and for his friends," Flood said. "We will miss him, and we love him."
Below is the original video.