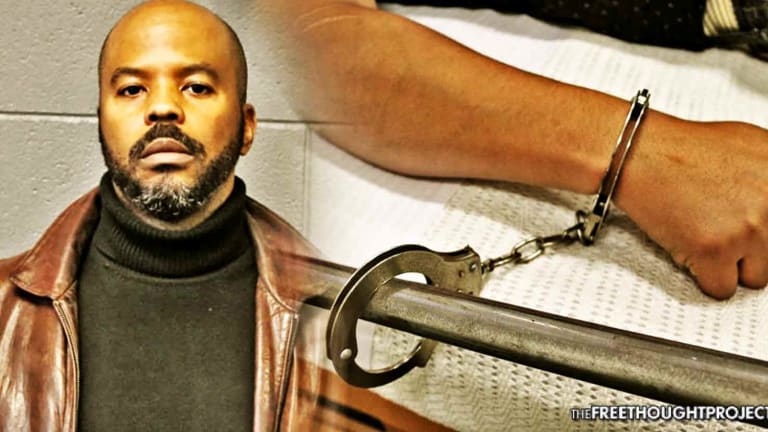 Cop Arrested for Raping a Mentally Ill Man Who Was Chained to a Hospital Bed
A Chicago police officer has been arrested on multiple charges after he was caught raping a mentally ill man who was chained to a hospital bed.
Chicago, IL — Chicago police officer Carlyle Calhoun, 46, was accused of sexually assaulting a man in his custody, while the man was shackled to a hospital bed. Calhoun has been charged with aggravated criminal sexual assault and official misconduct. DNA evidence and photos that were taken from Calhoun's cellphone verify the victim's testimony.
The victim, who was arrested on a misdemeanor charge, likely for some drug offense, says that after his arrest he was taken to a South Side hospital because he expressed suicidal thoughts. While he was held in custody at the hospital his left hand and foot were handcuffed to a bed, and he was monitored by Calhoun and another officer.
The victim says that at one point when the other officer left to take a lunch break, Calhoun began to massage the man's foot, and then began to suck on the man's toes. Then, Calhoun touched the man's genitals and took pictures of them with his cellphone.
When the second officer came back, Calhoun then took the victim to a bathroom down the hall where he sexually assaulted him, and then took pictures of his genitals again.
The victim says that during the whole encounter he was saying no and trying to get away, and as soon as Calhoun left, he told the staff what happened to him. DNA samples taken from the victim contained Calhoun's DNA, and when they searched the officer's cell phone they found revealing pictures of the victim.
It is likely that Calhoun expected his victim to be an easy target because he was mentally unstable, and that no one would believe his side of the story over a cop, but luckily, in this case, there was proof.
Calhoun's attorney, Tammy Wendt, had no defense for the officer's actions at the bond hearing, and attempted to use his position as a police officer in a plea to the judge for mercy.
The Chicago Police Department told ABC7 News that Calhoun was suspended without pay and stripped of his police powers.
He was arrested on Monday and is still in custody on a $200,000 bail. If convicted, he could face anywhere between 15 and 45 years in prison.
On a near daily basis, a cop or former cop's face makes the local newspaper with whitewashed headlines likeFormer deputy now charged with exploitation. Little attention is given to these stories despite the grim nature of them. For example, the aforementioned headline is from a small Minnesota town and involves a deputy who was arrested on multiple felony charges including child molestation, sexual misconduct with a child, and child exploitation. No one else picked up the story and it was swept under the rug.
The disgusting crimes that lead to these headlines happen often and blow the myth of the 'bad apple' theory completely out of the water. Recently, two NYPD cops crimes were so bad they actually made national headlines when they were arrested for allegedly handcuffing an underage teen and brutally raping her in their van. As TFTP reported, officers who were allegedly acting on behalf of the rapist cops entered the rape victims hospital room and threatened her if she came forward with her accusations. 
While the NYPD case garnered much-needed attention, others go completely unnoticed. Cops sexually abusing children, women, and men is common and is a major problem.
In 2014, TFTP put out a shocking report that highlighted 40 cops who were convicted or charged with spousal abuse, child rape, or other types of sex crimes just thirty days.
In spite of the rampant abuse, police sexual misconduct still manages to escape the spotlight. According to a recent report by Newsweek, the reason is fairly simple: fear and intimidation.
The victims have reason to be frightened—and, at the very least, to doubt investigators will take them seriously. In many cases they are trafficked girls, women of color, prostitutes, undocumented workers or just poor. Those were the types of women abused, for example, by Oklahoma City Officer Daniel Holtzclaw, who in 2016 was sentenced to 263 years in prison for rape and other sexual assaults involving eight victims. Holtzclaw faced charges only after a 57-year-old grandmother accused him.

The International Association of Chiefs of Police (IACP), the largest organization of police chiefs, is well aware of the problem, too. In 2011, a national working group it had convened published an executive guide for police chiefs, which read, "Law enforcement agencies and executives have a duty to prevent sexual victimization, to ensure it is not perpetrated by their officers, and to take every step possible to ensure the safety and dignity of everyone in the community."
While independent researchers began tracking how many people are killed by cops every year, no one was tracking how many crimes were committed by cops. However, that is beginning to change, and the data shows that the problem is staggering. This case is evidence of it.