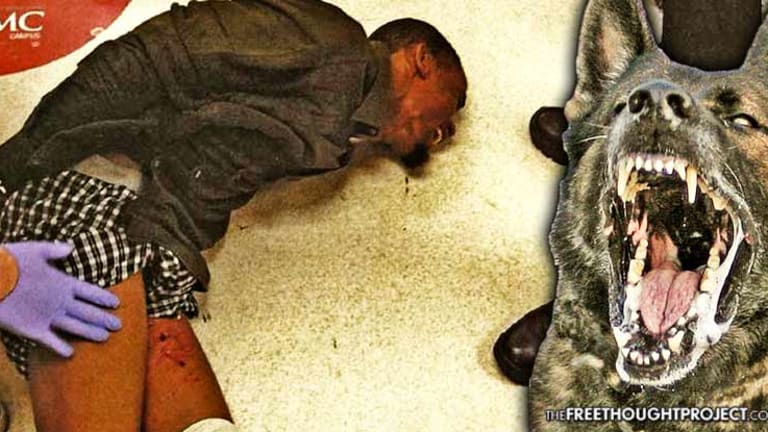 Notoriously Sadistic Cop Sued for Forcing K9 to Maul Man—FOR 20 MINUTES
A cop with a history of forcing his dog to maul people is in court again, this time for allegedly forcing his K9 to maul a man for 20 minutes.
Broward County, FL -- A sizeable chunk of the Free Thought Project archives is devoted solely to a single department in Florida. The Broward Sheriff's Office is notorious for its rapists, child molesting stalkers, sadistic dog siccing torturers, and woman battering deputies. Many of these cops are never fired, and, even if they are, they are likely all given paid vacations first -- some of them for months, or longer.
One of those cops, Broward County Sheriff's Deputy Gerald "Jerry" Wengert—a notoriously violent and deadly cop—is now in court, again, over allegations he let his K9 maul a surrendering man—for 20 minutes.
Attorneys for Reginald Chatman are seeking $135,000 in compensation and damages for dog-bite injuries to his left hip, knee and leg during a 2014 arrest in Tamarac, reports the Sun Sentinel. 
"[Wengert used] excessive force when he maliciously and sadistically released his K-9 unit [dog] on Chatman and allowed the K-9 unit to continue the attack for an inhumane length of time," the lawsuit alleges.
The incident unfolded after Chatman admittedly stole around $30 worth of items from a CVS and fled the scene. Moments later, Wengert and his K9 Diesel arrived on the scene and found Chatman hiding in the bushes.
According to the Sentinel, Chatman says the dog bit him for 15 to 20 minutes while Wengert says it was only a matter of seconds, court records show. Chatman concedes he was legally arrested and that Wengert was entitled to use the police dog to catch him.
However, Wengert "made no efforts to temper the severity of such a forceful response" and allowed the dog to continue to "attack" Chatman "unfettered for nearly twenty minutes," Chatman's attorneys wrote in the lawsuit.
Naturally, Wengert denies any wrongdoing. Also, TFTP will concede that the claims of allowing a dog to tear into a surrendering person for twenty minutes may seem hyperbolic—if, of course, this had been any other cop but Wengert.
As TFTP reported, Wengert has a history of this madness. And he's already forced his K-9 to tear into a teenager for suspicion of spray painting a train car. After telling his dog to "eat" as he and his partner held the teens at gunpoint to allow the vicious mauling, Wengert got a paid vacation.
According to a report in the Broward New Times, for 440 days, Wengert was on paid leave. Since his annual salary is $72,735.22 a year, he's cost taxpayers $87,680.81—for not showing up to work.
But that is only the beginning.
As the Sun-Sentinel reports:
Wengert has been found not guilty after a criminal trial in an unrelated case, served two suspensions and has been cleared of wrongdoing in multiple internal affairs investigations.

In 2012, Wengert was arrested and charged in a criminal complaint by his own agency. He was suspended, without pay, from July 2012 to August 2013 while he waited to go to trial on criminal charges that he beat up a 17-year-old boy. A jury found him not guilty, and he returned to duty with more than $63,500 in back pay.

The Sheriff's Office has cleared Wengert in nine separate internal affairs investigations.
Naturally, Eric Schwartzreich—Wengert's union-appointed attorney—is claiming that Wengert's role in the 2011 reality TV show, with another canine partner Bali, made him a target for litigation.
"I've gotten to know Deputy Wengert and he's a deputy that's beyond reproach and who does his job by the book," Schwartzreich said. "I am confident there is no criminal wrongdoing by him and there should not be any civil liability."
However, his many victims and their families disagree. As of Friday, Wengert is the subject of at least four different and current lawsuits for horrific and fatal abuse while on duty.
As the Sentinel reports:
Kevin Buckler, 21, spent two days hospitalized with a fractured face and eyes swollen shut after Wengert arrested him March 26, 2010. The lawsuit alleges Wengert pummeled Buckler after taunting him at a Cooper City gas station and then pulling him over less than a mile away for blaring "excessively loud music."
Behind a loading dock with train tracks in Pompano Beach, four men spray-painted graffiti on freight cars on Jan. 17, 2014. The men said Wengert and another deputy "antagonized" a police dog to attack after they had surrendered. According to the lawsuit, the men were taken by ambulance to an emergency room with open wounds.
Wengert faces a wrongful death lawsuit for the on-duty killing of Steven Jerold Thompson, 26. Wengert said he was forced to shoot Thompson after Thompson shot at him on June 5, 2014. The lawsuit alleges that Thompson was unarmed and did not fit the description of iPhone robbery suspects the deputies were seeking in Pembroke Pines. Thompson was shot nine times.
After leaving a CVS store in Tamarac, Reginald Chatman and a friend were stopped on suspicion of petty theft. Chatman, now 25, said he thought a deputy was reaching for his Taser stun gun and ran away. After searching for nearly an hour, Wengert and his police dog, Diesel, found Chatman hiding in a bush on Nov. 9, 2014.Wengert's dog "latched onto Chatman's ankle and viciously tore at him for 15 to 20 minutes," the suit alleges. Chatman required numerous stitches and spent a month in the jail infirmary, according to the lawsuit filed in December 2014.
This cop has been the subject of numerous internal affairs investigations, beatings, dog maulings, and even implicated in the killing of an unarmed man—yet he is still employed as a cop and making close to six figures.
While the apologists may concede that Wengert is a bad apple, it is not only him, it is the entire system that protects, pays, and promotes violent and sadistic cops and look the other way in the face of their destruction. Shame on the Broward Sheriff's Office for allowing this to continue.