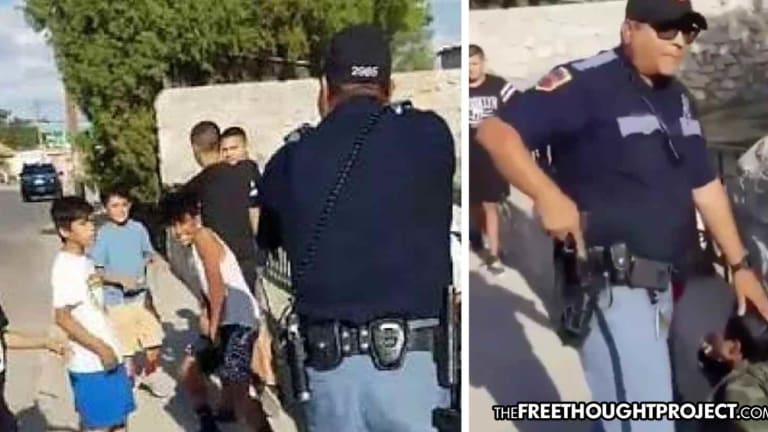 Cop Who Held Multiple Small Children at Gunpoint on Video, Was Just Exonerated, Back on Duty
Illustrating the difficult nature of holding police accountable, a cop was seen on video holding children at gunpoint and he was just exonerated.
As The Free Thought Project previously reported, an El Paso police officer pulled his gun on a group of pre-pubescent kids while he was attempting to arrest a teenager for trespassing. But instead of charging the officer with brandishing a firearm, El Paso Police responded to the incident by arresting more kids. And now, we've learned that the officer was just put back on duty after being unanimously exonerated by his peers.
El Paso Police Department spokesman Sgt. Enrique Carrillo said on Thursday that the 13-member Disciplinary Review Board, comprised of officers and civilians, found earlier this week that the officer pointed the gun at a specific juvenile and not at a group of children on July 5, according to CNN. 
In all, two 12-year-old boys; three boys ages 13, 14 and 15; and two girls, ages 12 and 16 were arrested and charged with burglary for breaking into a park and recreation building and stealing a key.
After pouring over camera footage from the area, the police concluded that the group of kids took a key. That's right. In an apparent effort to deflect attention away from a reckless police officer, the department responded by arresting more children, a move which will likely enrich the courts, the lawyers, and anyone else who profits from people getting arrested, such as probation and family courts.
El Paso County Sheriff Richard Wiles then engaged in what TFTP calls "blaming the victims" by insinuating that the same group of kids was suspected of vandalizing the park pool and the softball equipment storage shed. This shadow casting did not go unnoticed by members of the community, including the mother of the first teen arrested.
Elizabeth Flores said she tried to get the still-unnamed officer on camera choking her son but was unable to start the recording soon enough. She says she saw the officer choking her son and jumped over a fence to confront him, pointing her finger and questioning his training.
Bystanders were recording the incident appearing on many major news outlets. While very adult language could be heard coming out of the mouths of little children, something Wiles also noted. However, the fact remains that an El Paso Police officer drew his weapon from his holster, pointed it at unarmed, defenseless children, and is still an employee in at the department—on regular duty.
According to the El Paso Times, the officer "showed poise and restraint while under attack from the disrespectful and disobedient kids." Apparently, "restraint" is now assaulting unruly children with a deadly weapon.
Last month, Wiles joined El Paso Police Chief Greg Allen in criticizing the children involved, as well as their parents. Allen stated that the incident is being investigated by Internal Affairs but added that the language used by the children toward the officer was inappropriate. He questioned the youths' parents as well, casting another shadow on the late curfew they were allowed to have. According to USA Today, he remarked:
At 11 o'clock at night, a 12-year-old being out seems a little unusual to me.
When the review board was announced in July, TFTP predicted this exact outcome. As Jack Burns wrote, "The investigation will likely end with a reprimand being given to the officer, his gun being handed back to him, then the department allowing the officer to go back to "protecting" the public (if that's what you call pointing guns at kids)."
We were wrong, however, and the officer was not reprimanded at all. Shameful indeed.
Watch the original video below: