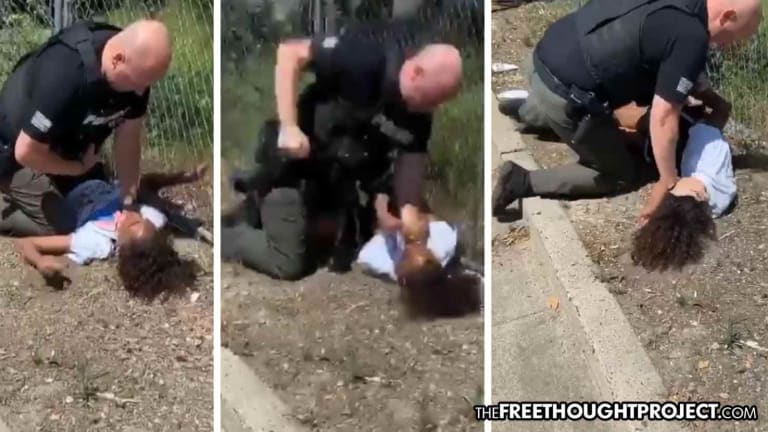 Cop Fired After Video Showed Him Choking, Beating a Young Boy Over Tobacco
A California cop is out of the job after a bystander filmed him savagely beating a young boy for possessing a swisher sweet tobacco product.
Rancho Cordova, CA — A video of a violent police interaction involving a child was sent to the Free Thought Project through Instagram. It shows Rancho Cordova Police Officer Brian Fowell violently attacking 14-year-old Elijah Tufono over a Swisher Sweet tobacco product. Now, five months after we reported this story, the officer has been fired.
According to police, after the video was posted, it prompted an internal investigation which has since wrapped up and ended with Fowell being out of a job. While firing the officer is certainly warranted, many feel that charges should also be brought. However, that is unlikely.
Naturally, the police union feels that the firing of Fowell is an injustice and cops should be able to beat 14-year-old boys any time they see fit, without fear of losing their jobs.
Below is a statement from the association:
"Our Association is not in agreement with the termination of Deputy Fowell. The video footage that went viral shows only a brief portion of an event. Following this event, the subject of the call made the following statement to the media, directed at Deputy Fowell: "Sir, I'm sorry for the way that I acted towards you and for not cooperating. And I just hope that we could meet again and be on better terms," and added that Deputy Fowell was "just doing his job."

This law enforcement interaction did not rise to the level of termination. It is the latest example of public outcry being allowed to drown out facts from being heard. We will continue to advocate for Deputy Fowell, and have requested arbitration on his behalf."
The union will likely file an injunction against the department and Fowell will likely be reinstated with back pay in a few months.
Tufono has since spoken out and says that while people may claim he was resisting, he was only trying to stop the officer from hitting him in his face. And, as the statement from the union claims, he admits he could've composed himself a little better. But this does not grant a cop permission to savagely beat a child.
"He's on top of me and it looks like he's about to hit me. Like, I'm reacting like any other normal human being would," Tufono said. "It could've been better on both of our parts in this situation."
According to Tufono, like kids across the country do every day, he asked a stranger to purchase some tobacco for him. TFTP is in no way condoning the use of tobacco by teens. However, thanks to officer Fowell, Tufono's dangerous decision to engage in tobacco use at such a young age, was drastically compounded.
"And that's when the cop pulled up. And he asked me what was that in my hand. And I had gave him, as soon as he asked me that, I just gave it to him," recalled Tufono.
According to Tufono, despite immediately handing over the Swisher Sweet to the cop, he became confrontational. Tufuno admitted that he lied to the cop and gave him false information. However, the teen says that was no reason for what happened next.
"I did lie to him and I didn't cooperate, and I know that and I made that mistake. But that didn't give him no right to do what he did," said Tufono.
According to Tufuno, the cop then moved in to put him in handcuffs and would not tell him why. Naturally, not wanting to be kidnapped over a Swisher Sweet, Tufono yanked away from the cop.
"So when he did that, I pulled my right hand back and that's when he started getting aggressive and trying to fight," said Tufono.
The boy was then taken down with extreme force.
The video does not show the officer taking Tufono to the ground, however, it does show what happened once the massive cop was on top of the skinny boy, one-third his size.
Officer Fowell is throwing the 14-year-old boy around like a rag doll. He is seen grabbing the boy by the throat, throwing him from side to side and punching him several times in the head.
This cop just turned a bad decision of teen tobacco use into a potentially life threatening one as he put all of his weight on the teen while attacking him.
Originally the police department claimed that he had to stay on top of Tufuno — with his hand around the boy's throat — because he dropped his handcuffs and had no other choice.
"The juvenile became physically resistive at that time, causing the deputy to lose control of his handcuffs, which landed several feet away. The deputy attempted to maintain control of the juvenile without his handcuffs and while alone waiting for his partners to arrive and assist him," the statement said.
Apparently, that excuse didn't hold water, which is shown by the firing of Fowell.
Showing the entirely unnecessary nature of the interaction, Tufuno was handcuffed, cited for underage tobacco use over the Swisher Sweet and let go.
"I mean, I do forgive him. I have nothing against the cop. He was just doing his job, I guess," said Tufono.
But is it really the job of police to play parent to someone else's child? We don't think so.
According to FOX 40, Tufuno's family was grief-stricken after watching the video. The boy's uncle is the one who posted it to Instagram, and it was a friend of his who sent it to TFTP.
"It just kind of broke my heart. Anger and frustration went to sadness, especially the fact that he has a heart condition. And that's the immediate thing that got to me," said Tufono's uncle, Justin Tufono. "I'm just so happy that he was able to come home alive."
This story does have a peaceful ending, however, at least on the part of the Tufuno family. Elijah told FOX40 he wants to pass along a message to the officer.
"Sir, I'm sorry for the way that I acted towards you and for not cooperating. And I just hope that we could meet again and be on better terms," said Elijah.