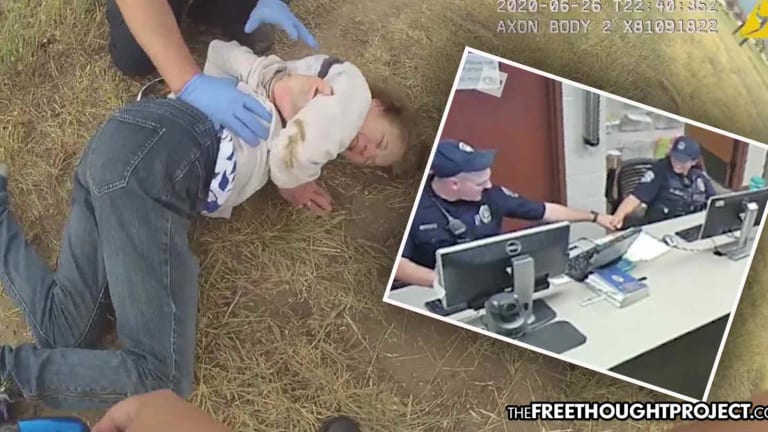 Cop Gets 5 Years for Attacking Innocent 73yo Woman With Dementia, Breaking Her Bones as She Walked Home
For beating an innocent elderly grandmother with dementia, breaking her bones, and chaining her up for hours, a cop was sentenced to 5 years.
Loveland, CO — On June 26, 2020, Karen Garner, 73, walked from her home to the local Walmart two blocks away to get some supplies. Everything that happened after this trip to Walmart became the subject of an excessive force lawsuit against the Loveland Police Department that costed taxpayers $3 million because they have no idea how to treat elderly women with dementia.
That $3 million now goes to the round-the-clock care required for Garner after the attack left her disabled.
For nearly a year, the cops who savagely attacked the elderly woman, thought they got away with it. However, in April of last year, the Loveland city manager announced that Officer Austin Hopp, Officer Daria Jalali, Sgt. Phil Metzler, and Community service officer Tyler Blackett had all been suspended and placed on administrative leave. Then, in May, Jalali and Hopp were both charged.
At the time, the chief of the Loveland police department, Robert Ticer referred to the incident, saying, "What you saw on the video is not the Loveland Police Department."
In March, Hopp took a plea deal. Before that deal, Hopp had faced a mandatory sentence between 10 and 32 years for his brutal attack on the innocent woman as she picked flowers walking home from the store.
On Thursday almost 2 years to the date of the attack, Hopp was sentenced to 5 years.
"I can't get that video footage out of my mind, of what he did to my mom," said Allisa Swartz, Garner's daughter told Judge Michelle Brinegar during the sentencing hearing. "When she (got) back with me all she (could) say to me (was) 'why did he do that to me?' And I told her I don't know mom, I don't know."
Hopp, who was immediately taken into custody after sentencing, apologized to the Garner family.
"I made a terrible mistake that day, a horrible one," Hopp said. "I didn't do it because I was angry or to be cruel or presume some sort of power or control. I really honestly misjudged the situation, I did not understand what was happening. I did not read it appropriately and I responded so wrongly and so poorly."
That apology would have meant something had he and his fellow cops not celebrated his actions upon returning to the department.
As we reported at the time, having dementia is not a crime but Hopp certainly treated it like one and then used his authority to savagely attack an innocent elderly woman.
As TFTP reported, body camera video showed the officers attack Garner. However, after media began picking up on her story, another video was released showing that officers knew about the injuries they caused, neglected to provide aid, and laughed and celebrated their brutality against an elderly woman with dementia.
As 9News reported at the time, the officers' initial report said Garner, who has dementia, was not injured. Her lawyer, Sarah Schielke, said the officers dislocated Garner's shoulder, broke a bone in her arm and sprained her wrist.
Schielke alleges the video shows the three arresting officers watching body camera video of Garner's arrest, laughing and celebrating the excessive force, and fist-bumping the fact that one of the officers intimidated a citizen who stopped to make a complaint.
Only because the video was released and drew the appropriate criticism did the department react.
What should have been a situation in which an officer offers an elderly woman a ride home turned into senior citizen abuse at the hands of Loveland's finest.
As we reported, like those with dementia often do, Garner simply grabbed her items in Walmart that day and walked out. She was quickly confronted by store security who then guided her back into the store for accidentally failing to pay for $13.88 worth of items.
After being escorted back into the building, Garner realized her mistake and tried to pay for the items but the store called police anyway. By the time police arrived, Garner had left the store and was walking home. She had left the items back at the store and no crime had been committed.
When police arrived, the interaction was captured on body camera footage.
Officer Hopp said, "Alright let's stop ma'am. I don't think you want to play it this way. Ma'am, police. Stop," as he exited his patrol car.
Clearly illustrating her dementia, when Garner tries to respond to the officer, she simply mumbles.
But officer Hopp couldn't have cared less that this was an elderly woman suffering from dementia, who by this time, had committed no crime. He just knew he had to escalate force.
After just two minutes, this "hero" cop tackles the frail elderly woman with dementia to the ground and puts her in handcuffs.
When a second cop, officer Jalali arrived, she "put her own hands on Ms. Garner to hold her while Officer Hopp continued pushing painfully upward on Ms. Garner's already-restrained left arm and while also violently touching her all over her body."
Illustrating how confused and scared Garner was, the entire time, she kept telling the officers, "I'm going home."
In the video, we can hear the cops talking about Garner bleeding and then plotting all the charges against her. Every single one of the contrived charges had to do with cops escalating force against an innocent woman with dementia.
The cops were so rough with Garner they left her bloody and with broken bones. Despite her clearly visible injuries, according to the lawsuit, police brought her to jail and then denied her care. Instead of tending to her injuries, police left her chained to a cell for hours.