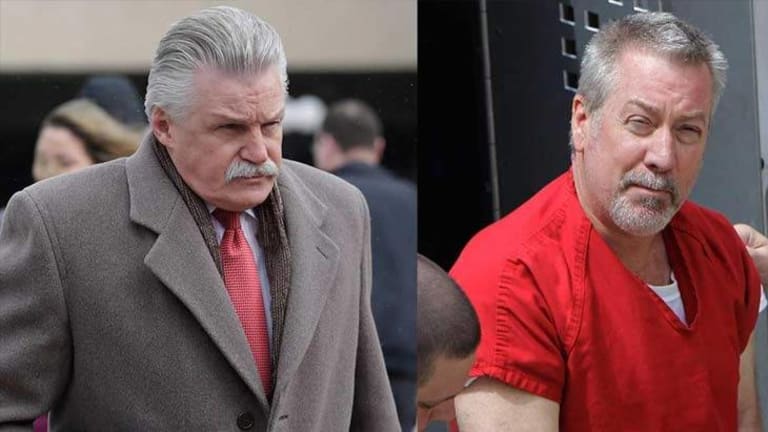 Cop Hired Hitman To Kill Prosecutor Who Put Him In Jail For Killing His Wife
A former Chicago cop, convicted of killing his 3rd wife, and suspected of killing his 4th, has been accused of putting a hit out on a prosecutor who he claims, "destroyed his life."

Chicago, Illinois — 61-year-old former police officer Drew Peterson was convicted of killing his third wife in 2012, and is also suspected in the disappearance of his fourth wife.
However, prosecutors were unable to gather enough evidence to pin the murder on him. This week it was reported that Peterson attempted to kill again, this time from behind bars.
The Illinois attorney general's office and the prosecutor in Randolph County announced on Monday that they had evidence that Peterson attempted to have his original prosecutor killed.
New prosecutors say that Peterson paid someone or tried to pay someone, to kill Will County State's Attorney James Glasgow. Peterson is currently serving a 38-year sentence for the death of his third wife, as a result of Glasgow's prosecution team.
After he was convicted of murder, Peterson turned to Glasgow and said: "Mr. Glasgow, all aspects of my life have been destroyed. Everything from my personal life to my professional life to my social life, all aspects have been destroyed, and I tell you this to give you greater cause for celebration when you celebrate the fact that you perpetrated the largest railroad job that ever took place in this country. Look into my eyes and never forget what you've done here."
Peterson's son has denied the allegations, saying that they make no sense because his father truly believed that he was going to win his appeal. A murder for hire plot would derail any chance of that appeal happening. However, prosecutors have said that they have hard evidence to back up their claims, so it is possible that his emotions got the best of him.
The new charges against Peterson are both felonies that carry a maximum sentence of at least 30 years in prison each.
John Vibes is an author, researcher and investigative journalist who takes a special interest in the counter culture and the drug war. In addition to his writing and activist work he is also the owner of a successful music promotion company. In 2013, he became one of the organizers of the Free Your Mind Conference, which features top caliber speakers and whistle-blowers from all over the world. You can contact him and stay connected to his work at his Facebook page. You can find his 65 chapter Book entitled "Alchemy of the Timeless Renaissance" at bookpatch.com.