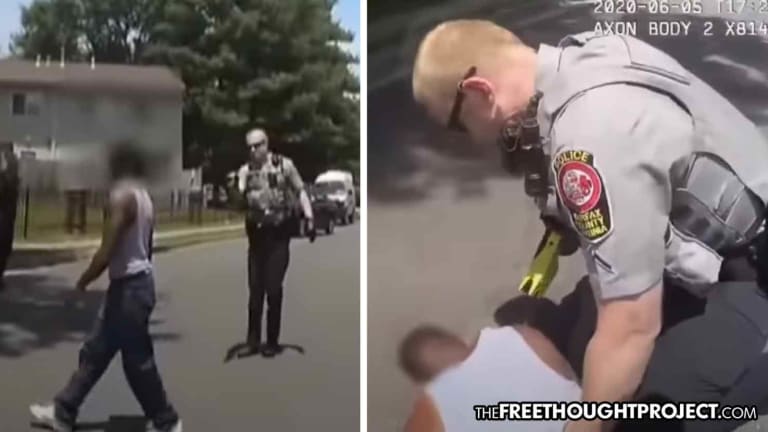 WATCH: Cop Walks Up to Innocent Man, Tasers and Beats Him Simply Because He Could
A cop has been formally indicted after he was seen on video walking up to an innocent man, tasering, beating, and pistol whipping him for no reason.
Fairfax County, VA — Fairfax County police Officer Tyler Timberlake is on the road to being held accountable this week after a grand jury indicted him on Monday on three misdemeanor counts of assault and battery. Timberlake was recorded on video tasering an innocent man without provocation in June. His victim had not committed a crime, nor had he been suspected of committing a crime.
The indictment specifies three alleged incidents of assault and battery: the first, when Timberlake used a "Taser device to fire a dart" into the man's body while he was standing, the jury found; the second, when Timberlake allegedly struck the man's head with his "fist and/or the butt of a Taser device"; and the third count, Timberlake's allegedly using a "Taser device to fire a dart" into the man's body while he was on the ground, according to WTOP.
This indictment is notable considering the fact that last week, Timberlake likely thought he'd gotten away with it after facing the same charges only to have them dropped by country prosecutors for "procedural reasons."
"This means that we can now look ahead to a jury trial that will give our community an opportunity to weigh in on this important case," said Steve Descano, the commonwealth's attorney for Fairfax County, in a statement in response to the indictment.
"I believe the community's involvement in deciding this matter is essential and is why we pursued and obtained today's grand jury indictments," Descano said.
Stopping short of admitting any wrongdoing — while simultaneously claiming Timberlake is innocent — the officer's attorneys blamed the tasering on the fact that Timberlake mistook the victim, La Monta Gladney, for a different person who he thought had a criminal record.
According to Timberlake, if you confuse an innocent man with a criminal and then taser beat that person without provocation — you did nothing wrong.
Police claim they stopped Gladney that day because he was "pacing and mumbling" which does not happen to be a crime at all. When Timberlake arrived on the scene, despite the fact that Gladney had committed no crime and was not presenting a threat to officers, video shows he attacked the innocent man anyway.
As the video shows, the other officers on the scene are being nice to Gladney, asking whether or not he needs medical attention. This niceness would be brought to an abrupt halt, however, when Timberlake began his assault.
First Timberlake deploys the taser without provocation before punching the innocent man, throwing him down and kneeling on his back while pistol whipping him with the taser. None of the other officers stepped in to stop the attack — making them all accessories.
At one point during the assault, Gladney yelled, "I can't breathe."
Though Timberlake faces no charges for it, according to Deputy Commonwealth's Attorney Robert Frank after the June 5 incident, Timberlake "didn't turn in his body-worn camera at the end of his shift — he went home sick, and didn't turn it in the next day" — essentially suppressing evidence of his assault.
In a sick twist of irony, when Timberlake was originally arrested, he was attempting to become a gypsy cop and "was already in the process of moving to Minneapolis" — the city in which George Floyd was brutally murdered by cops just like Timberlake.
The Fairfax police union is now calling for the resignation of Chief Ed Roessler because he chose to hold Timberlake accountable and dared to speak out after watching the video of his officer attacking an innocent man.
"In the case of Officer Timberlake, your egregious actions and slanderous statements, have effectively ended the career and impugned the reputation of a Fairfax County Police Officer," the union wrote on Facebook.
Showing just how much the department agrees with the above statement is that according to a survey conducted by the union, 98% of the officers want Roessler to resign for going after Timberlake. Still think this is a problem with "bad apples"?