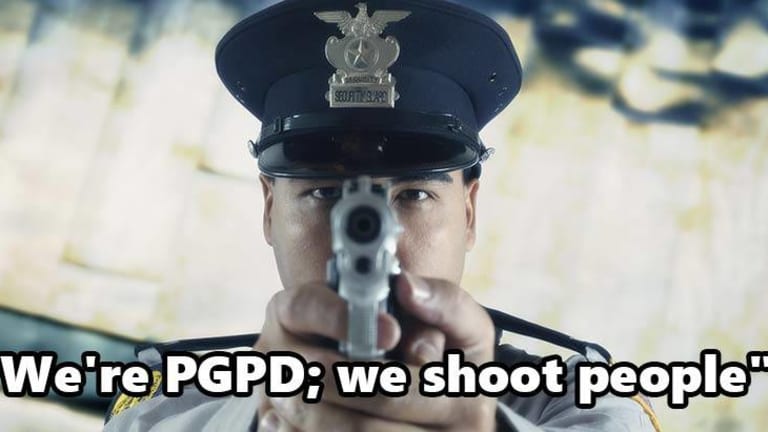 Terrorizing Cop Points Gun At Innocent Man's Head And Says "We Shoot People"
As a man walked into his own home, a cop came from behind him and placed his gun to his head because he thought he was illegally parked.

Bowie, Maryland - Police officer Jenchesky Santiago was indicted last week for holding his gun to an innocent man's head and threatening to shoot him.
Santiago was charged with first-degree assault and misconduct in office. He has been suspended since last June when the incident was reported, but has still been collecting a paycheck the entire time.
Prosecutors say that last May, Santiago approached two young men who were minding their own business and told them that they were illegally parked. However, the car was not illegally parked and one of the occupants actually lived at the home that the car was parked.
When one of the men attempted to enter his house, officer Santiago reportedly grabbed the man and held a gun to his head, threatening to shoot.
According to prosecutors, Santiago told the men, "We're PGPD; we shoot people."
Much of the encounter was actually recorded by the driver of the car, but the video has not been released.
"We do not train our officers in this manner. These actions are not indicative of the high standards we expect of our officers." Prince George's County police chief Mark Magaw said in a statement.
John Vibes is an author, researcher and investigative journalist who takes a special interest in the counter culture and the drug war. In addition to his writing and activist work he organizes a number of large events including the Free Your Mind Conference, which features top caliber speakers and whistle-blowers from all over the world. You can contact him and stay connected to his work at his Facebook page. You can find his 65 chapter Book entitled "Alchemy of the Timeless Renaissance" at bookpatch.com.