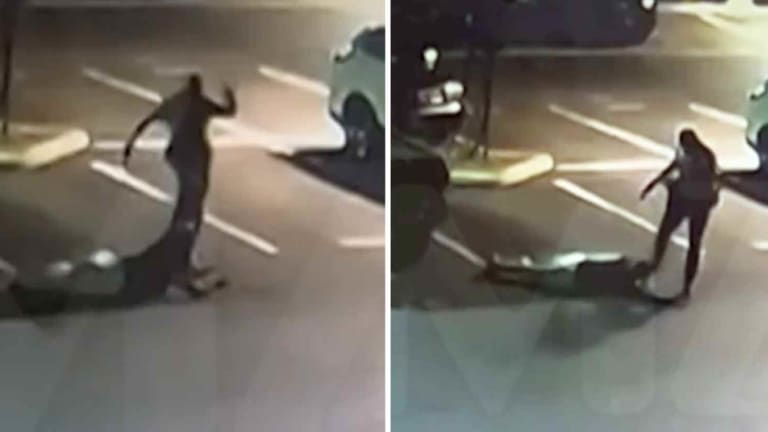 Cop Caught on Video Punting Surrendered Man's Head Like a Football, Repeatedly
A cop is under criminal investigation after he was caught on video kicking a compliant surrendered man's head like a football.
Victorville, CA — Last week, 32-year-old Willie Jones made the poor decision to run from police on his motorcycle, breaking multiple traffic laws in the process. His actions endangered the lives of innocent motorists and he deserved to be held accountable for them. However, he will now likely receive a hefty taxpayer-funded settlement instead, thanks to a cop who couldn't control himself.
A San Bernardino County Sheriff's deputy is under criminal investigation this week following the release of a video showing him kick Jones in the head. Jones was entirely compliant and had surrendered prior to the deputy repeatedly punting his head like a football.
The deputy — who is being given the privilege of anonymity — was "immediately taken off duty and placed on administrative leave," Undersheriff Shannon Dicus said in a video Friday.
"It's unfortunate when incidents like these occur because it causes turmoil within our communities and equally amongst our deputies who pride themselves on providing professional service," he said.
According to police, an officer attempted to pull Jones over for "various traffic violations" and instead of stopping, Jones led police on a high speed chase. Police say Jones fled at dangerous speed, ran multiple traffic signals, drove the wrong way down Interstate 15, and nearly crashed into several vehicles.
Jones then exited the interstate where he ditched the motorcycle before hiding in the parking lot of a car dealership. This is where the video picks up.
As the video shows, Jones is seen ducking behind vehicles trying to hide from police. When he realizes he's been caught, Jones surrenders, puts his hands in the air and begins complying with everything the officer is saying.
Jones is seen in the video lying face-down on the pavement, at the deputy's request. As he lies prone on the pavement, the deputy runs up to him and kicks Jones in the head like it's a soccer ball. As if one massive kick to the surrendered man's head wasn't sufficient, the deputy reared back and kicked him again.
Had Jones not been as young as he is, those two kicks could've broken his neck or possible killed him. Luckily, Jones was not seriously injured. He was treated on the scene before being booked on suspicion of felony evading with disregard for public safety.
According to jail records, he was released on bail that same night.
Undersheriff Dicus said the security company who monitors the dealership's surveillance cameras contacted the department the same night to alert them to the deputy's actions.
"The watch commander reviewed the video and immediately determined the deputy's actions were disturbing," he said.
According to the Victorville Daily Press, Dicus said the criminal investigation will be submitted to the county District Attorney's Office. The undersheriff said an "administrative investigation" was also started to "allow for the appropriate employment actions to be taken."
Below is the video. Had the surveillance cameras never captured this cop's criminal act, it is highly likely that he would have avoided any and all discipline.